CRAFTER SAT-M.GD HYBRID ACOUSTIC-ELECTRIC GUITAR
• Slim Archtop Body
• Kent Armstrong P90 Pickup
• LR Baggs Undersaddle Pickup
• Gold Top
• Hard Case Included
• PRO-SCM Setup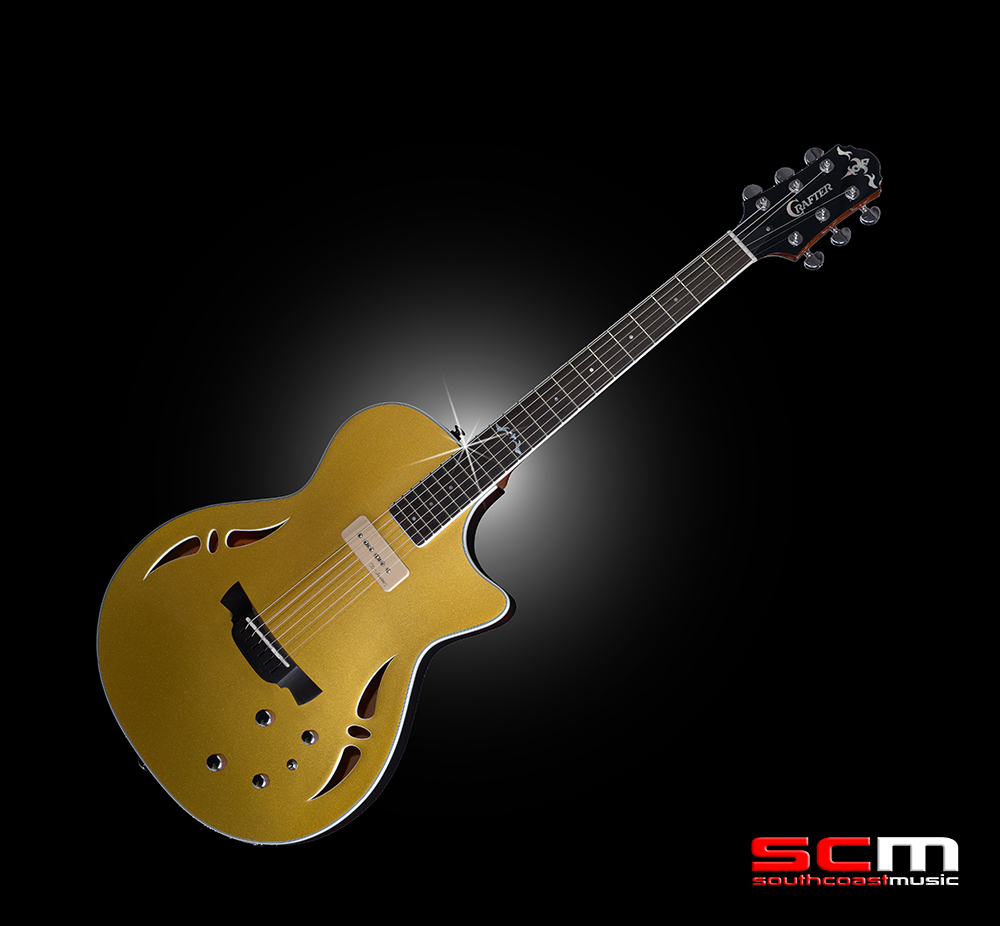 Crafter have been building amazing guitars from their workshop in South Korea since 1972.
The SAT-M.GD by Crafter is an slim line archtop hybrid acoustic/electric guitar. The slim hollow-body guitar is finished with a stunning metallic Gold top. This versatile hybrid acoustic-electric guitar is equipped with a Kent Armstrong P90 pickup along with an LR Baggs piëzo pickup and the results are simply outstanding – Google the Crafter SAT-M.GD and check out the Youtube clips of this great guitar in action. A pair of attractive S-shaped soundholes helps to produce enough acoustic volume for quiet strumming. The Crafter SAT-M.GD is an absolute bargain and an ideal solution for both live performance and studio recording situations.
The Crafter SAT-M.GD is equipped with a Kent Armstrong P90 pickup. Kent Armstrong is the son of Dan Armstrong, one of the world's celebrated innovators of electric instrument pickups. Kent is no slouch when it comes to designing and making pickups and this pickup sounds great delivering a warm, full sound with that classic single-coil bite, making it perfect for blues and rock duties.
But wait! There is more (lol!) . . . with the simple flick of the mini toggle switch you can access authentic acoustic tones produced by the built-in LR Baggs piezo pickup. LR Baggs are one of the world's leading designers and manufacturers of Acoustic instrument pickup systems. Both pickups have their own volume and tone control in a layout similar to a Gibson Les Paul. The mini toggle switch allows you to choose between the two pickups, or you can use them simultaneously for new, creative sounds.
This is a versatile guitar and perfect for Country, Blues, Folk and Roots, Indie and Jazz.
If you connect a standard mono guitar cable to the SAT's stereo output, you'll receive the signal from both pickups simultaneously. Then you can use the volume controls to adjust the mix of electric and acoustic outputs. If you'd rather send the piezo output to a separate acoustic amplifier or PA, you can split the signal with a Y cable. That means you can play with distortion on your guitar amp while simultaneously producing an acoustic clean sound via the PA. With a little imagination you can create completely unique guitar tones making the SA-M.GD the perfect inspirational tool!
Our guitar is brand new and comes complete with a PRO-SCM setup valued at up to $120!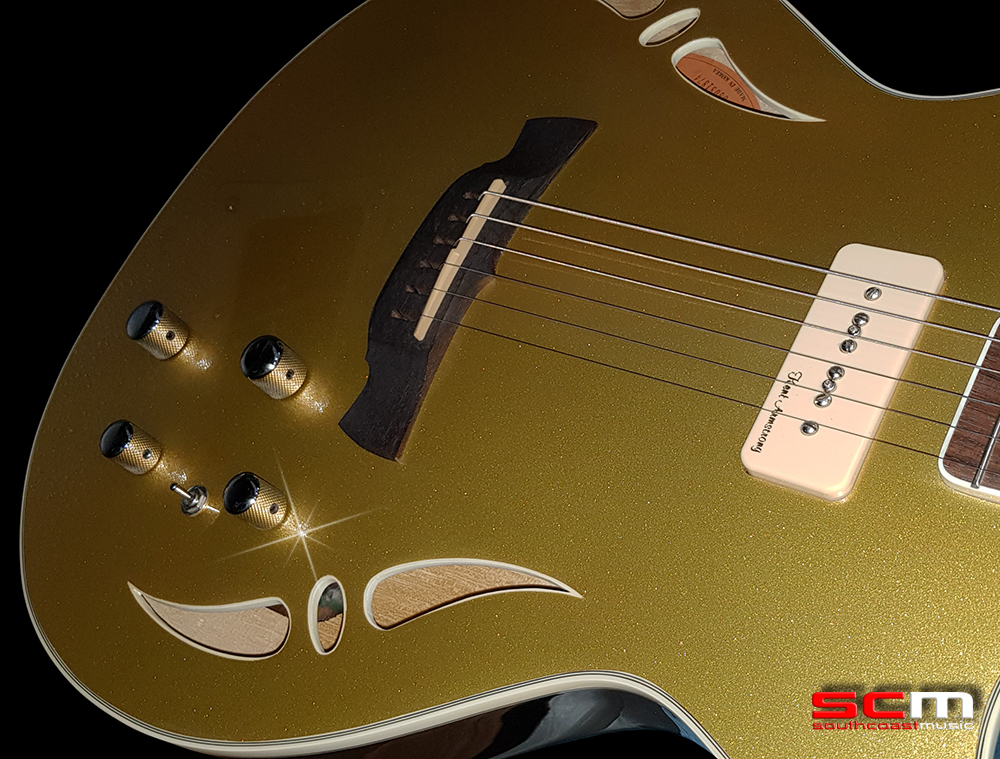 CRAFTER SAT-M.GD HYBRID ACOUSTIC-ELECTRIC GUITAR FEATURES
• Body Type: Slim Arch Top body with single Venetian cutaway
• Top: Spruce Arched Top
• Back & Sides: Devil Wood
• Bracing: Acoustic Sound Chamber
• Neck: Mahogany
• Neck Join: Dovetail
• Width at Nut: 1-11/16″
• Scale Length: 25.5″ (647.7mm)
• Fingerboard: Indian Rosewood
• Fingerboard Position Markers: Mother of Pearl Dot Inlays and Crafter Motif at 12th Fret
• Soundhole Inlay: Timber
• Frets: 21 x Nickel Silver Frets
• Bridge: Indian Rosewood
• Tuners: Chrome Grover Imperial style (18:1 Gear Ratio)
• Electronics: L.R.Baggs Designed SAT-Electronics
• Electric Pickup: Kent Armstrong P-90
• Acoustic Pickup: L.R.Baggs Element Pick-up
• Controls: 1 Vol + 1 Tone per Pickup, 3Way Toggle switch with EQ Blender at Centre Position
• Finish: Metallic Gold Top
• Case: Hard Case included
• Setup: PRO-SCM