CHIAYO STAGE PRO COMPACT PORTABLE WIRELESS PA SYSTEM
ST/PRO 00001B – BASIC SYSTEM – NO MODULES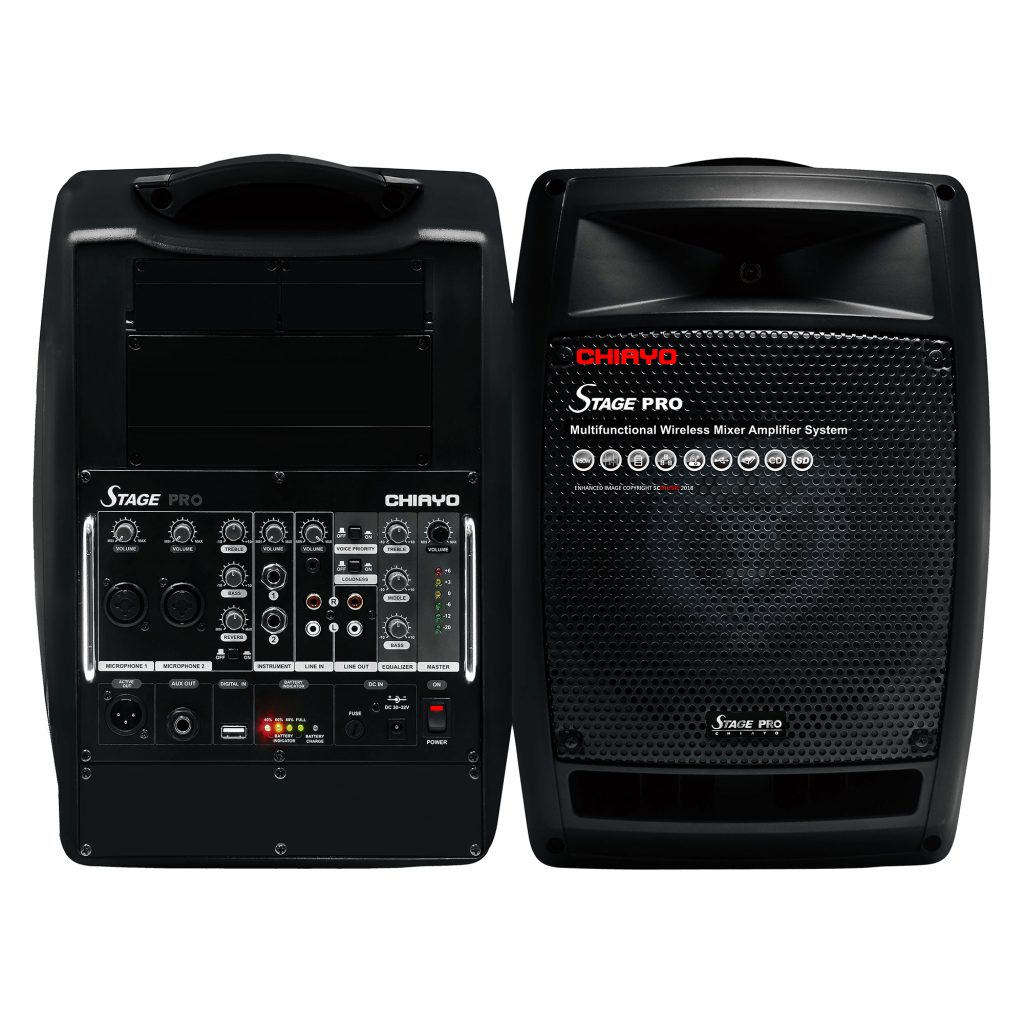 Compact, lightweight yet incredibly powerful, the Stage Pro has been designed by portable PA Giants – Chiayo, with the stage in mind.
Make no mistake, the Stage Pro will fill the room with your sound – without filling your stage. If you are planning to use the Stage Pro outdoors, prepare to be surprised at the level and quality of sound that this compact system produces.
At southcoastmusic, we have been advising our clients and in turn their friends since 1985 with all manner of Public Address systems. The Chiayo Stage Pro is by far the most remarkable and capable compact wireless PA system we have the pleasure to offer and you should be impressed too!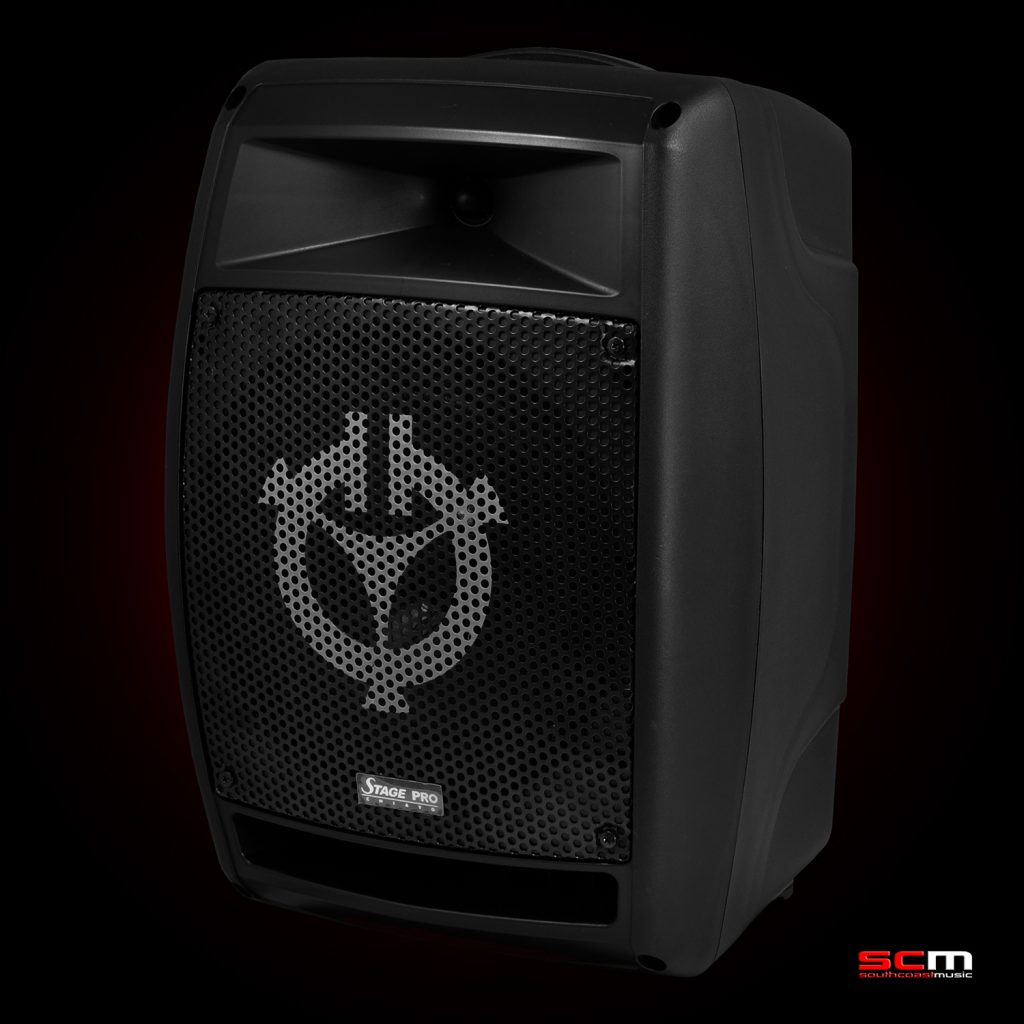 Chiayo have also designed the Stage Pro to be modular. You are able to choose from a wide range of options. You can order your Stage Pro with up to Four Wireless Receivers, Hand Held or Belt Pack Transmitters – or a combination of both, Bluetooth connectivity as well as media playback and recording devices. With a full set of EQ controls and inputs for musical instruments, wired microphones and audio plaers as standard, the Chiayo Stage Pro is versatile enough to be used in almost any environment and situation.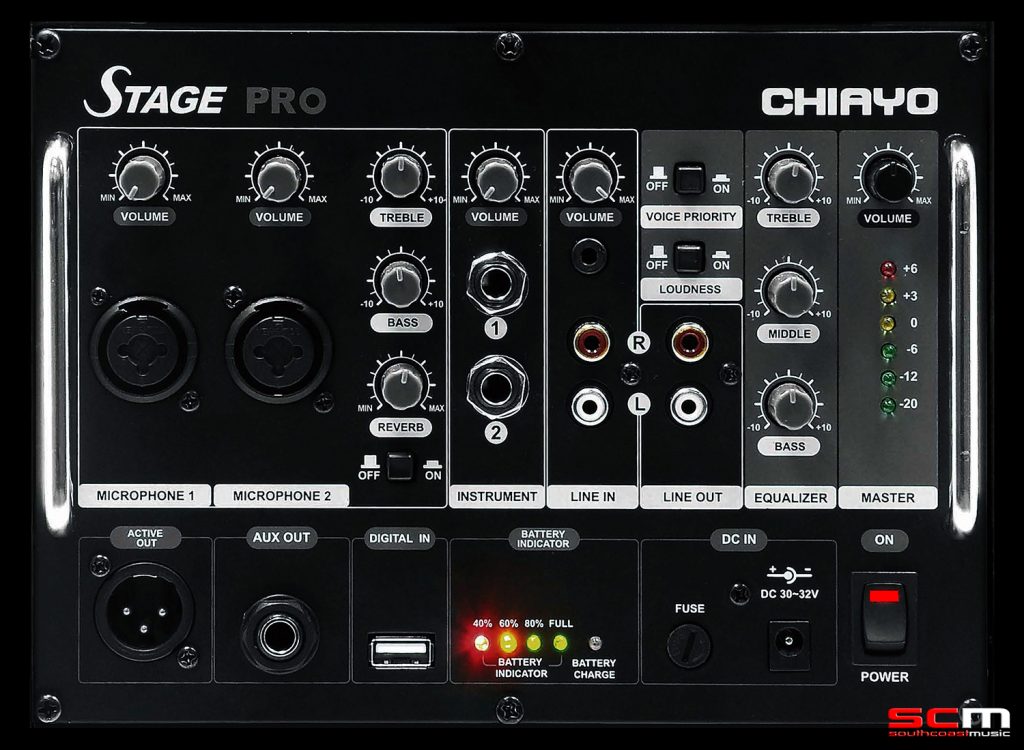 o High efficiency 2-way system; compact cabinet and efficient 8″ + 1″ HF speaker for professional live performance.
o Electronic Crossover and Class-D Digital Power Amplifier
o 150W of pure Class-D Power with 100W to the LF Driver and 50W to the HF Driver
o Two power modes: Internal Rechargeable Battery & DC Input (240VAC Adaptor inluded)
o Up to 10 hours operating time per charge with Lithium Battery and 6 hours with Lead-Acid Battery
o User friendly Battery compartment design for simple Battery replacement
o Optional CD/USB/SD/Digital video player modules (including remote control) and a digital recorder/player module
o Up to Four Optional diversity receiver modules with 100/16 selectable frequencies in each system
o Automatic Digital Limiter with 6 LED indicators prevents Output Distortion
o 3-band equaliser, BASS/MID/TREBLE and MASTER volume control
o Switchable VOICE PRIORITY function automatically ducks Music during Speech
o Switchable LOUDNESS function boosts Bass/Treble performance
o LINE OUT (RCA) for external audio recording
o Multiple LINE IN options, 3.5mm jack/RCA, with individual volume controls (stereo)
o INSTRUMENT IN provides two 6.3mm jacks for up to two Instrument level inputs
o MICROPHONE 1 and 2 are XLR/6.3mm combo jack connectors for wired Microphone inputs with individual Volume control
o BASS/TREBLE and REVERB control for wired Microphones
o REVERB with ON/OFF switch for wired and wireless microphone channels
o DIGITAL IN allows playing audio files directly from computer via USB cable
o ACTIVE OUT (XLR) and AUX OUT (6.3mm jack) for external active Speakers
o Smart charging circuit with 4-step LED Battery indicators and charging LED
o Tripod stand mountable with ST-50A
CHIAYO STAGE PRO SPECIFICATIONS
Model: Stage Pro
Output Power: 200W, 150W(RMS) 4Ω load (class-D)
Speaker system: 8″LF + 1″HF & electronic crossover
Audio input: 2 x Mic in (COMBO), 2 x Line in (R/L, 3.5mm), 2 x Instrument in, Digital in (USB)
Audio output: Line out (R/L), Aux out, Active out
THD (Total Harmonic Distortion): < 0.5%
Frequency Response: 50Hz-20KHz±3dB
Antenna: Integrated
Power Supply: 100-240V AC / 30-32V DC, 4A
Battery type: Lead-Acid
Battery spec: 12V, 5Ah
Battery Quantity: 2
Operating time: 5-6 hrs in music, >10 hrs in speech
Charging time: Approximately 6 hours
Dimension: H424 x W290 x D250
Weight: 12.5kg
USING WIRELESS MICROPHONES IN AUSTRALIA
From 1 January 2015, wireless microphones must not be used in the 694 – 820 MHz frequency range. The main alternative frequency ranges will be 520 – 694 MHz and 1790 – 1800 MHz, with some other frequencies also available.
If you choose to use the spectrum in the 520 – 694 MHz range, you must not cause interference to television and radio services who also use this spectrum.
Find out what spectrum is available in 520 – 694 MHz for wireless microphones in your area by using the ACMA's online channel finder.
Simply type the street address of where you intend to use your wireless microphone into the channel finder and it will tell you what spectrum is available in your area.

CHIAYO
The Chiayo Electronics Company was founded in 1971 in Chiayi City, Taiwan. In the beginning, the company's main focus was on the manufacturing of Electronic Condenser Microphones (ECM). Chiayo were the first manufacturer to produce this kind of microphone in Taiwan. A few years later Chiayo recorded another first by introducing the first FM wireless microphone in Taiwan. This was followed by pioneering the wireless microphone systems all the way from VHF, UHF, Infrared and fixed frequency to the more modern PLL (Phase locked loop) -Synthesised technology of today.
After more than 3 decades of development, Chiayo is now recognised worldwide as a leading designer and manufacturer of professional wireless microphone systems and wireless portable sound systems. It's also one of the few companies in this field in the world that can boast its own original RF (Radio Frequency) and AF (Audio Frequency) design, from the entry level to the state-of-the-art PLL-Synthesised multi-channel UHF system with proprietary features. The strength of Chiayo lies in its vast experience and industrial know-how in the field. This valuable heritage of technical knowledge, skill and experience have enabled Chiayo to enjoy the confidence of the most demanding customers in the world.