CASIO CELVIANO AP-270BK DIGITAL PIANO

The AP-270BK has two captivating grand piano sounds in a single instrument. The ideal piano for any musical mood and situation.
o 88 Simulated Ebony and Ivory Feel Keys
o AiR Sound Source
o 192 Note Polyphony
o Tri-sensor Scaled Hammer Action Keyboard II
o Concert Play Mode
o 8 watt + 8 watt RMS 2-way Speaker System
o Matching Piano Bench Included
o Five Year Warranty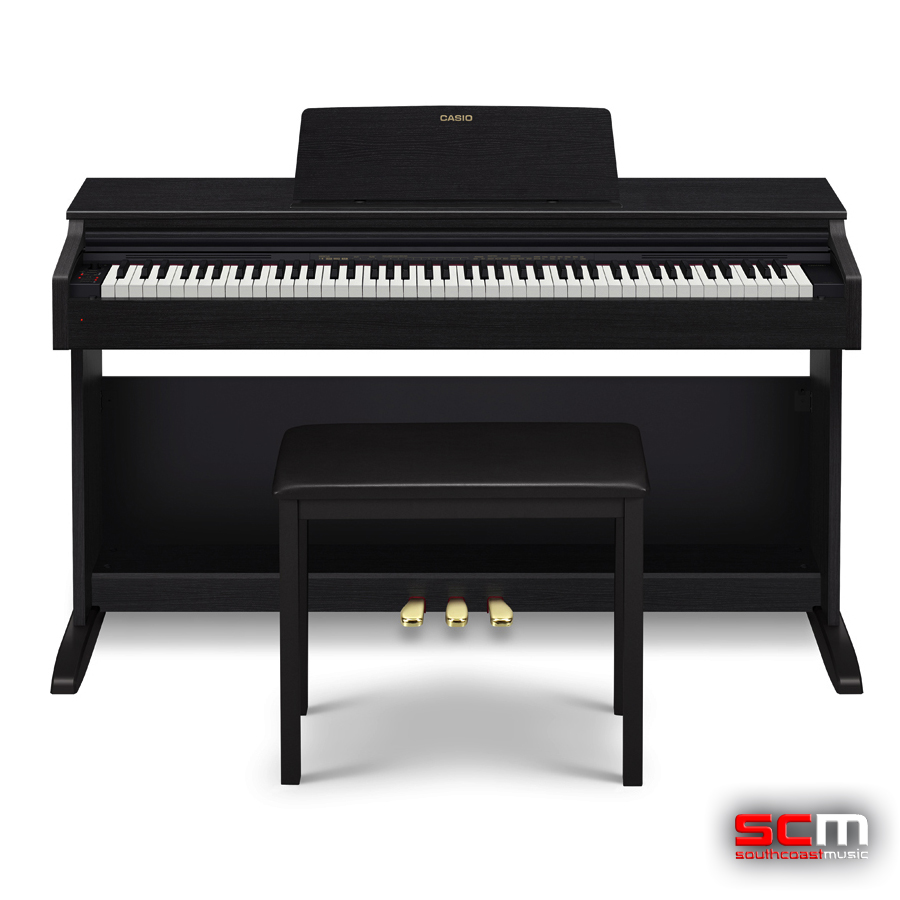 AiR Sound Source
When the sounds of a grand piano and digital piano are compared, one notable difference is the variegated reverberations caused by the resonating sounds. Casio's Multi-dimensional Morphing AiR* Sound Source simulates such varied phenomena as the resonance produced when combining the sounds of all 88 keys or when stepping on the pedal, thus enabling reproduction of a grand piano's sound quality. It also realises a wide dynamic range, from a soft pianississimo (ppp) too delicate to express with a conventional digital piano to a powerful forte shissimo (fff).
*AiR = Acoustic and Intelligent Resonator
Two Legendary Grand Pianos Digitally Sampled for your Playing Pleasure
At your fingertips are the beautifully inspirational and powerful sounds of two world-renowned Grand Pianos. Separately selectable are the digitally sampled sounds of a Steinway and a Bechstein Grand Piano.
GRAND PIANO 1 – A superior instrument for powerful, richly reverberating performances. It reproduces classic grand piano sounds across the range from soft, delicate tones to strong, powerful tones, depending on the weight of the keystrokes.
GRAND PIANO 2 – This is the right choice for bright, luxuriant performances. It makes its presence felt with crisp, strident sound, even when being played with a band. It's tonality is ideally suited to jazz and pop music.
Tri-Sensor Scaled Hammer Action Keyboard II
Three advanced Casio sensors accurately detect keystroke speeds and timing and employ them to realise subtle sounds and performance characteristics that might be expected only from an acoustic piano. The action mechanism emulates the deadweight of piano hammers to realise a natural touch like that of a grand piano, moreover, with heavier strokes required to reproduce low notes and a progressively lighter touch employed as the tones move up the scale.
Concert Play Mode
High quality audio data recordings of live orchestra performances are installed. Pianists can play along with the recordings and enjoy the feeling of participating in a magnificent performance. Musical scores of the concerts are bundled.
Simulated Ebony and Ivory Feel Keys
The AP270's simulated ebony and ivory keys provide a luxurious playing surface and inhibit finger slippage due to sweat, producing the sensation of a comfortable fingertip fit that lasts even through extended sessions.
Chordana Play for Piano
Compatibility with the Chordana Play for Piano app adds the ability to perform such operations as display of built-in music scores in PDF format and piano tone colour setting. When connected to a smartphone or tablet display, the app makes a variety of functions available for piano performances.