BOURBON STREET BSR-3C-W TRICONE ACOUSTIC/ELECTRIC RESONATOR GUITAR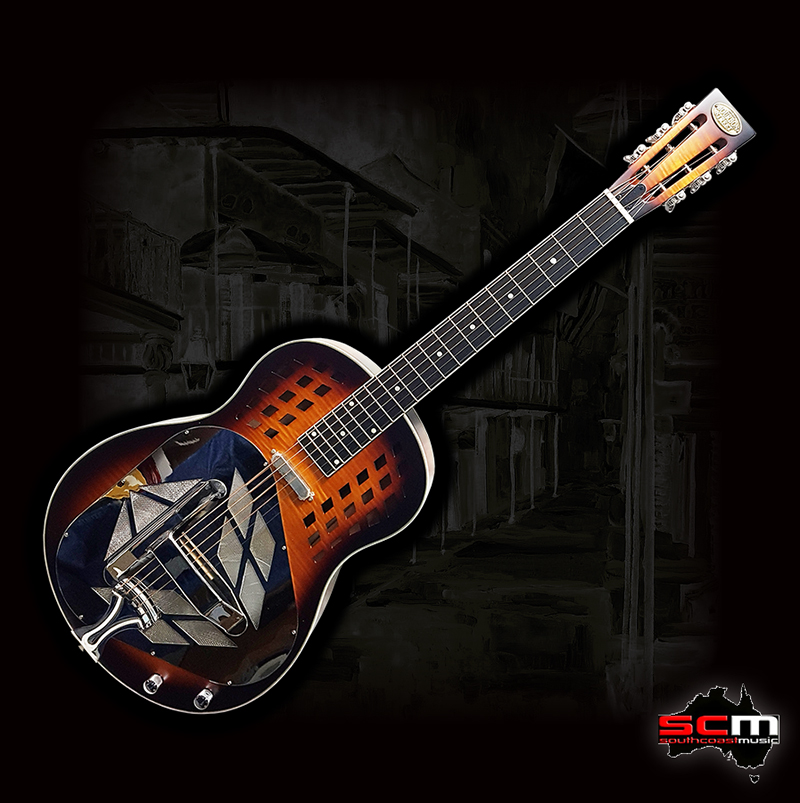 This is the Bourbon Street BSR-3C-W resonator acoustic electric guitar. This gorgeous guitar features a flame Maple body with a tri-cone resonator and passive single coil pickup.
The combination of the Maple body and tri-cone resonator results in a silky tone that is smooth with good sustain and balance across strings and harmonic overtones.
The Bourbon Street '3C' Wooden body tri-cone resonator has been built in the traditional pre-war syle with its 19 fret neck joining the body at the 12th fret.
This method of construction places the bridge further from the soundhole and closer to the lower bout. The bridge is mounted on a more flexible part of the top resulting in a warmer, fuller sound with more sustain than normally produced on guitars of this size.
With the neck placed further into the body, the overall feel of the guitar is more compact, suiting people with a smaller frame. For many, the 12-fret neck feels more comfortable – not having to reach so far down the neck and for that person, the 12 fret neck is simply easier to play.
For on-stage duties, the passive single coil pickup with volume and tone control is ready to amplify the sweet tones of the Bourbon Street 3C Tri-cone Resonator Guitar.
Your brand new Maple bodied tri-cone resonator will also undergone our renowned Pro-SCM setup . . .
• The fret ends are hand rolled to remove any 'nasty' sharp edges
• The frets are then hand polished to provide a superb fingerstyle experience
• Fingerboard Oiled, Polished & Conditioned
• Intonation adjusted – this is important and rarely done
• Tuners are lubricated and tightened
• Electronics are checked and adjusted as required
• The action at the saddle and the nut are adjusted as required
Let us know what height action you prefer – we'll also take care of everything to ensure the perfect playing experience. You could expect to pay more than a $132 for this setup alone – this is the southcoastmusic difference.
We can also setup your resonator guitar – call us for more details.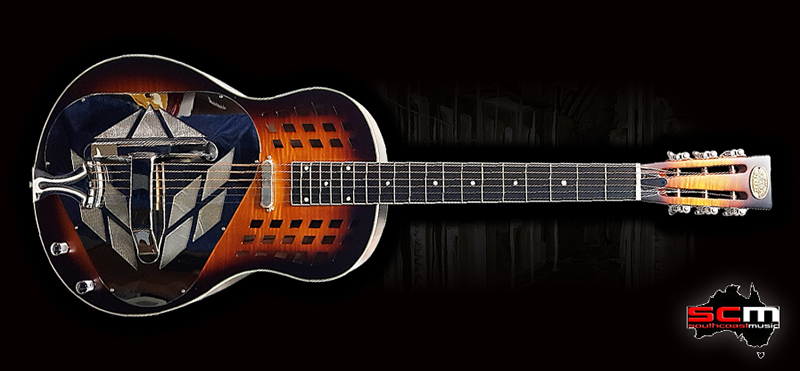 BOURBON STREET BSR-3C-W TRICONE ACOUSTIC/ELECTRIC RESONATOR GUITAR SPECIFICATIONS:
• Body Material: Laminated Flame Maple Body
• Finish: Sunburst Colour
• Neck Material: Mahogany
• Neck Profile: Round
• Truss Rod: Two-way Adjustable
• Fretboard Material: Blackwood Tek
• Maple saddle Aluminum T-Bridge.
• Fretboard Width at Nut: 1 13/16″ (46mm)
• Neck/Body Join: 12th Fret
• Scale Length: 25½" (65.3cm)
• Machine Heads: Antique Style Geared Tuners
• Pickup: Passive Single Coil Pickup
• Controls: Volume and Tone
• Guitar Weight: 3.6kgs
• Warranty: One Year
• Case: Bourbon Street Polyfoam Case
• Setup: Pro-SCM