BLUE SNOWBALL STUDIO USB MICROPHONE & SOFTWARE PACKAGE – The Fast Track to Studio Sound
o Record studio-quality vocal and instrument tracks, including loud sources like guitar amps
o Produce professional music, audio for YouTube, podcasts and more with PreSonus® Studio One® Artist software
o Create professional podcasts quickly with automatic track setup
o Handcrafted vocal sound processing that sweetens and enhances your vocals
o Record dialogue and voice overs with professional vocal processing
o Create instantly with quick-start templates
Snowball Studio is the fastest and easiest way to record studio-quality vocals, music and more. Capture your voice in stunning detail with the award-winning Snowball USB microphone. Record release-ready songs, audio for YouTube, podcasts, voice overs and more with the included PreSonus® Studio One® Artist recording software. You can begin creating instantly with quick-start templates handcrafted by Blue's audio engineers. Get your creative ideas out of your head and onto the Internet faster and easier than ever with Snowball.
STUDIO ONE ARTIST RECORDING SOFTWARE by PRESONUS
Now you don't have to be a pro sound engineer in order to create studio-quality recordings. Snowball Studio includes PreSonus Studio One Artist Blue Microphones Edition recording software which gives you professional tools and intuitive workflows to help you start recording fast — just hit record and go! Capture your voice for songs, audio for YouTube, podcasts or voiceovers. Layer multiple vocal and instrument tracks to create fully produced songs. Even edit and piece together several takes to sculpt the perfect vocal performance. The 32-bit audio engine delivers superior sound quality, meaning you'll be able to produce professional recordings with amazing speed and precision.
BROADCAST STUDIO QUALITY SOUND WITH SNOWBALL
Capture studio-quality audio for vocals, music, and multimedia production with Snowball—the world's easiest-to-use professional USB microphone. Snowball features Blue's legendary condenser capsule technology to deliver natural sound directly to your desktop. Two internal capsules and three pickup pattern settings — cardioid, omni and cardioid with -10dB pad have been designed to accommodate any recording situation. Effortless plug-and-play operation lets you plug right in and start recording with amazing quality—no extra gear needed.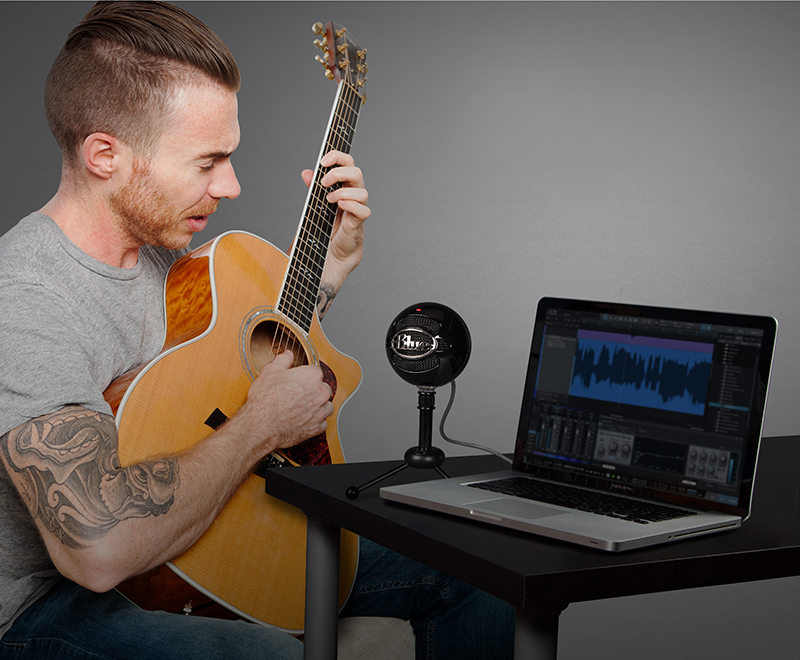 SOUND SOURCE AND PICKUP PATTERN SELECTION
CARDIOID MODE
Perfect for vocal performances, voice-overs, podcasts and instruments. Cardioid mode records sound sources that are directly in front of the microphone, delivering rich, full-bodied sound.
OMNIDIRECTIONAL MODE
Picks up sound equally from all around the mic. It's best used in situations when you want to capture the ambience of "being there"—like recording a band's live performance, a multi-person podcast or a conference call.
CARDIOID WITH -10DB PAD
Dealing with an especially loud sound source? This setting reduces mic sensitivity so even the loudest instruments or vocalists come in crystal clear and distortion free.
CAPTURE A VARIETY OF SOURCES
Snowball is the perfect microphone for computer recording and streaming. It gives you the flexibility and versatility to capture all sorts of projects in stunning sound quality. You get three pickup settings—cardioid, omni, and cardioid with -10dB pad—to accommodate any recording situation.
SNOWBALL USB MICROPHONE SPECIFICATIONS
o USB Microphone for Professional Recording
o Capsules: dual condenser capsule array
o Polar Patterns: Cardioid, Omnidirectional
o Frequency Response: 40Hz – 18kHz
o Bit Rate: 16bit
o Sample Rate: 44.1kHz
o Onboard controls: 3-way switch for pattern select and -10dB pad
PRESONUS® STUDIO ONE® ARTIST BLUE MICROPHONE EDITION
o Complete Music Creation and Production Suite
o Handcrafted templates for music, vocals, podcasting, voice overs, songwriting and more
o Everything you need to record and produce professional projects
o 32-bit audio engine delivers superior studio sound
SYSTEM REQUIREMENTS
MAC®
o Mac OS X 10.8.5 or higher
o Intel® Core™ 2 Duo processor (Intel Core i3 or better recommended)
WINDOWS®
o Windows 7, 8, 10
o Intel Core 2 Duo or AMD® Athlon™ X2 processor (Intel Core i3 or AMD Athlon X4 or better recommended)
MAC AND WINDOWS SYSTEMS®
o 4 GB RAM (8 GB or more recommended)
o 30 GB hard-drive space
o Monitor with 1366 x 768 resolution (high-dpi monitor recommended)
o A multi-touch enabled monitor is required for touch operation