AUDIO TECHNICA ATW1311 SYSTEM-10 PRO
DUAL RECEIVER BODY PACK DIGITAL WIRELESS SYSTEM
The Audio Technica ATW1311 SYSTEM-10 PRO package includes the ATW-RC13 Rack-mount receiver chassis, two ATW-RU13 receiver units and two ATW-T1001 UniPak Belt Pack Transmitters.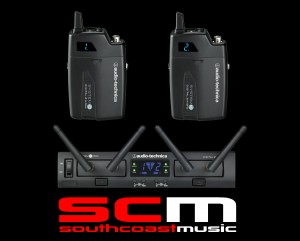 Audio-Technica's System 10 PRO Rack-Mount digital wireless system provides the same interference-free operation in the 2.4 GHz range (outside TV bands) as the original System 10 wireless system with the addition of expanded features and versatility.
This is a groundbreaking approach to delivering wireless dramatically increasing the versatility of the system while also greatly enhancing wave propagation – without the substantial expense of adding an antenna distributor and corresponding cables – in other words it sounds better over longer distances for less money and that's a good thing!
The durable half-rack chassis is equipped to house two receiver units that can be operated locally or released from the chassis and mounted remotely (up to 100 meters away) via Ethernet cable. Up to five chassis (10 receiver units) can be linked using the RJ12 cable included with each system, creating a stable, multichannel system with the simultaneous use of up to 10 channels.
Like all the products in the System 10 wireless family, the PRO Rack-Mount features 24-bit operation, easy setup, clear, natural sound quality, and three levels of diversity assurance: frequency, time, and space.
o Frequency Diversity sends the signal on two dynamically allocated frequencies for interference-free communication.
o Time Diversity sends the signal in multiple time slots to maximise immunity to multipath interference.
o Space Diversity uses two antennas on each transmitter and receiver unit to maximise signal integrity.
AUDIO TECHNICA ATW1311 SYSTEM-10 PRO Rack-Mount system includes the following items:
o 1 x ATW-RC13 Receiver Chassis
o Rack-Mount Adapters to mount one or two ATW-RU13 receiver units with corresponding AT8690 receiver unit mounting brackets
o Joining plate (for dual-channel systems only)
o 1 x RJ12 cable
o 1 x AC adapter
o 2 x ATW-T1001 UniPak® body-pack belt pack transmitters
AUDIO TECHNICA ATW1311 SYSTEM-10 PRO FEATURES
o Digital 24-bit/48 kHz wireless operation for ultimate sound quality and dependable performance
o Operates in the 2.4 GHz range – completely free from TV interference
o Receiver units can be docked in the chassis or mounted remotely (up to 328 feet away) via Ethernet cable for added versatility
o Up to five chassis (ten receiver units) can be linked and used simultaneously
o Each receiver unit can be paired with up to 10 transmitters, allowing users to instantly switch between different transmitter configurations
o Chassis' System ID Display shows RF signal level, system ID, transmitter battery level, and system link status
o Automatic frequency selection for seamless, interference-free operation
o Extremely easy operation with instantaneous channel selection, sync, and setup
o Three levels of diversity assurance: frequency, time & space
o Ground-lift switch helps eliminate audible hum caused by ground loops
o Both the receiver chassis and transmitters feature easy-to-read displays