ALTO TOPVerb 40 BIT DIGITAL MULTI-EFFECTS PROCESSOR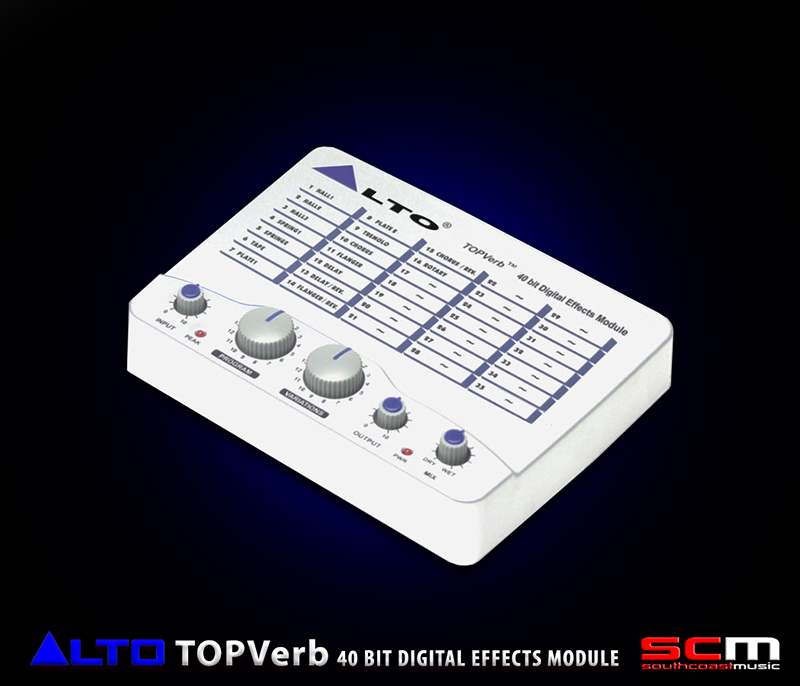 Alto Professional was founded in Italy in 2000 by a team of audio engineers with a goal to produce products that delivered superior performance at affordable price points for use in live performance settings. Through the use of sophisticated design, cutting edge DSP technology and modern manufacturing techniques, Alto Professional has succeeded in producing a range of products that provide both exceptional performance and exceptional value for the performing musician and live sound engineer.
ALTO TOPVerb 40 BIT DIGITAL MULTI-EFFECTS PROCESSOR
Robust and Compact Design
40 bits Digital Audio Processor
Automatic Bypass Foot Switch Detection (footswitch is optional)
16 Great Sounding Programs with 16 variations of each
Variation Adjust Knob (16 positions)
Analog Mix (Dry/Wet) Potentiometer
Variable Input/Output Gain
Stereo/Mono Jack Inputs on 1/4″ phone jacks
Peak Level LED
Up to 9dBu Line Level
Easy to Operate Front Panel Controls
SMT Design for Greater Reliability
Manufactured Under QS9000, VDA6.1 Quality System
The TopVerb is a unique desktop multi-effect digital effects processor. Utilising state-of-the-art algorithms with sigma/delta digital conversion, the TopVerb is a handy and compact companion for a small PA system, rehearsal room, home studio or mobile PC recording environment.  The selection of Digital effects include Reverb, Chorus, Flanger, Delay and various combinations of each. There are 16 effect programs with 16 variations offering a total of 256 effects.
The TopVerb can operate in either mono or stereo and includes stereo inputs and outputs. There is also provision for an optional bypass footswitch.
Alto Engineers have designed the TopVerb to be easy to use – and it is! It also sounds great.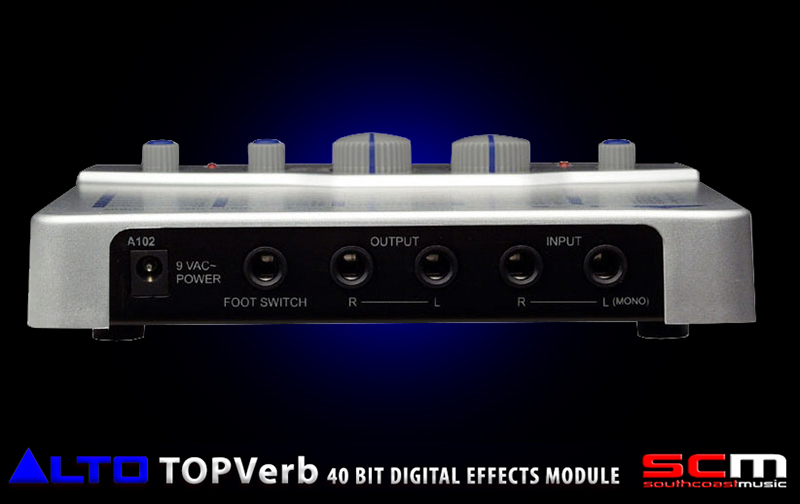 ALTO TOPVerb 40 BIT DIGITAL MULTI-EFFECTS PROCESSOR
Frequency Response: +0.5/-1.5dB from 20Hz to 20 kHz
Signal to Noise Ratio (process): 80 dB "A" wtg, 20 Hz-22kHz
S/N Ratio (bypass): >90 dB "A" wtg, 20 Hz-22kHz
THD + Noise: <0.008% @ 1kHz (0dBV, bypass)
Number of Input Channels: 2 x unbalanced 6.3mm (1.4″) phono
Maximum Level (bypass): +9 dBu
Impedance: >500 Kohms
A/D converter: 1 bit Sigma-Delta
D/A converter: 1 bit Sigma-Delta
Number of Output Channels: 2 x unbalanced 6.3mm (1.4″) phono
Maximum Level (bypass): +9 dBu
Output Impedance: >500 Kohms
Front Panel Controls: IN/OUT levels, PROGRAM selections (2 knobs)
Indicators: Power, Signal clip LED
Rear Panel Input: (LEFT/MONO, RIGHT) 6.3mm (1.4″) mono
Rear Panel Output: (LEFT, RIGHT) 6.3mm (1.4″) mono
Rear Panel BYPASS: 6.3mm (1.4″) (auto-sense pedal type) for momentary footswitches
Power: 9VAC Power Transformer
Processor Speed: 12 MIPs (million instructions per second)
Internal DSP resolution: 52 bit MPY accumulator
Main Preset Programs: 16
Preset Total Combinations: 256
Internal digital audio memory: 3000 milliseconds
Net Weight: 0.57kg (1.26lb)
Dimensions: W175 x D130 x H42mm (6.9″ x 5.1″ x 1.7″)