The lightweight Alpine Muffy MusicSafe Earmuffs are not only for people who are regularly exposed to loud music but also for anyone wanting to protect their hearing from loud noise.
On the stage or in the studio, nothing gives you a kick like making music. Preferably at a high volume, right? Do you always wear good hearing protection? Considering that as a musician, your hearing is probably your most important sense, it's better to protect it well.
An average drum kit easily produces 100 decibels of sound, If you listen to this for longer than seven minutes, you are at a high risk of damaging your hearing.
Alpine MusicSafe Earmuffs have been custom-made for drummers and musicians by drummers and musicians, because permanent hearing damage is irreparable, but it is preventable!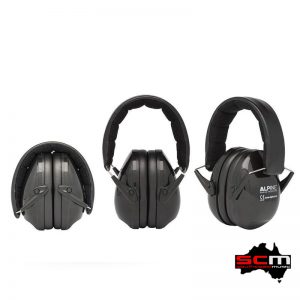 Designed for Musicians
The lightweight Alpine Music Safe Earmuff is especially for musicians who are regularly exposed to loud music. They muffle 25dB of the sound created when playing the drums. With this level of attenuation, your ears are well protected, and you can comfortably play your favourite instrument.
The earmuffs are ideal for practicing, rehearsals, performances or music lessons. The headband is made of a soft fabric, so you can wear it with optimal comfort. The soft ear surrounding cushions apply extra comfort to make sure your ears are comfortably protected. The sturdy and cool ear protectors are foldable and, therefore, easy to take with you to a music lesson, rehearsal space, studio or gig. The earmuffs fit young and old drummers because of the adjustable band.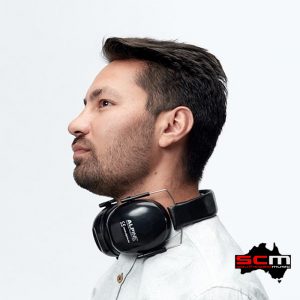 Prevents hearing loss (36 dB)
With FREE Protect & Go carry-case
Unique Product Specifications
SPECIALISED – Custom made for drummers, usable for any musician
NOISE BLOCKING – Suitable for blocking and loud noise
COMFORTABLE – Extremely comfortable due to the soft headband
SNR-value 25 dB
ADJUSTABLE, one size fits all
FOLDABLE – Easy to take with you
Easy to clean
FREE COVER – With free Protect & Go carry-case
QUALITY – Dutch Design – Sturdy & durable materials, proven quality
Storage Bag
Alpine has designed a special case to store the earmuff handily and hygienically. Each package contains a free Protect & Go bag.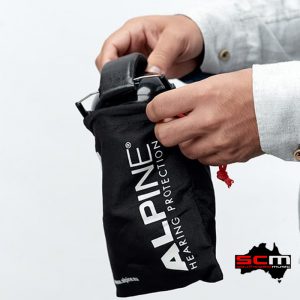 Attenuation Values in Decibels
| | | | | | | | | |
| --- | --- | --- | --- | --- | --- | --- | --- | --- |
| Frequency Hz | 63 | 125 | 250 | 500 | 1000 | 2000 | 4000 | 8000 |
| Standard Deviation dB | 13,3 | 13,1 | 15,3 | 22,7 | 31,9 | 33,8 | 36,8 | 28,6 |