ZOOM G2.1KL
KIKO LOUREIRO
Guitar Effects Pedal with USB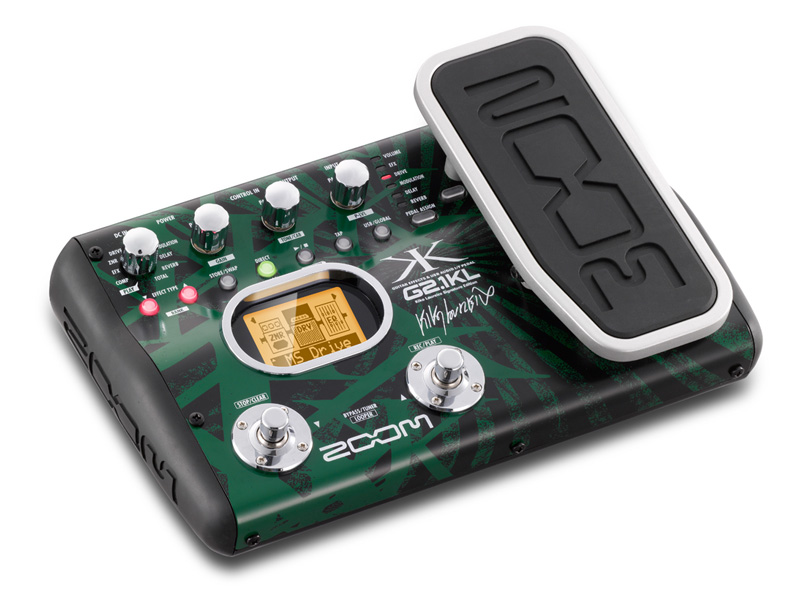 Brazilian guitar hero Kiko Loureiro has joined forces with Zoom to bring you the ultimate guitar effects pedal. The G2.1KL incorporates 50 patches personally designed by Kiko Loureiro that span his remarkable career.
* The package includes specially designed pick and post card.
* This unit has the same functions as the G2.1Nu.
With 30 models of amazing amplifier sounds with mind-blowing realism and inspiring expressiveness, a USB audio interface for direct recording using DAW software, and a rhythm machine, looper function and more, the Zoom G2.1Nu USB Guitar Effects Pedal gives you everything you need for live performance, studio session or productive practice.
This is premium performance in an all-in-one pedal.

Specifications:
-Effect types: 83 types
-Effect modules: Max. 8 simultaneous modules
-Number of user banks/patches: 10 patches x 10 banks
-Preset banks/patches: 10 patches x 10 banks
-Sampling frequency: 96 kHz
-A/D conversion: 24-bit with 64x oversampling
-D/A conversion: 24-bit with 64x oversampling
-Signal processing: 32-bit
-Frequency characteristics: 20–40 kHz +1 dB, -3 dB (10 kOhm load)
-Display: LCD
-Input: Standard monaural phone jack
-Rated input level: -20 dBm*
-Input impedance: 1 MOhm
-Output: Standard stereo phone jack (line/headphones)
-Maximum output level: Line: +5 dBm* (with output load impedance of 10 kOhm or more)
-Headphones: 20 mW + 20 mW (into 32 Ohm load)
-Control input: For FP02/FS01
-S/N (equivalent input noise): 120 dB
-Noise floor (residual noise): -100 dBm*
-Power:
-USB Bus powered
-Optional AC adapter can be used: DC9V (center minus plug), 500 mA
-Optional batteries can be used: 6.5 hours of continuous operation using 4 AA alkaline batteries when BACKLIGHT set to LOW
-Dimensions: 169 mm (D) ×260 mm (W) ×67 mm (H)
ZOOM G2.1KL
KIKO LOUREIRO
Guitar Effects Pedal with USB
RRP – $439!