Zoom, have been designing Multi-Effects for guitar players for over 30 years. The G11 represents the culmination of their engineering and passion. Zoom's best engineers took the tonal qualities of the greatest amps in history, combined them, and crafted all new amp models designed to give you new palettes of tone, to take your creativity to a whole new level. The G11 includes six original amp models, everything from 80's British style tones to gritty vintage sounds and even a model designed specifically for modern drop-tunings.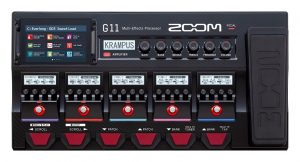 In addition to the classic effects you love, the G11 offers brand new Distortion and Modulation effects, unlocking endless new tone possibilities. Razor Drive uses comb filtering to control the sound saturation by boosting the filter and therefore distortion, at each frequency point of resonance. This processing creates a new distortion never before heard, while Wave Shaper applies a new original algorithm to shape the waveform and create a unique sound extremely rich in harmonics. On the modulation side, PolyShift effect adds subtle sound variances over a two-octave range to deliver a modern pitch shifting effect, Geminos is a real-time doubling effect that adds thickness and width by triple overdubbing the original dry signal, reproducing a random organic texture when playing chords and powerful sustain for solos and SwellVibe is a vibrato unlike any other that starts modulating the signal from the start, applies pitch modulation with a time lag affecting only the sustain of your sound. It inspires unconventional ways for playing ambient pads.
G11 provides 22 cabinet emulations of all modeling amps plus 70 pre-loaded full impulse response (IR) data, that were captured with different microphones in various positions, providing you a wide spectrum of cabinet sounds to choose from. Additionally, you can import up to 130 of your own IR's. Your sounds may be complex but building them shouldn't be. With easy-to-use, application driven technology, the G11's 5-inch colour touchscreen lets you drag, drop and swipe your way to new sounds.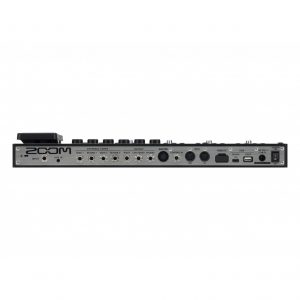 While the G11 is Zoom's most advanced pedal ever, it's super familiar. From the stompbox control to the amp panel, you'll feel like you've been here before. The G11 also contains a 5-minute looper to help add layers to solo performances. Choose your groove from 68 built-in rhythm patterns in various genres and time signatures. You can also add external mono and stereo effects, build parallel audio chains, and synchronize/trigger other devices via MIDI.
The G11 is a full-on audio interface for Mac and PC. Record directly to your favourite DAW via USB. Cubase LE is bundled in the box. You can also wirelessly connect the G11 directly to the Zoom Guitar Lab app via Bluetooth. With the optional BTA-1 adaptor, you can browse and upload/download an endless assortment of amps, effects and artists patches as provided on Guitar Lab software