YAMAHA PORTABLE KEYBOARD
YAMAHA PORTABLE  ELECTRONIC KEYBOARD YPT-340A
Our Best Ever Touch Response Yamaha Portable Electronic Keyboard Deal.
THIS OFFER WAS EXCLUSIVE TO SOUTHCOASTMUSIC CUSTOMERS AND HAS NOW SOLD OUT.
o Brand New Stock
o School Inquiries welcome
o 240V AC Adapter Included
o Music Rest Included
o NOW with FIVE Year Warranty! (applies to purchases after 1st August 2019)
o Our Price Includes Delivery with Tracking to ANYWHERE in Australia – Up To $100 Value!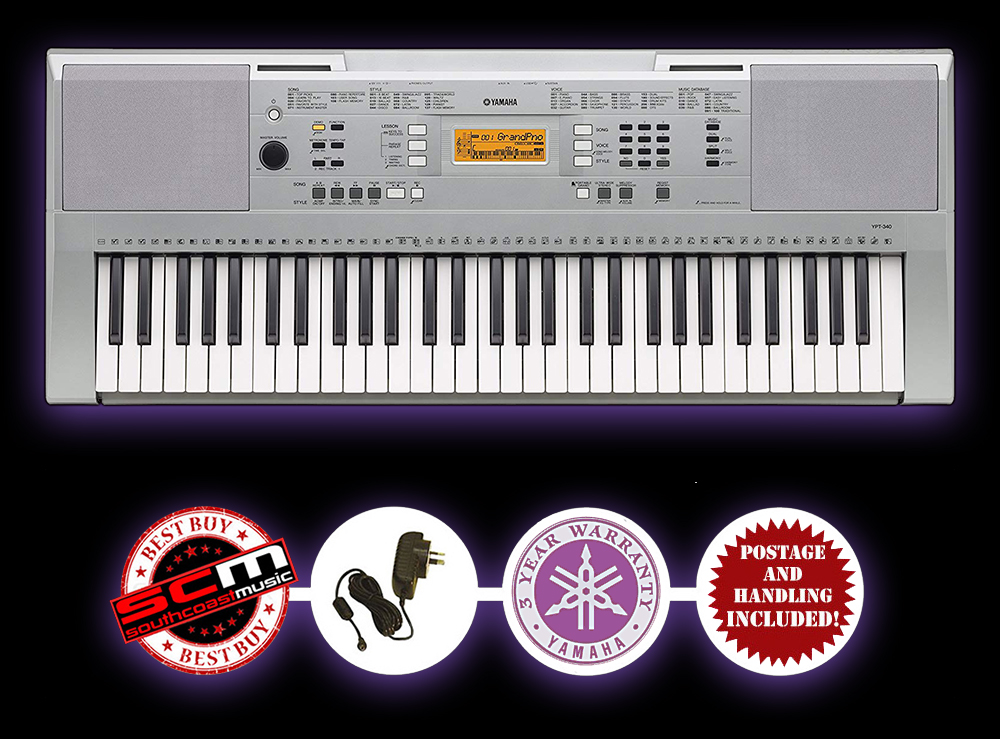 The YAMAHA YPT-340 Portable Electronic Keyboard from southcoastmusic represents unbeatable value and fun for the whole family!
The YAMAHA YPT-340 is loaded with hundreds of impressive AWM digitally sampled voices and accompaniment styles that sets the scene to a world of musical entertainment. This is the ideal Electronic Keyboard for Schools, Students, Teachers, Churches, Musicians, Songwriters and more!
Beginners will love the on-board lesson feature. Using an optional audio cable you can connect to a portable music player and play along with your favorite songs for some serious fun!
The sound quality of the YPT-340 is even good enough to play gigs with – just run an optional audio cable from the Headphone/Audio output into an amp or PA system and let the entertainment begin!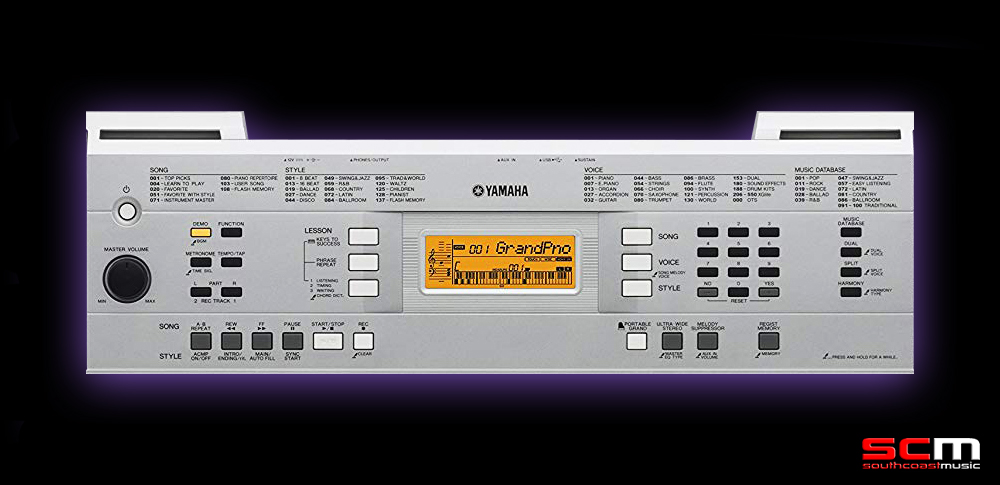 61 Key Touch sensitive keyboard for piano-like performance
AWM stereo sampled sounds
Digital effects to Enhance your Sounds
iPhone/iPad/iPod Apps
Master EQ to Fine Tune your Sounds
Ultra wide stereo sound using Yamaha's proprietary digital signal processing technology
YAMAHA KEYBOARD YPT-340A 61 TOUCH SENSITIVE KEYS DELIVER EXPRESSIVE DYNAMIC CONTROL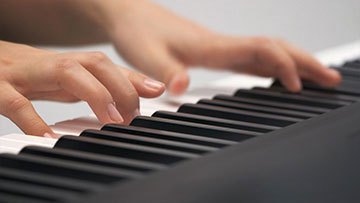 Play the keys heavily and you'll get louder tones . . . play softly to achieve quieter sounds. The touch-sensitive keyboard will accurately reflect every nuance of your playing, making your performances musically expressive.
YAMAHA KEYBOARD YPT-340A THE BETTER AN INSTRUMENT SOUNDS, THE MORE IT INSPIRES US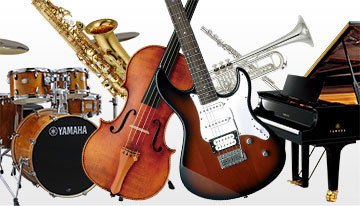 Yamaha has a proud history of manufacturing just about every kind of musical instrument. When it comes to reproducing the sound of these instruments in the YPT-340A, thanks to AWM (Advanced Wave Memory Sampling), the results are detailed and high-quality.  At your fingertips is a comprehensive library of 550 instrument Voices that will allow you to enjoy playing any musical genre. Select from Pianos, Organs, Brass and Woodwinds, Orchestral Strings, Guitars, Bass, Drums, Synthesizers and more!
YAMAHA KEYBOARD YPT-340A REAL TIME BACKING BAND TRACKS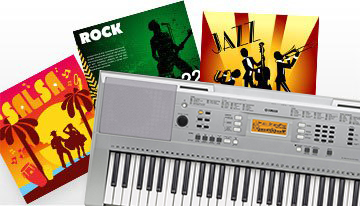 136 auto accompaniment Styles provide real-time band backing tracks based on the chords you play. Each Style has its own intro, variation and ending. You can play multi finger chords – beginners can also play single finger major chords – a great way start making music!
YAMAHA KEYBOARD YPT-340A DOWNLOAD THE SONGBOOK TO READ THE MUSIC FOR THE BUILT IN SONGS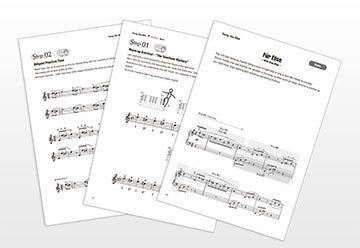 The Song Book includes not only the musical scores of the built-in Songs, but also provides tips for the on-board lessons with images, glossary and more.
YAMAHA KEYBOARD YPT-340A ADJUST YOUR SOUND WITH DIGITAL EFFECTS
The YPT-340A includes 45 Digital Effects. Effect types include Reverb, Chorus, EQ and Harmony  to enhance your sound.
Reverb effects add ambience to your playing making it sound like you're in a concert hall, a small club or a cathedral. Chorus adds warmth and makes the sound more spacious. The Master EQ is easily adjusted to get the best sound depending on whether you are listening through headphones, the built-in speakers or connected to an external sound system. You can also choose from 26 Harmony effects.
YAMAHA KEYBOARD YPT-340A CONNECT TO YOUR COMPUTER FOR EVEN MORE FUN
The USB TO HOST terminal allows you to connect to a computer or portable device. Download the computer related operation manual here.
YAMAHA KEYBOARD YPT-340A CONNECTION WITH iPHONE, iPAD AND iPAD TOUCH
Extend and enhance your keyboard by connecting to your iPhone/iPad/iPod. Add virtual pitch bend, mod wheels and an arpeggiator with Yamaha's Sound Controller app. Record your children's music progress as video and MIDI with My Music Recorder. Requires optional accessory, i-UX1 or similar device.
*For iOS device connection, refer to the "iPhone / iPad Connection Manual" here.
The YAMAHA YPT-340A portable keyboard is fun to play and loaded with exciting and easy to use features.
YAMAHA KEYBOARD YPT-340A AUX IN PUT AND MELODY SUPPRESSOR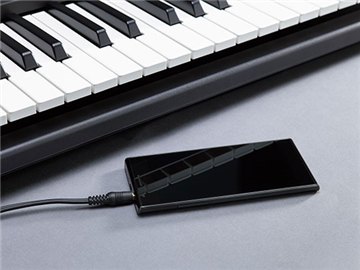 Just connect any device that has a line output, (iPhone/iPad, computer, a mixer, etc.) to the AUX-in port with an optional cable. Then activate Yamaha's Melody Suppressor which conceals the melody line so you can listen to yourself while you play along with your favorite artist. You can even use the AUX-in port to play music from your audio device!
YAMAHA KEYBOARD YPT-340A KEYS TO SUCCESS ON-BOARD LESSONS

Yamaha was one of the first keyboard manufacturers to include teaching software in their products, to make learning music fun and easy. The Yamaha Education Suite allows you to practice at your level, and the playback of the selected song is continuously adjusted to the tempo of your performance. The "Keys to Success" feature allows you to practice preset songs, using more advanced lesson functions. Step by step, you can practice single parts of the selected song.
You can practice the preset Songs using these lesson functions: "Keys to Success," "Listening, Timing, Waiting" and "Phrase Repeat." Keys to Success helps you master a Song, whereas Listening, Timing, Waiting helps you first master the timing and then in playing the correct notes. Phrase Repeat lets you select and repeatedly practice a specific phrase in the Song. If you're using a keyboard instrument for the first time, we suggest you start with Keys to Success. You can refer to the music score in the Song Book (available as free downloadable scores).
To obtain the Song Book, complete the user registration at the following website: https://member.yamaha.com/myproduct/regist/

YAMAHA KEYBOARD YPT-340A FEATURES:
61 Full Size, Touch-Sensitive Keys
Ultra-wide Stereo Sound
Amber Backlit LCD
Yamaha Education Suite (Y.E.S.)
iPad/iPhone Connectivity
Aux line input
Melody Suppressor
32-note polyphony
2-track x 5 Song Recorder
12cm×2 speakers
YAMAHA KEYBOARD YPT-340A SPECIFICATIONS:
Dimensions: 945 x 369 x 121 mm
Weight: 4.4 kg
YAMAHA KEYBOARD YPT-340A VOICES
Number of Voices  – 550 Voices in Total
187 Panel Voices
18 Drum/SFX kits
345 XGlite Voices
SFX Kit
136 Preset Styles
+ External Styles
YAMAHA KEYBOARD YPT-340A SONGS/TRACKS
102 Preset Songs
5 User Songs
2 User Tracks per Song
YAMAHA KEYBOARD YPT-340A VOICE CONTROL:
Harmony
Registration Memory
Melody Suppressor
Dual Voice Mode
Split Voice Mode
YAMAHA KEYBOARD YPT-340A INPUTS and OUTPUTS
Headphone/Audio  Output – 6.3mm Stereo Phono jack
Aux In – 3.5mm Stereo jack
USB to Host
DC IN 12V
AUX Pedal 1 for an (optional) Footswitch – 6.3mm Phono jack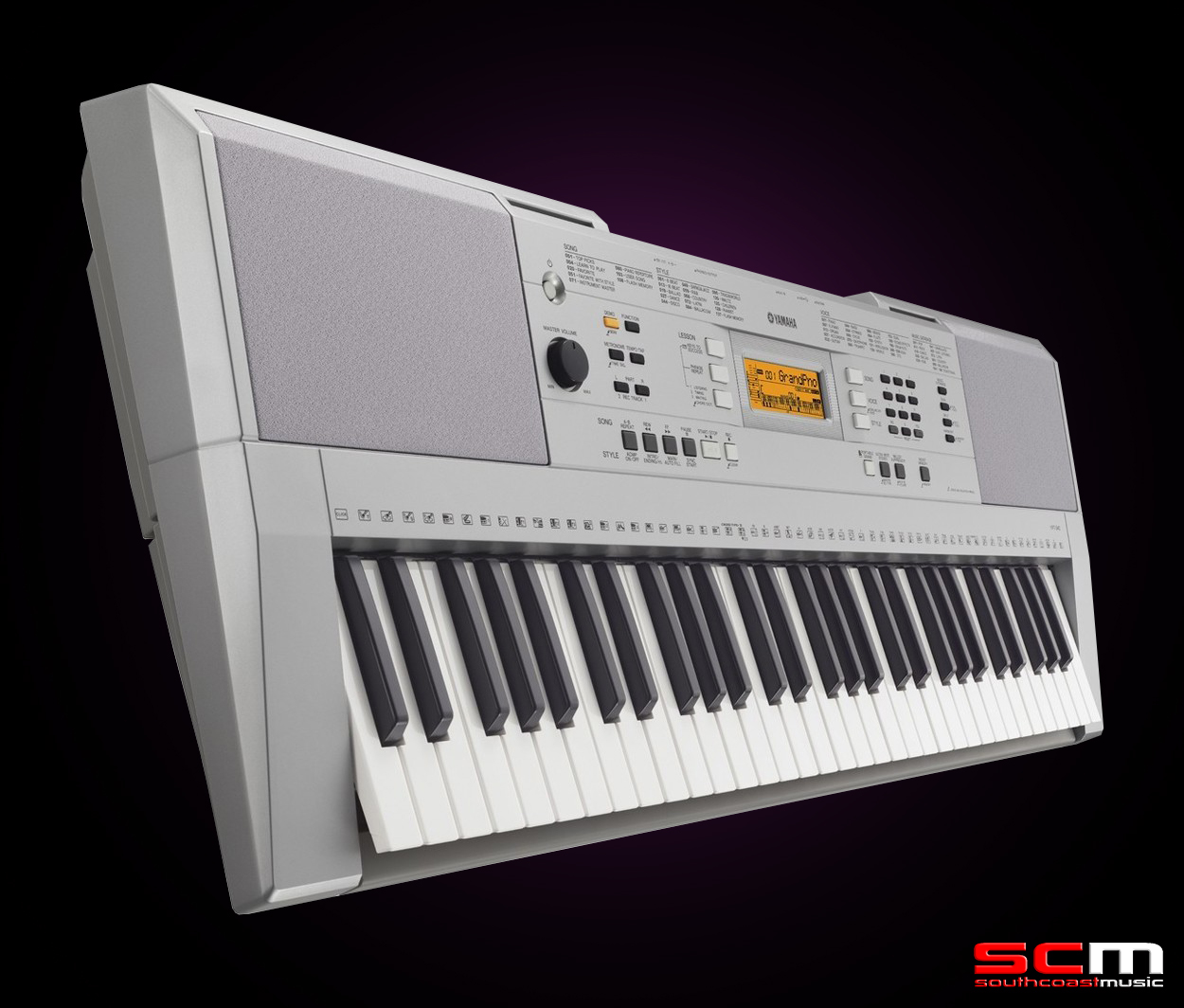 YAMAHA YPT-340A PORTABLE ELECTRONIC DIGITAL KEYBOARD