Y A M A H A 
PSR-E433
P O R T A B L E   A R R A N G E R   K E Y B O A R D

 THE GAME CHANGING 61 KEY ARRANGER KEYBOARD FROM YAMAHA
The Yamaha PSR-E433 at a Glance…
61 Full Size Keys
Touch Responsive Keyboard
731 Studio Quality Voices
Yamaha Pro "Natural", Super-realistic "Sweet!" and "Cool!" Voices
Built-in Arpeggiator
Real Time Synthesiser sound editing with rotary controls
PATTERN function to create your own grooves
Real-time Control Knobs for instant Effects
Real-time Pitch Control with Pitch Bend Wheel
186 Styles
6-track MIDI Sequencer/Recorder
Ten Song Recorder Memory
Music Database: 305 song titles for instant keyboard setups
4 Pads x 8 Banks Registration Memories
High Power Speaker System
Three Year Warranty
The Yamaha PSR-E433 is a category killer, make no mistake.  No other keyboard on the planet offers this level of quality, versatility and innovative features at anywhere near this price. The basic features alone are sensational. For example, the Yamaha Portable Grand sound quality and Yamaha Education Suite (Y.E.S.) – Yamaha's built in learn-to-play system are in themselves worth the asking price. There are performance features such as synthesiser Control Knobs for real-time control of filter, effects, and sound envelope as well as powerful new Styles from different musical genres. The Yamaha PSRE433 offers an amazing 186 styles as well as 150 arpeggio patterns…more than enough to inspire your next masterpiece!
The easy-to-use Professional Features and Cool Design set the Yamaha PSR-E433 Portable Arranger Keyboard apart in its class.
PATTERN FUNCTION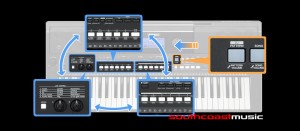 The PATTERN function puts a wealth of powerful loops and beats at your fingertips to instantly create dynamically varied music on the fly, like a DJ, tweaking the Live Control Knobs for even more sound variation.
REAL TIME CONTROL KNOBS, ARPEGGIATOR AND PITCH BEND WHEEL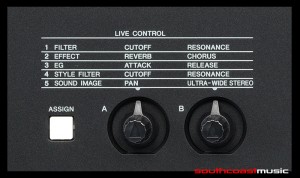 Two real-time control knobs let you filter and adjust your sound just like an analog synthesiser. The Pitch Bend wheel adjusts the pitch of the sound bringing Voices like the Saxophone and Trumpet to life.
731 HIGH QUALITY VOICES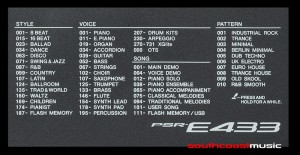 The PSR-E433 includes 731 high quality Voices, ranging from acoustic to electric instruments, featuring 5 Sweet! Voices and 3 Cool! Voices which use Yamaha's renowned advanced Voice technologies.
POWERFUL AUDIO SYSTEM
The sound is given the final boost by the built-in 2-way speaker system with bass enhancement.
WIDER WORLD CONTENTS AND 186 VARIETIES OF STYLES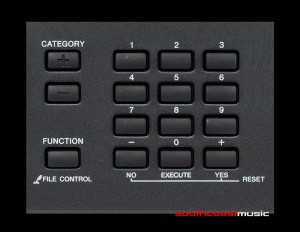 Mexican, Arabic, Indian, Brazilian and Chinese content has been added to Styles for performing just about any type of music with an automatic backing. With these high-quality Styles, you'll sound like you have a professional backing band behind you.
ARPEGGIO FUNCTION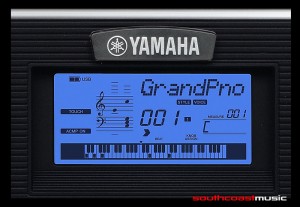 Tap into instant inspiration with the Arpeggio function which has been improved for smoother playability. Hold Mode and allocated key-range free your hands to add more music. The 150 Arpeggio patterns adjust and morph around the notes and chords you play on the keyboard allowing for almost limitless creativity.
MUSIC DATABASE
Get off to a flying start – choose a song and the Music Database automatically selects the best accompaniment and Voices for you to start playing immediately.
YAMAHA EDUCATION SUITE (Y.E.S.) – 9-step lesson completely supports your practice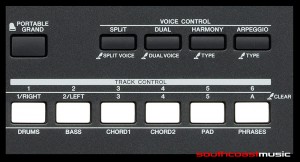 Yamaha Education Suite (Y.E.S.) is an advanced set of helpful learning tools built into the instrument, letting you teach yourself how to play and perform regardless of your ability. Choose from step-by-step lessons for left, right, or both hands. Y.E.S. helps you master a song with ease.
PORTABLE GRAND BUTTON
A great sounding Piano is only one button push away.  Simply touch the Portable Grand button and everything is switched off leaving you with a stunningly rich and authentic piano tone.
USB to DEVICE TERMINAL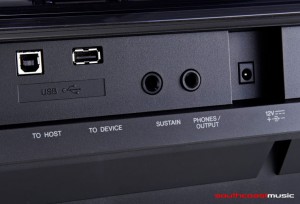 Insert a USB flash memory in the USB TO DEVICE terminal on the instrument. It lets you load and save your settings songs, as well as transfer data from the connected devices such as a PC.
THREE YEAR WARRANTY
Your Yamaha PSR-E433 is covered by a comprehensive Three Year Warranty backed up by an Australia-wide network of Yamaha accredited Service Centres.
Buy your Brand New Yamaha PSR-E433 from southcoastmusic. We'll include a 240V Australian C-Tick compliant AC Adaptor at no extra charge. We also carry a full range of Accessories to help you get the most out of your Keyboard.
Please feel free to contact us for more details.
The Recommended retail price of the Yamaha PSRE433 is $549.
We have one of these AMAZING keyboards complete with a bonus AC Adaptor priced to clear at only
$429.00!
…and remember, our price includes FREE DELIVERY to absolutely anywhere in Australia! No gimmicks, no hidden charges – just the best deal…everytime!