YAMAHA PSRE363 PORTABLE KEYBOARD – Real Music, Real Fun.
This is the perfect learning keyboard for players of all ages! The PSR-E363 is jam-packed full of incredible instrument Voices, accompaniment Styles and fun features. It's an ideal Portable Keyboard for beginners and hobbyists, featuring touch sensitive keys, on-board lessons, computer and mobile device connectivity and much more.
61 Touch-Sensitive Keys
550 Presets
136 Accompaniment Styles
102 Songs
Dual/Layer or Split Keyboard at Middle C
Arpeggiator
Melody Suppressor With Pan Adjustment
Effects and Master EQ
USB to Host Functions
Built-In Amplifiers and Speakers
Three Year Warranty
The YAMAHA PSRE353 is an advanced portable keyboard with 61 Touch Sensitive Keys, 550 sounds, 136 accompaniment styles and 102 songs. or the beginner, Yamaha's Lesson guides and Yamaha's Education Suite (Y.E.S.) provide deep resources for practice and education, and with an optional cable, the musical experience can be broadened by connecting to an iPhone, iPad, or iPod.
The Melody Suppressor with pan adjustment function suppresses the melody line in a song, allowing the user to play along with it. Simply connect any device with a line output to the auxiliary input, including a mobile device, computer, mixer, or even another keyboard. The auxiliary input can also be used to just listen to playback from the audio device. An arpeggiator further expands the keyboard's versatility.
Built-in amplifiers and speakers and an Ultra-Wide Stereo processor deliver great stereo sound, while a headphone output provides for private practice or playing. Basic effects enhance the sounds of the instrument, and a dedicated piano button and a damper pedal input (pedal not included) deliver an authentic piano sound. A duo mode can be engaged to split the keyboard in half so there are effectively two middle C's, a great way for one person to teach another how to play.
INTUITIVE CONTROLS

VERSATILE CONNECTIVITY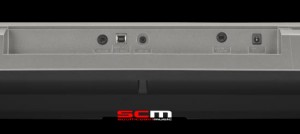 AUXILIARY AUDIO INPUT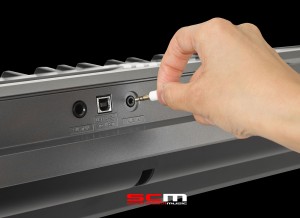 YAMAHA PSRE353 PORTABLE KEYBOARD – Real Music, Real Fun.
Practice at individual levels with the Yamaha Education Suite lesson functions
Playback of the selected song is continuously adjusted to the tempo of the player's performance
Two-track recorder with five song slots
Stereo mini auxiliary input for connecting other audio devices for simple playback or for using the Melody
Suppressor function
Arpeggiator transforms chords into complex repeating patterns
Melody Suppressor with pan adjustment function suppresses the melody line in a song allowing the performer
to play along with it – simply connect an audio device to the auxiliary input
Extend & enhance the keyboard experience by connecting to an iPhone, iPad or iPod ( optional i-UX1 cable)
Optimise the overall sound with different EQ settings on the instrument
Tailor the overall output for optimal sound in different listening situations
Ultra-Wide Stereo processor creates a stereo image wider than the speakers
Sustain pedal input (pedal not included)
USB to Host terminal provides connectivity with a Mac- or Windows-based computer
Duo Mode splits the keyboard so there are two middle "C"s, especially useful for teaching applications
YAMAHA PSRE353 SPECIFICATIONS
Keyboard: 61 keys, touch responsive
Synthesis Method: AWM Stereo Sampling
Polyphony: 32 notes
Multitimbral: Dual/Layer
Keyboard Split mode: Yes
Presets: 550
MIDI: GM and XGlite compatible
Accompaniment Styles: Preset: 136
Fingering: Multi
Style Control: ACMP on/off, Sync, Start, Intro/Ending/rit
Custom User Styles: Yes
Music Database: 100
One Touch Setting (OTS): Yes
Songs     Preset: 102
Recording: 5 songs
Tracks: 2
Data Capacity: Approximately 10,000 notes (with only "melody" tracks recorded), approximately 5,500 chords (with only "chord" tracks recorded)
Playback Data Format: SMF
Recording Format: Original file
Effects Types:
– Reverb
– Chorus
– Master EQ
– Ultra-Wide Stereo
Effect Functions:
– Dual/Layer
– Split
– Panel Sustain (in menu)
Connectors:
– 1 x 3.5mm (1/8″) stereo mini Auxiliary Input
– 1 x 6.3mm (1/4″) TRS Headphone Output
– 1 x 6.3mm (1/4″) TS Pedal Input (pedal not included)
– 1 x USB Type B to Host
Functions: Lesson/Guide: Listening, Timing, Waiting, Chord Dictionary, Keys To Success, Phrase Repeat, A-B Repeat
Lesson/Guide: Yamaha Education Suite (Y.E.S.)
Metronome: Yes
Tempo Range: 11 to 280 BPM
Transpose: -12 to 0, 0 to +12
Tuning: Yes
PIANO Button: Yes
Amplifier: 2.5 W x 2.5 W
Speakers: 2 x 12cm (4.7″)
Display: Custom backlit LCD
Power Requirements: 12V DC via external power supply (not included)
6 x AA batteries (not included)
8 W power consumption
Dimensions (WxDxH) 945 x 368 x 121 mm (37.2 x 14.5 x 4.75″)
Weight: 4.4 kg (9.7 lb)
Package Weight: 13.5 lb
Box Dimensions: (LxWxH) 42.0 x 16.8 x 6.6″