The Yamaha Gigmaker drum set is exactly what any beginner or intermediate player would love to play. With superior Yamaha construction, Tone and Playability, it is also the perfect drum kit for schools.
Rolled drum shells, precision bearing edges, ball-clamp tom holders, professional standard double braced hardware and the most amazing Burgundy Glitter finish.
In typical Yamaha fashion and unlike most drum sets at this price point, this Yamaha GigMaker Drum Set features matching wood Bass Drum Hoops for superior tone and playability.
This drum set utilises all Yamaha hardware featuring hex tom ball joints and double braced stands.
Glitter Finish
Yamaha's Gigmaker Drum Kits feature Vibrant, eye-catching sparkle colour variations that deliver the same stage-worthy appearance that you'd normally only expect from high-end models.
Double Braced Harware
All Gigmaker hardware has cleared Yamaha's severe quality and durability tests. Double-braced construction ensures maximum stability, minimising the possibility of potentially damaging or hazardous falls.
Matching Wood Bass Drum Hoops
The same type of wood bass drum hoops used in Yamaha's high-end models are supplied as standard with Gigmaker sets. The wood hoops are colour-matched to the drum shells for consistently classy looks.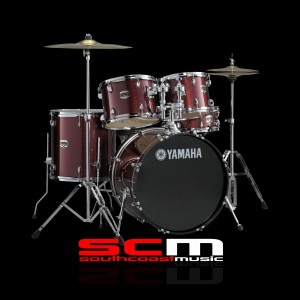 This Rock 22 configuration kit comprises the following:
– 22″ x 16″ 7 Ply Bass Drum
– 12″ x 9″ 6 Ply Mounted Tom
– 13″ x 9.5″ 6 Ply Mounted Tom
– 16″ x 16″ 6 Ply Floor Tom
– 14″ x 5.5″ matching Wood Snare Drum
– Basswood/Poplar shell construction
– 8 lugs on kick drum
– 8 lugs on snare drum
– 6 lugs on mounted toms and floor tom
– 1.6mm steel triple-flange hoops
– Double Braced SS650WA Snare Stand
– Double Braced HS650WA Hi-Hat Stand
– Double Braced CS651WA Cymbal Stand
– FP6110A Kick Pedal
– Includes a set of Paiste 101 cymbals
– Black Glitter Finish
– Pressed Metal Hoops for Toms and Snare Drum
– Wooden Bass Drum Hoops