Vintage ReIssued Series V100AFD Paradise LP style electric guitar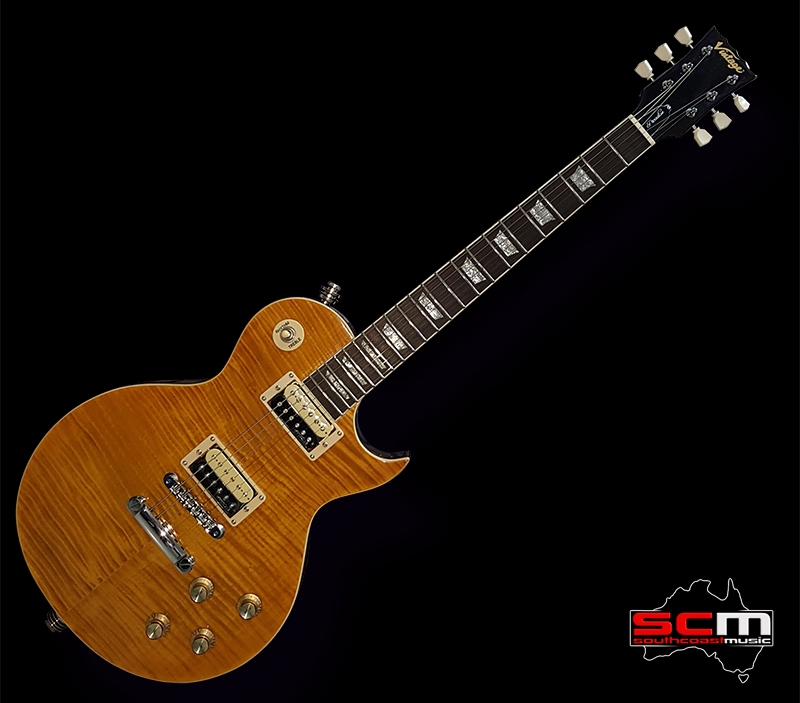 All images are of our actual guitar.
The Vintage ReIssued Series V100AFD electric guitar was conceived with only one purpose – to fuel your appetite for rock. The inspiration for this guitar may seem obvious but it is much more that simply a "copy".
Vintage® guitars are designed in the UK and built to exacting standards using only the best quality hardware, pickups and tone woods.
The design brief for the Vintage team includes a relentless quest for innovation, authentic tone and outstanding playability. The V100AFD is an original Vintage® ReIssued Series guitar, designed and created by Trev Wilkinson and the UK Vintage design team.
Body:
The VS100AFD features a solid Mahogany body with a carved flame Maple cap that provides resonance, tone and 'correct weight' comfort. The Vintage V100AFD has a unique, evolutionary body shape, with a graceful descending bass side shoulder and an ingeniously-designed offset heel providing improved access to the upper reaches of the fretboard.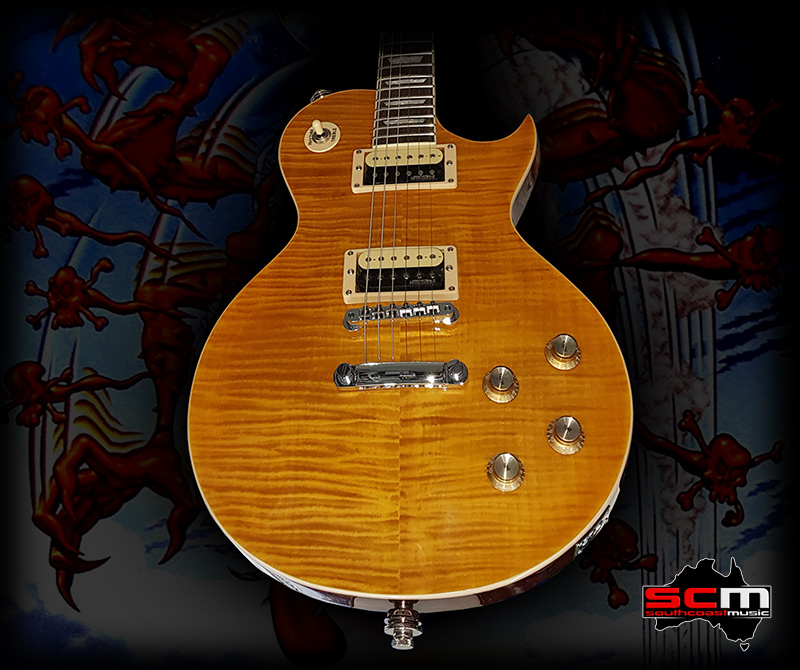 Bridge:
The Trev Wilkinson Tune-O-Matic allows each string to be fine tuned for superb intonation all over the fretboard.
Pickups:
The Vintage ReIssued Series V100AFD electric guitar features a pair of uncovered Wilkinson WVHZ pickups that provide this iconic looking axe with enough power to handle any high-gain situation. These are not "one trick pony" pickups though – whether in the neck or bridge position there are plenty of tonal options at hand.
Controls:
The V100AFD has individual Volume and Tone controls for each pickup along with a three-way pickup selector switch. By winding back the volume controls, you will find your tone cleans up, allowing you to dial back in gain as required – when playing a lead break, for example. The V100AFD allows you set different gain levels for each pickup along with a darker sound simply by dialling back the tone controls – the results should surprise you as you unleash your inner Slash or 'Cream era' Eric Clapton.
Machine heads:
Genuine Grover® tulip machine heads provide simple, effective action for maximum tuning stability while maintaining the Kalamazoo vibe.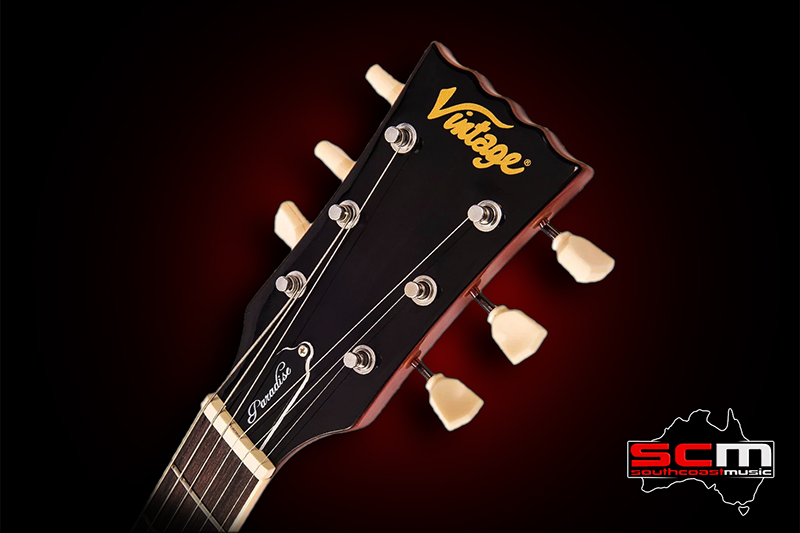 Neck:
The one piece Mahogany neck with its classic Vintage 'soft C' profile provides instant comfort, speed, accuracy and great feel.
Fingerboard:
The Rosewood fingerboard makes for outstanding tonal transfer, responsiveness and durability with a traditional R12″ radius for superb playability and feel.
Scale Length:
The 24.75″ / 628mm scale length is typical for this style of guitar and provides a sweet and easy playing feel. Bends are easy and the string tension is relaxed and easy.
Frets:
22 Medium Jumbo profile frets add to comfort, accuracy and overall positive feel of the Vintage V100AFD.
Nut:
The 43mm Graphtech NuBone offers smooth and friction-free string bending and tuning.
Headstock:
Classic Vintage headstock design for balance and visual appeal.
Straplocks:
Other professional appointments include a pair of chrome straplocks to ensure that your guitar stays safe and secure, no matter how low slung you like to wear it.
With its array of classic rock tones, top spec'd hardware and 'Tiger stripe' finish, the Vintage ReIssued Series V100AFD is your first class ticket to Sunset Strip, circa 1987.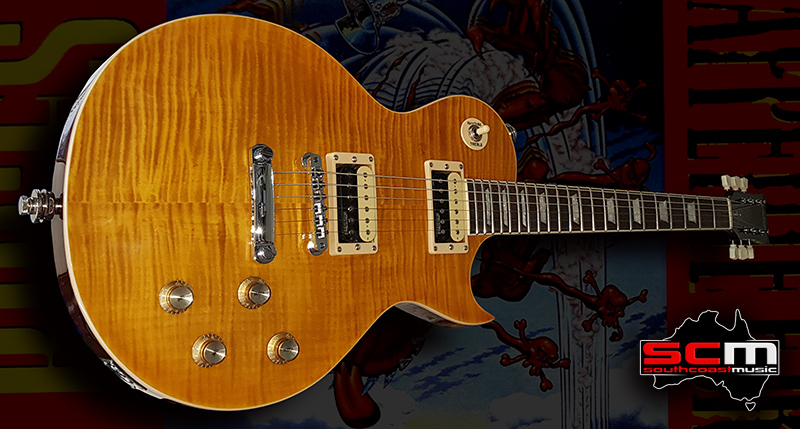 Pro-SCM Professional Setup
This is a good guitar – our Pro-SCM setup will make it a great guitar. Sharp frets and high action can be less than inspiring. Our customers continually tell us that our inhouse Pro-SCM setup has taken their guitar to another level altogether and our booked out workshop is testimony to that . Our skilled Guitar Technician will check and adjust anything that requires attention. Our Pro-SCM setup includes:
• Check that the action meets factory or your specifications (let us know asap if you have a preference).
• Check and rectify any buzzing, intonation or playability issues.
• Check and adjust the nut and bridge string heights. Remove sharp edges from the nut.
• Hand roll the fret ends removing sharp edges, level and polish the frets, oil the fretboard.
• Test electronics, pots and switches for correct function.
• Inspect instrument construction and condition of the strings.
• Ensure mechanical devices work properly tuners.
• Tune to pitch.
As a paid service this setup can easily cost $200 or more – it's included in this asking price.
Now, that's real value!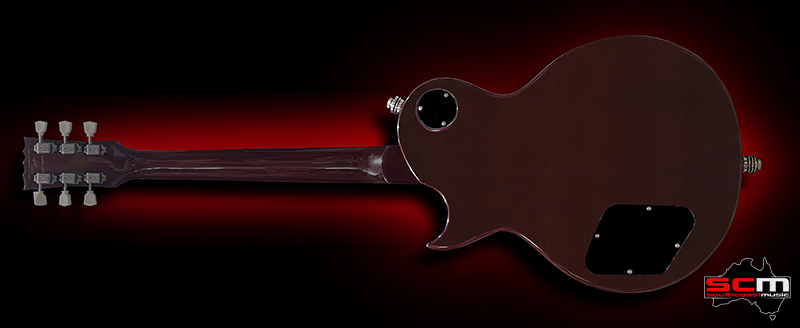 Vintage V100AFD Specifications:
• Body Material: Mahogany
• Top Material: Carved Maple Cap with Tiger Stripe flamed Maple Veneer
• Neck Material: Solid Mahogany
• Neck Profile: Soft C
• Scale Length: 628mm (24.75″)
• Fingerboard Material: Rosewood
• Fingerboard Radius: R12″
• Number Of Frets: 22
• Fret Size: Medium Jumbo
• Nut Material: Graph Tech
• Nut Width: 43mm
• Fingerboard Position Markers: Pearloid Trapezoidal Inlays
• Headstock: Vintage® VS100 Classic
• Hardware Finish: Chrome
• Bridge: Wilkinson Tune-O-Matic
• Tailpiece: Wilkinson Stop Tailpiece
• Tuning Machines: Grover® tulip Machine Heads
• TrussRod: Adjustable
• Truss Rod Cover: Black/White with "Paradise" in White
• Pickup Covers: none
• Neck Pickup: Wilkinson WVHZ-N Zebra Humbucking Pickup
• Bridge Pickup: Wilkinson WVHZ-BR Zebra Humbucking Pickup
• Controls: 2 volume, 2 tone
• Pickup Selector: 3-way toggle
• Output Jack: 6.35mm (1/4″)
• Setup: Pro-SCM professional setup ($200 value!)
In order to continually improve the design, quality and performance of our products and instruments and to make use of the best materials at all times, Vintage® Guitars reserves the right to change specifications without notice.