SMART ACOUSTIC TRANSPORTA PORTABLE PA SYSTEM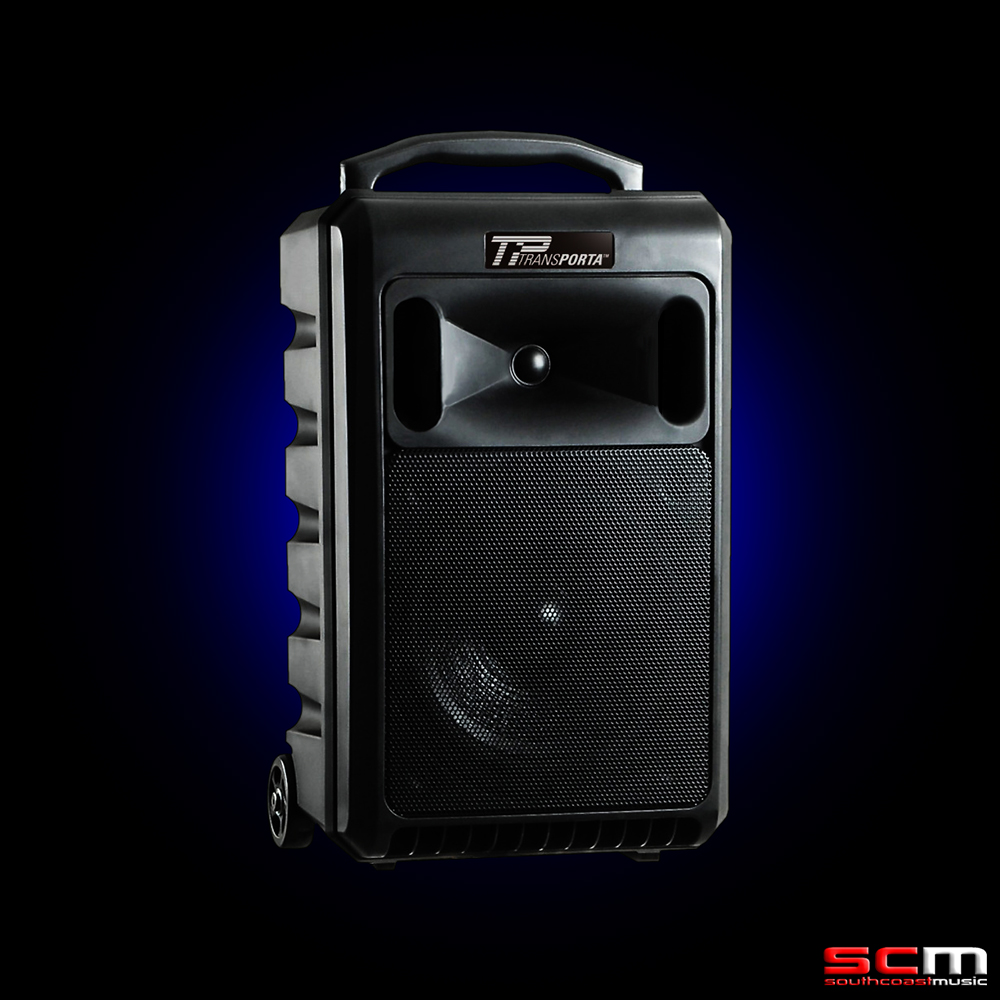 120 Watt Portable PA System
Built in Trolley with Wheels and Telescopic Handle
Two True Diverstity 16 Channel Wireless Receivers
Wireless Microphone and Bodypack Transmitter with Lapel Mic Included
Up to 100m operating range
Bluetooth Connectivity
Water-resistant Cover with Acoustic Grille and Zip-up Control Cover
Battery or Mains Powered for up to 9 hours
Three Year Warranty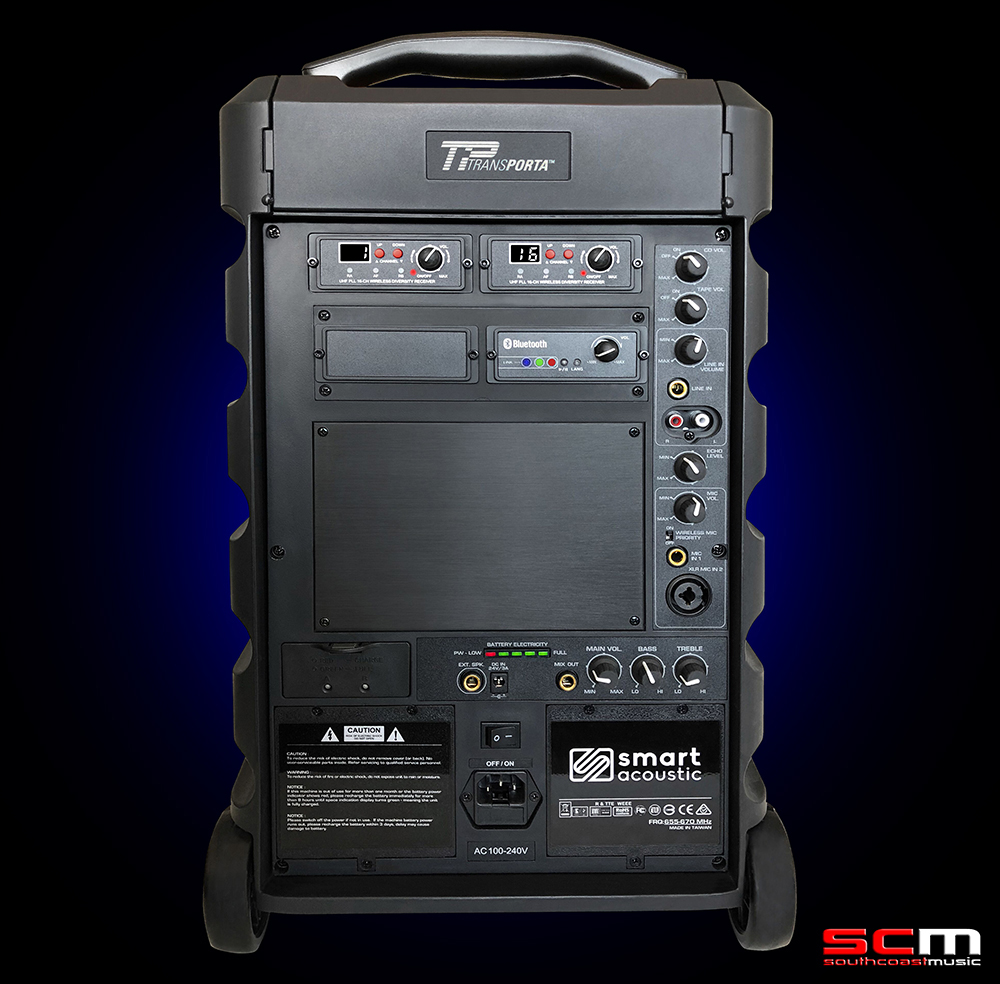 SMART ACOUSTIC TRANSPORTA
The Smart Acoustic Transporta Wireless Portable PA System is the perfect solution for situations that call for a flexible and portable sound reinforcement solution away from the constraints of cables and mains power.
The Transporta system features two True-Diversity Receivers, each with 16 selectable frequencies. Also included are a Hand Held Wireless Microphone along with a Wireless Bodypack and Lapel Microphone. The on-board Microphone Recharging station allows you to recharge up to 4 Wireless Mic batteries while out on location.
For added flexibility, you can easily connect to your mobile device or MP3 player with its built-in Bluetooth module.
The Smart Acoustic Transporta Wireless Portable PA System also features additional Microphone, RCA and Line In inputs to give you further connectivity and versatility.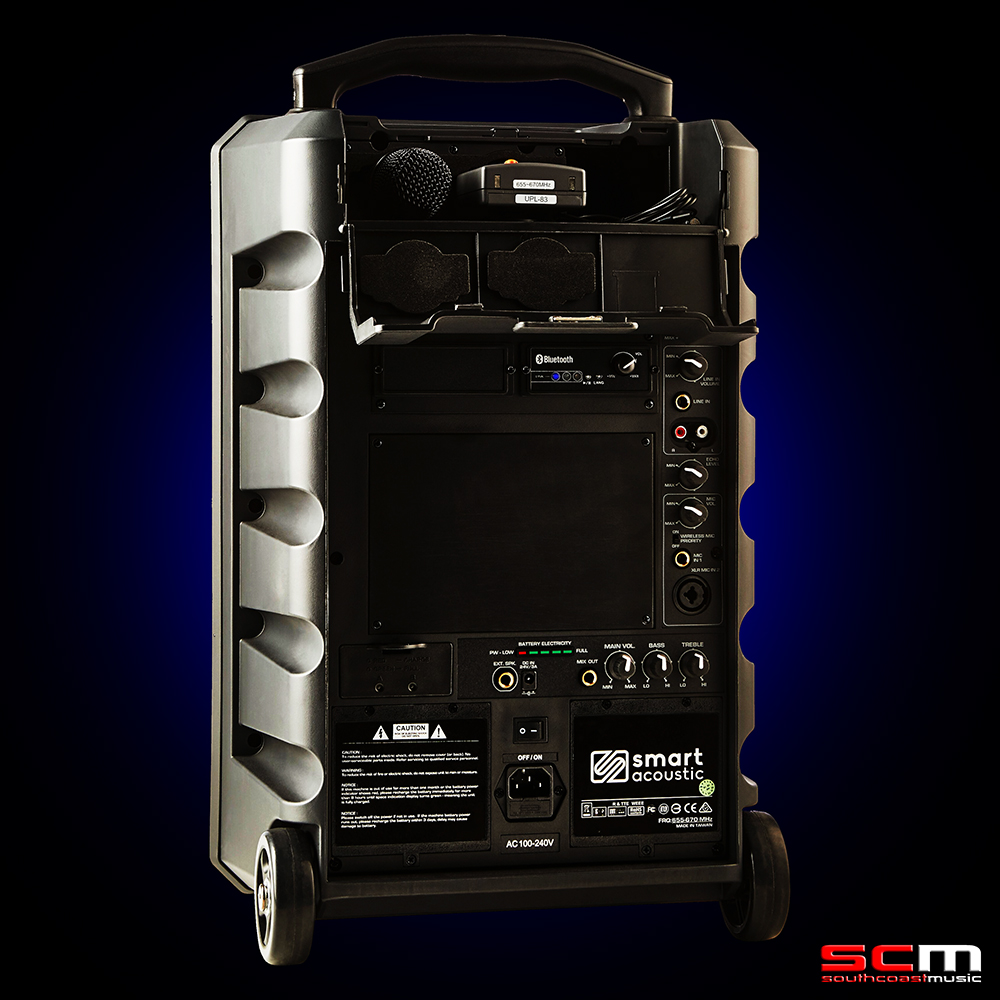 As expected from a Professional quality PA, at the flick of a switch you can activate the Wireless Microphone Priority feature to allow music to play which then automatically reduces in volume when you begin speaking into the wireless microphones.
The Transporta boasts a mighty 120W of portable power and sound quality that has to be heard to be appreciated. A custom engineered high powere 10" Low Frequency speaker working in tandem with the 1" High Frequency driver ensure Hi-Fidelity sound at all times.
Additionally, the  Smart Acoustic Transporta may be pole or speaker stand mounted for enhanced sound dispersion. There is also an External Speaker output which provides the ability to power a passive PA speaker rated at 60W @ 8 Ohms.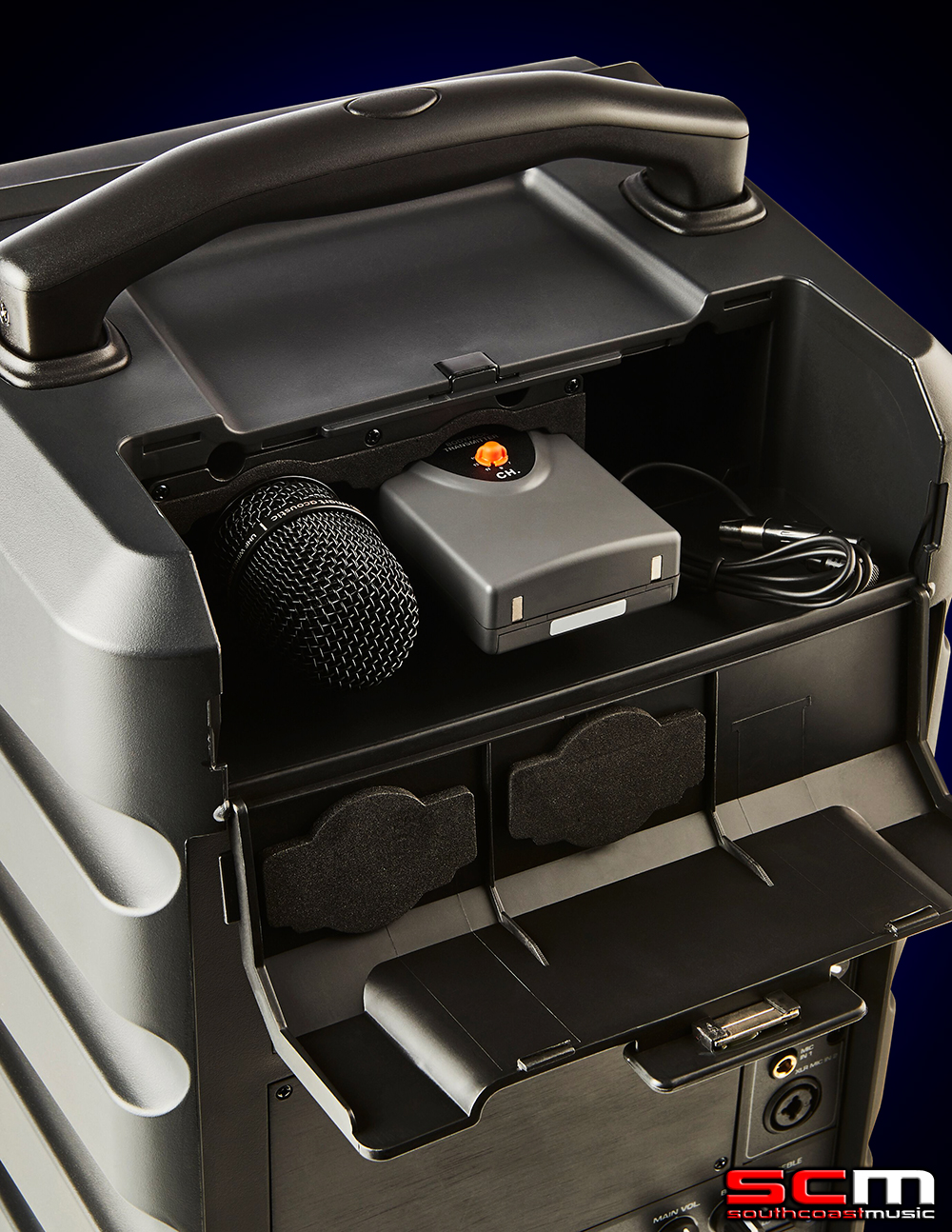 Equally impressive and dependant on the operating volume, the Transporta's batteries will deliver up to 9 hours of continuous operation – with a full change time of approximately 6 hours. For added reassurance, there is a Battery Status indicator on the control panel that accurately shows you what the current power level is and when it is time to charge your Transporta.
With it's built in Wheels and Telescopic Handle, moving your Transporta around is very simple and adds to its portability. The water-resistant cover with acoustic grille and zippered control panel cover adds another level of protection.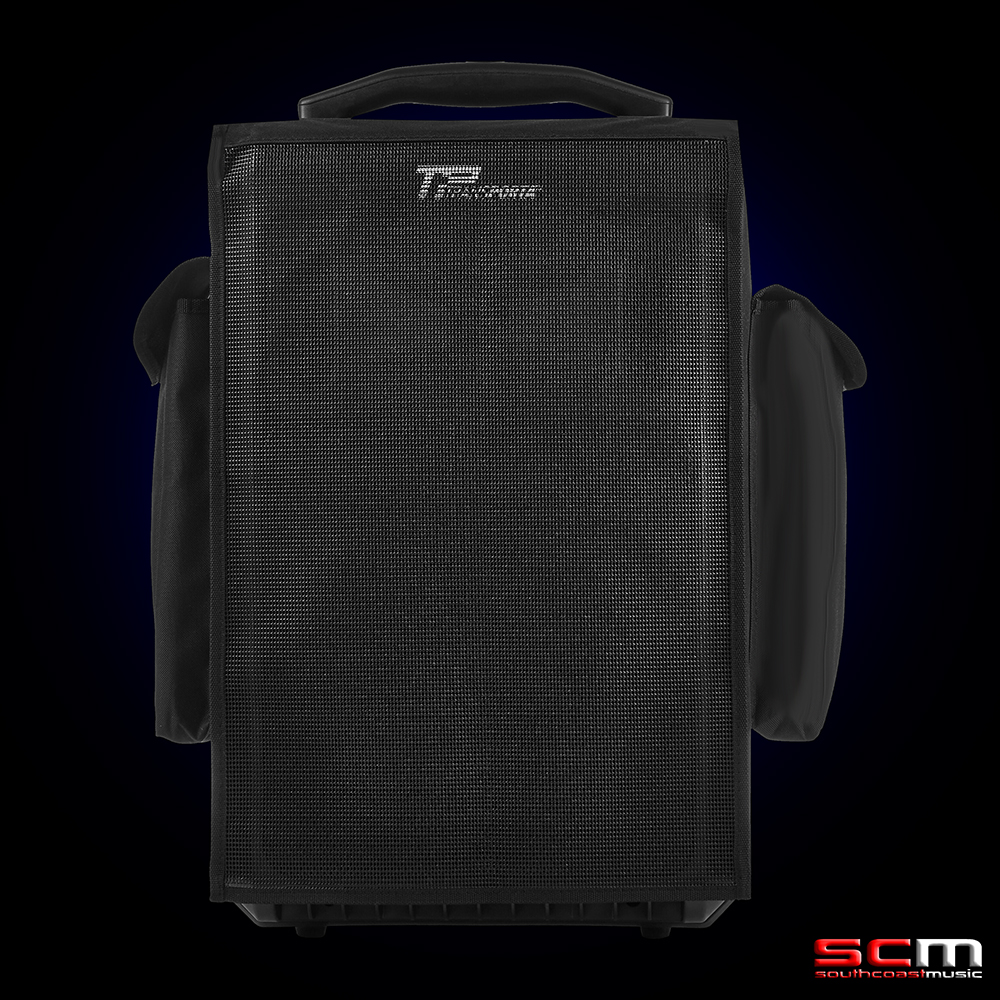 Smart Acoustic back it all up with a Three Year Warranty!
TRANSPORTA MAIN UNIT SPECIFICATIONS
Speakers: 1 x 10" Woofer & 1 x 1" Tweeter
Receiver Modules: 2 x 16-channel UHF PLL (Phase Locked Loop) True Diversity Receivers
Frequency Band: 655 – 670MHz
Audio Output Power: 120W
Batteries: 2 x 12V/5Ah Rechargeable Batteries
Charge Time: 6 – 8 Hours
Operational Time: 3 – 9 Hours (dependant on output volume)
Dimensions: H50cm x W32cm x D29cm
Weight: 16kgs (without batteries)
Trolley: Yes – with Wheels and Telescopic Handle
Cover: Yes – with Acoustic Grille and Zippered Control Panel Cover
RECEIVER SPECIFICATIONS
RF Range: 655 – 670MHz
Stability: ± 0.005%
Dynamic Range: ± 40KHz w/level limiting circuit
Signal to Noise Ratio: >110dB
T.H.D: >105dB
Squelch Circuit: Pilotone squelch/PLL synthesised receiver/Non-diversity
Frequency Response: 50Hz – 18KHz (± 3dB)
Receiver Mode: Quartz and tone squelch true diversity/Single receiver/Non- diversity or PLL system
Wireless Microphone Capsule: Dynamic
HAND HELD WIRELESS MICROPHONE TRANSMITTER SPECIFICATIONS
Wireless Microphone Capsule: Dynamic
RF Range: 655 – 670MHz
Wireless Channels: 16 x Selectable Frequencies
Stability: ± 0.005%
Frequency Response: 50Hz – 18KHz (± 3dB)
Antenna: Built-in
Signal to Noise Ratio: 80dB overall
RF Output: 10mW MAX.
Current Consumption: 100mA ± 10mA
Batteries: 2 x AA 1.5V Batteries (included)
Weight: 230g
WIRELESS BODYPACK TRANSMITTER SPECIFICATIONS
RF Range: 655 – 670MHz
Stability: ± 0.005%
Wireless Channels: 16 x Selectable Frequencies
ANTENNA: External
WEIGHT: 100g