SENNHEISER HD202 MKII PROFESSIONAL STEREO HEADPHONES
Sennheiser are renowned for their headphones and the HD202 MKII are one of their most popular models. These are superb headphones and excel, even when playing different genres of music.
The quality that defines Sennheiser is here in spades with its smooth, laid back sound and solid low frequency response. The wide genre bandwith of the HD202 MKII's make them the ideal Headphones for Dance, Rock, Pop, Top40, Jazz and even Classical. The Sennheiser HD202 MKII headphones are excellent in the recording studio.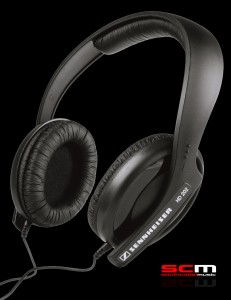 The HD202 MKII closed, dynamic hi-fi stereo headphones are also the ideal partner for DJs and are well suited to powerful modern music, providing good insulation against ambient noise and a vivid, crisp bass response.
These rugged lightweight headphones have a comfortable, secure fit and can be used for both mobile sources and home (mini) hi-fi systems.
When out and about with music on the move, a convenient cord take-up lets you adjust the headphone cable to the required length.
Sennheiser HD202 MKII Features
Closed, supra-aural, dynamic hi-fi stereo headphones
For DJs ,ideal for both mobile sources and home mini hi-fi systems
Good attenuation of ambient noise
Earcups can be removed from the headband
Specially designed damping perforation ensures powerful bass response
Lightweight diaphragm material with "turbine " embossing for extremely low bass
Powerful neodymium magnets and lightweight diaphragms for high sound levels
Powerful bass and increased signal levels for modern rhythm-driven music
Clips to the belt: cord take-up for adjusting the cable length when listening on the move
Extremely comfortable to wear due to ultra-lightweight design, even for extended listening
Rugged outdoor design with extremely flexible headband
3 m highly conductive OFC copper cable
Replaceable leatherette ear pads
Sennheiser HD202 MKII Package includes
1 HD 202 MKII
1 cord take-up with clip
1 adaptor 3.5/6.3mm (¼") stereo jack plug
Sennheiser HD202 MKII
OUR PRICE $69.00 INCLUDES AUSTRALIA-WIDE P+H!