Samson 29/GOMIC Go Mic Clip on USB Microphone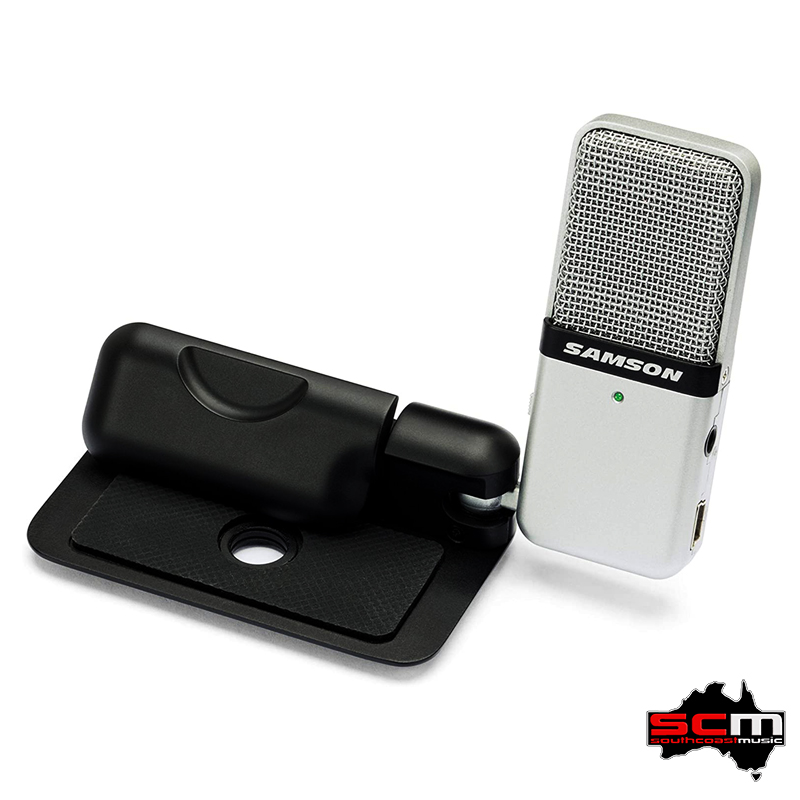 • Portable USB condenser microphone
• Plug and Play Mac and PC compatible, no drivers required
• Custom compact design that clips to a laptop or sits on a desk
• Multi-Pattern, Smooth, Flat Frequency Response of 20Hz–18kHz
• Ideal for Podcasters, Streamers, Musicians, to Improve Digital-Audio Quality
• Ideal for voice recognition software, iChat, VoIP and web casting• Portable USB condenser microphone
• Plug and Play Mac and PC compatible, no drivers required
• Custom compact design that clips to a laptop or sits on a desk
• Perfect for recording music, podcasting and field recording
• Ideal for voice recognition software, iChat, VoIP and web casting
The Samson Gomic is perfect for recording music, podcasts or field recording, but its range of functionality extends beyond typical USB microphones. Ideal for voice recognition software, iChat, web casting and even Voice over Internet Protocol (VoIP), Go Mic is the ideal solution for recording on the go.
Because of its custom, compact design, the Go Mic can clip right onto your laptop or sit unobtrusively on your desk. Plug and play operation also means it's completely compatible with a Mac OS or Windows, with no drivers required.
High-quality components and meticulous engineering ensure the Go Mic offers remarkably clear, professional audio reproduction and thanks to its switchable cardioid and omni polar patterns, you can pick whichever pattern is more appropriate for your specific situation.
Use the tightly focused cardioid pickup pattern when recording a podcast, acoustic guitar or vocals. Or use the omnidirectional pattern to capture the entire room, whether you're jamming with your band, webcasting with a group or conducting an online meeting with multiple members in a single location.
With a frequency response of 20Hz – 18kHz and a resolution of 16-bit/44.1kHz, you can be sure you're getting professional audio performance in a compact, multi-purpose design.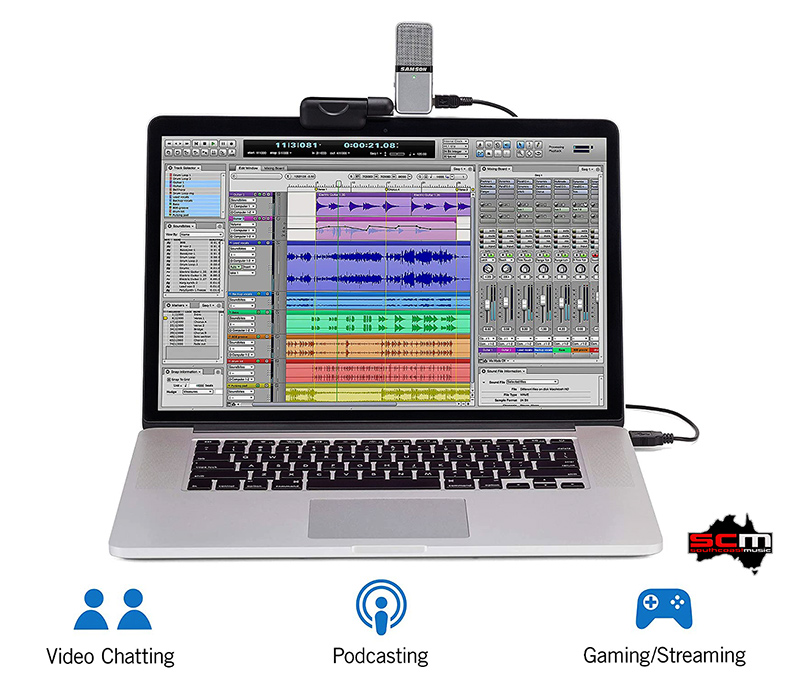 Podcasting Perfection
As the podcasting trend continues to grow, standards for audio quality and ease of use grow with it. Go Mic surpasses expectations for both needs with CD quality audio and the ability to record directly into your preferred software program. No matter whether you're a PC or Mac loyalist, Go Mic has you covered. And if you don't already have a recording program on your computer, Go Mic comes with Music Creator software, so you get everything you need to elevate the quality of your podcasts in one box. Go Mic can help you wow your listeners and set yourself apart in a crowded podcasting community.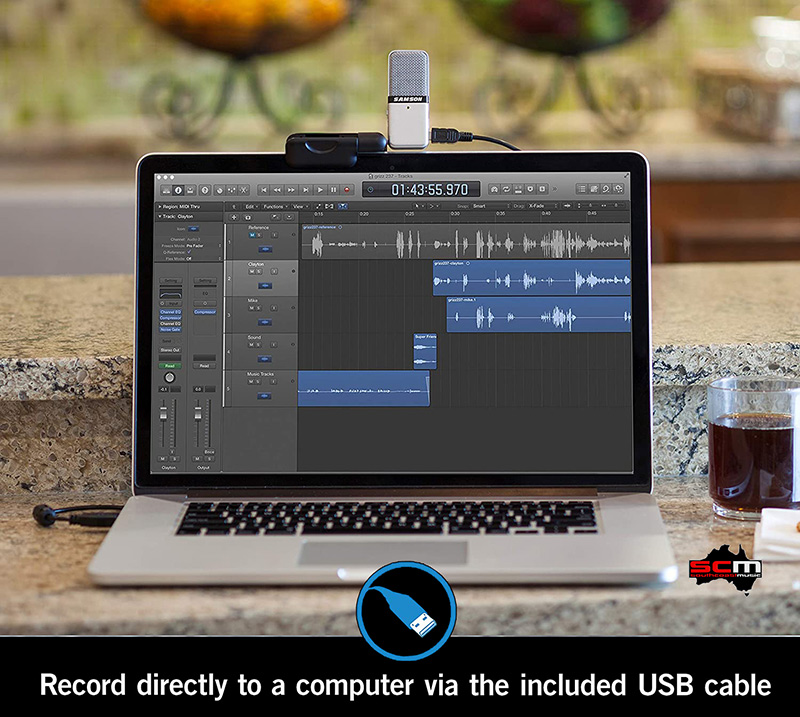 Communication Clarity
If you're a frequent online communicator, Go Mic provides an easy, inexpensive solution to enhance the quality of your communication. Whether your preferred method of interaction is Skype, iChat or VoIP, Go Mic can introduce a level of clarity you didn't think was available. On the road for work? Make sure you can hear about your family's day like they're right there in the room with you. Online meeting with potential clients? Ensure every crucial word of your proposal is articulated with the in-person enthusiasm you're looking for. With Go Mic, you can make any online interaction clearer and more personal.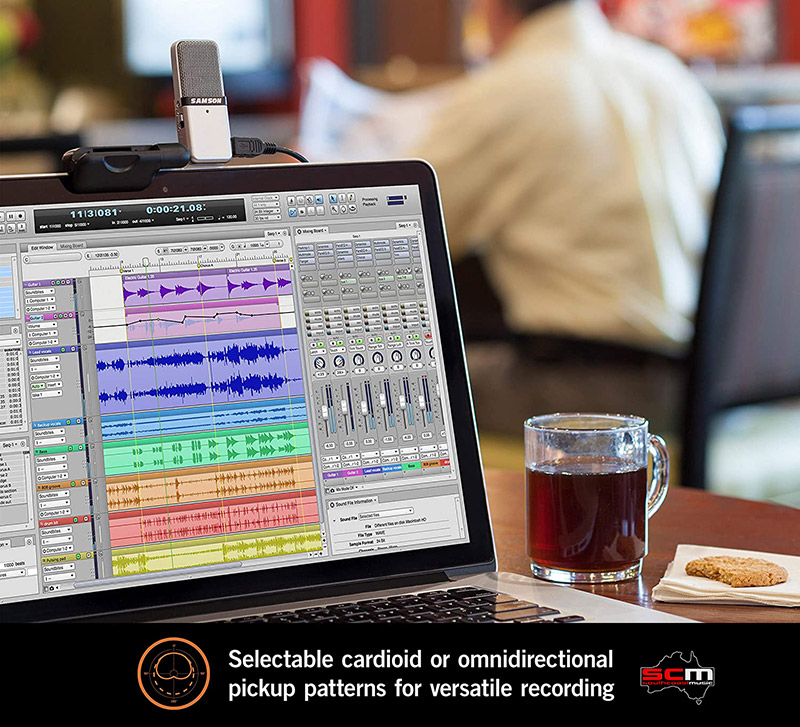 Multimedia Magic
For multimedia enthusiasts, Go Mic brings impeccable quality to your voiceover work. If your adding narration to a video, Go Mic can ensure your words create the impact you're looking for. There's no reason to lose the power of your voiceover due to poor audio quality. Make sure your audio sounds as good as your video looks with Go Mic.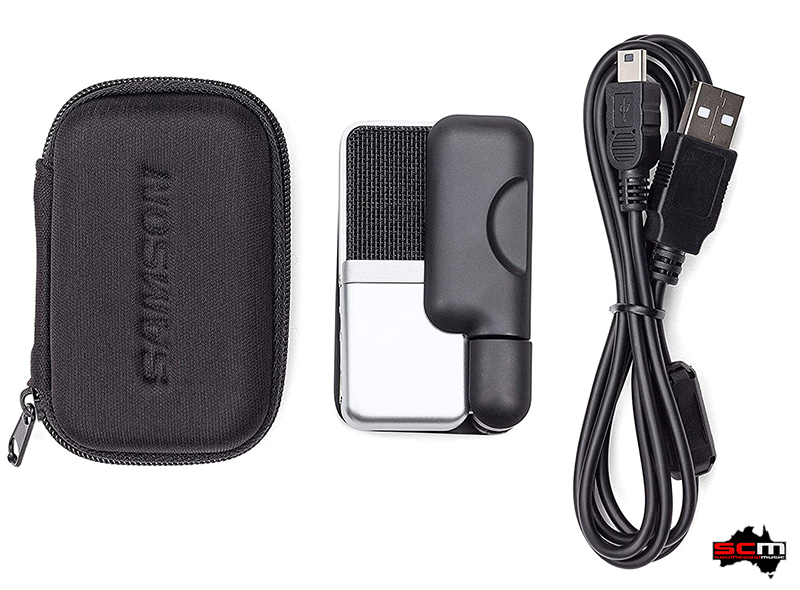 Musical Maestro
Whether you're a singer/songwriter recording vocals and acoustic guitar, or a band looking to capture the room sound of a jam right on your computer, Go Mic will make sure you don't miss a note. Use the cardioid mode to capture vocals or close-mic an instrument. Or get the sound of a full band by flipping to omnidirectional mode, ensuring sound is recorded from all directions of the room. Whatever the application, Go Mic can help you take your music to the next level.
Go Mic is perfect for anyone who wants to make great recordings on a computer. And no matter where you go to record, Go Mic goes with you