PLEASE NOTE THAT THIS ITEM IS PICKUP ONLY – FREE DELIVERY DOES NOT APPLY.
PRELOVED YAMAHA E-45 ORGAN
The Yamaha E45 is a classic in the Organ World.
When first released in 1981, the E45 cost as much as a small motor car!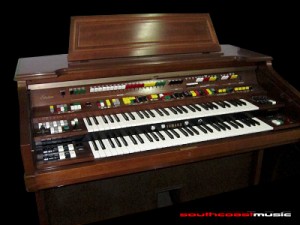 Featuring two upper manuals (keyboards) of 61 notes each and a two octave pedal board (25 notes) the E45 is still highly sought after by Organ Enthusiasts.
We have just traded this superb example of the Yamaha Electone Craft.
Purchased by its previous owner from Ron Campbell Keyboards right here in Nowra in 1981, it is in excellent condition for its age and even includes a pair of Period correct Yamaha Electone Headphones!
This Organ is being sold as traded, fully working and including its original (and at the time very expensive) Brocade covered bench with built-in storage.
Yamaha E-45s in this condition normally sell for $5000 or more…
$1999.00 pickup only.