YAMAHA DFP8500C DOUBLE KICK BASS DRUM PEDAL
• Double Kick Pedal
• Dual Chain Drive
• Long Footboards
• Stabilizer Bars
• Hard Felt Beaters
• Adjustable Beater Angle, Footboard Angle and Spring Tension
• Dependable Yamaha Quality, Performance and Reliability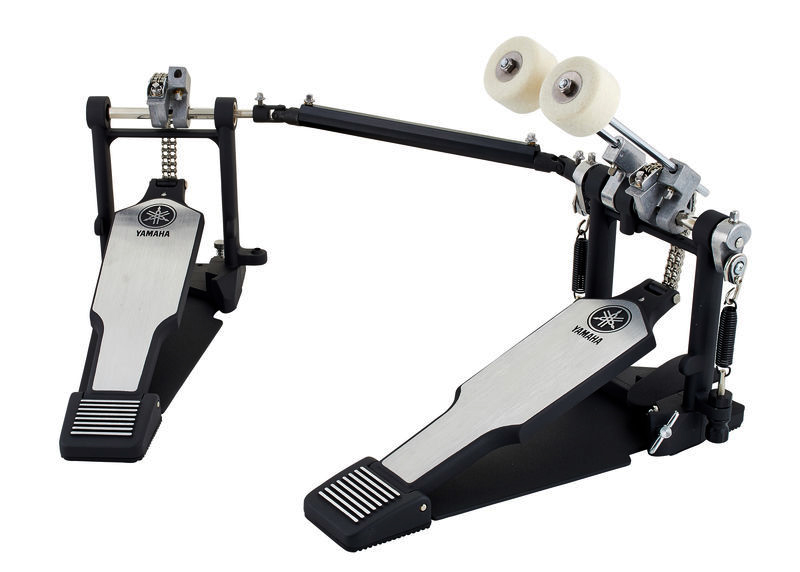 Built by Yamaha to provide reliable, responsive and rock'n performance night after night, the DFP8500C has adjustments for beater angle, footboard angle and spring tension.
The pedal frames have stabilizer bars cast into them below the rocker shafts to eliminate flex. This keeps the bearings in alignment and gives the pedal a smooth feel. It also adds stability for extremely fast playing styles.
The footboards are longer and wider for a solid feel, and make it great for anyone that uses a heel/toe technique.
The hole in the beater hubs are tear drop shaped and holds the beater shaft more securely.
The DFP-8500C ships with Yamaha's hard felt beaters – a favorite of many of their artists for years.
The side-adjustable hoop clamp holds firmly to different thickness hoops and tightens with a wing bolt.
YAMAHA DFP8500C Design/Architecture Detail
• Beater Shaft Locker: The teardrop shaped shaft hole holds the shaft securely. The shaft's flat surface keeps the 2-way beater from swiveling while playing.
• Dual Chain Drive: The dual chain drive transmits 99.9% of the energy from your foot to the beater for fast, accurate and expressive playing.
• Beater Angle Adjustment: Loosening the adjustment screw lets you freely adjust the beater angle along with the footboard angle.
• Spring Tension Adjustment with Self Lock: One hand spring tension adjustment is easy. A lock bolt secures the setting to prevent loosening during play.
• Simple Hoop Clamp Mechanism: A wing bolt firmly tightens the clamp for secure attachment. It also allows the clamp to accommodate different hoop thicknesses.
• Spring Roller with Built-in Bearings: Precision bearings deliver smooth, natural pedal action.
• Base Frame Tie Rods: Rubber coated tie rod ends prevent the footboard and base frame from becoming disconnected.
• Longer Footboard: The Footboard of FP8500C is longer than of FP9500C.