PAISTE PST 3 UNIVERSAL CYMBAL SET with BONUS 18″ CRASH!
Improve the sound of your Drum Kit with this great Cymbal set from Paiste!
Now you can upgrade your cymbals without breaking the bank. The Paiste PST3 Universal Set features a pair of 14″ hi-hats, a 16″ crash and a 20″ ride crafted from MS63 Brass Copper based Alloy. While stocks last we are also offering a BONUS 18″ Crash cymbal at no extra charge!
Delivering sound quality and pro-level looks not expected at this low price point, the PST series from Paiste represent the fusion of Swiss cymbal sound prowess with German hi-tech manufacturing expertise.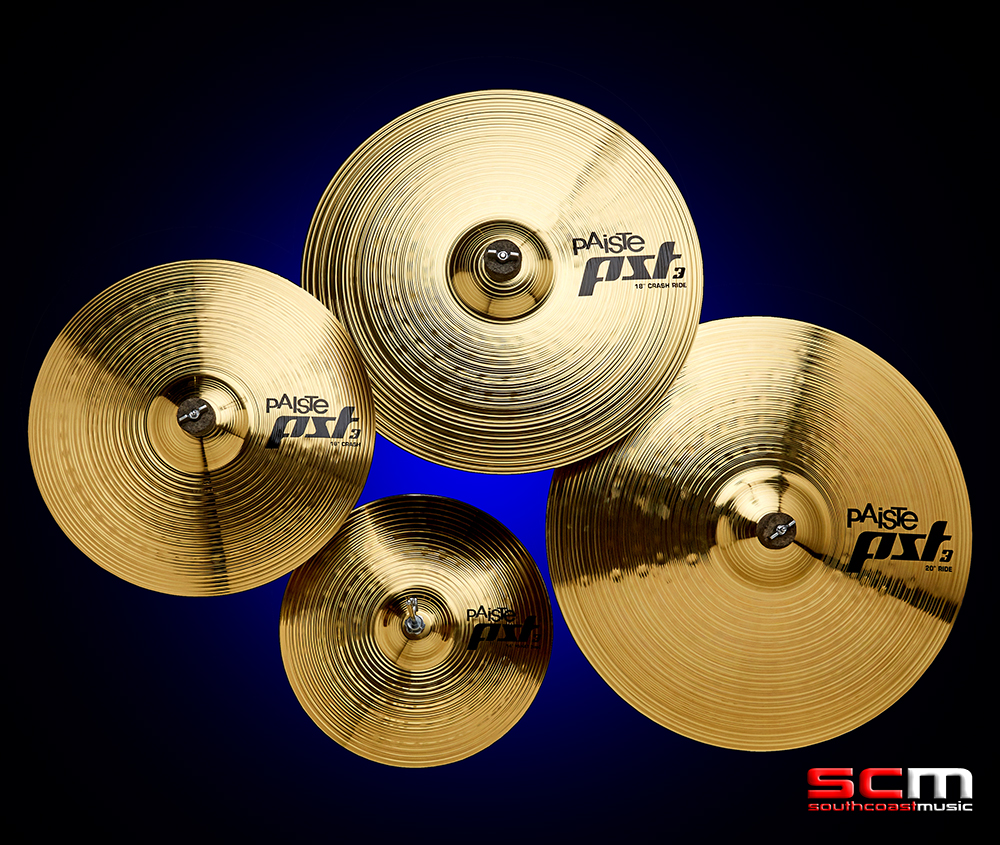 Employing modern, hi-tech production techniques, Paiste have been able to transfer the spirit and essence of 70 years of hand-manufacturing into premium-quality, musical cymbals. PST cymbals offer an unbeatable combination of quality and value along with superior sound and appearance.
Suited to a wide variety of music styles, these Paiste PST cymbals sound great at all volume settings including live performance. Students will especially appreciate the experience of playing with their first "real" cymbals.
The overall sound characteristic is bright, clean and powerful with fundamental functional and musical tonality from a selected and especially sonorous brass copper-based alloy.
o PAISTE PST3 14″ Hi-Hats
Bright, full, controlled open sound. Clean and full with an even, balanced feel.
o PAISTE PST3 16″ Crash Cymbal
Full, focused, and cutting. Medium range, fairly clean mix. Even, responsive feel and an explosive attack.
o PAISTE PST3 20″ Ride Cymbal
Warm, full, clear. Medium range, somewhat clean mix. Soft, balanced feel. Sizzling ping over a full wash.
o PAISTE PST3 18″ Crash Cymbal
Explosive, highly focussed and expressive crash/ride cymbal. Balanced, even feel with fast, powerful crash sounds and soft, clear ride qualities
PAISTE PST3 Universal Set Features:
o 1 x Pair 14″ hi-hat cymbals
o 1 x 16″ crash cymbal
o 1 x 20″ ride cymbal
o BONUS 1 x 18″ crash cymbal – WHILE STOCKS LAST!