Ortega RCE138SN Classical Guitar
• Slim Neck
• Solid Alaskan Spruce Top
• Pickup
• Active Preamp
• Built-in Tuner
• Cutaway
• Deluxe Gig Bag
• Guitar Strap
• Pro-SCM Setup!

An electro classical guitar that makes the job of playing a little less confronting.
The German-based Ortega company have found that most elusive of all things – a gap in the guitar market. With their slim neck electro nylon string guitars, they've acknowledged that regular steel string players wanting to venture onto classical guitar aren't always prepared to deal with the slightly more cumbersome neck width that usually comes hand in hand with the standard classical guitar. So they fixed it – and done a brilliant job of it too!
The starting point for Ortega as a new manufacturer was the crafting of fine guitars along classical Spanish lines. Today, they have taken traditional guitar-making to new levels, developing tailored instruments that are the result of consultative listening to their customers' requirements.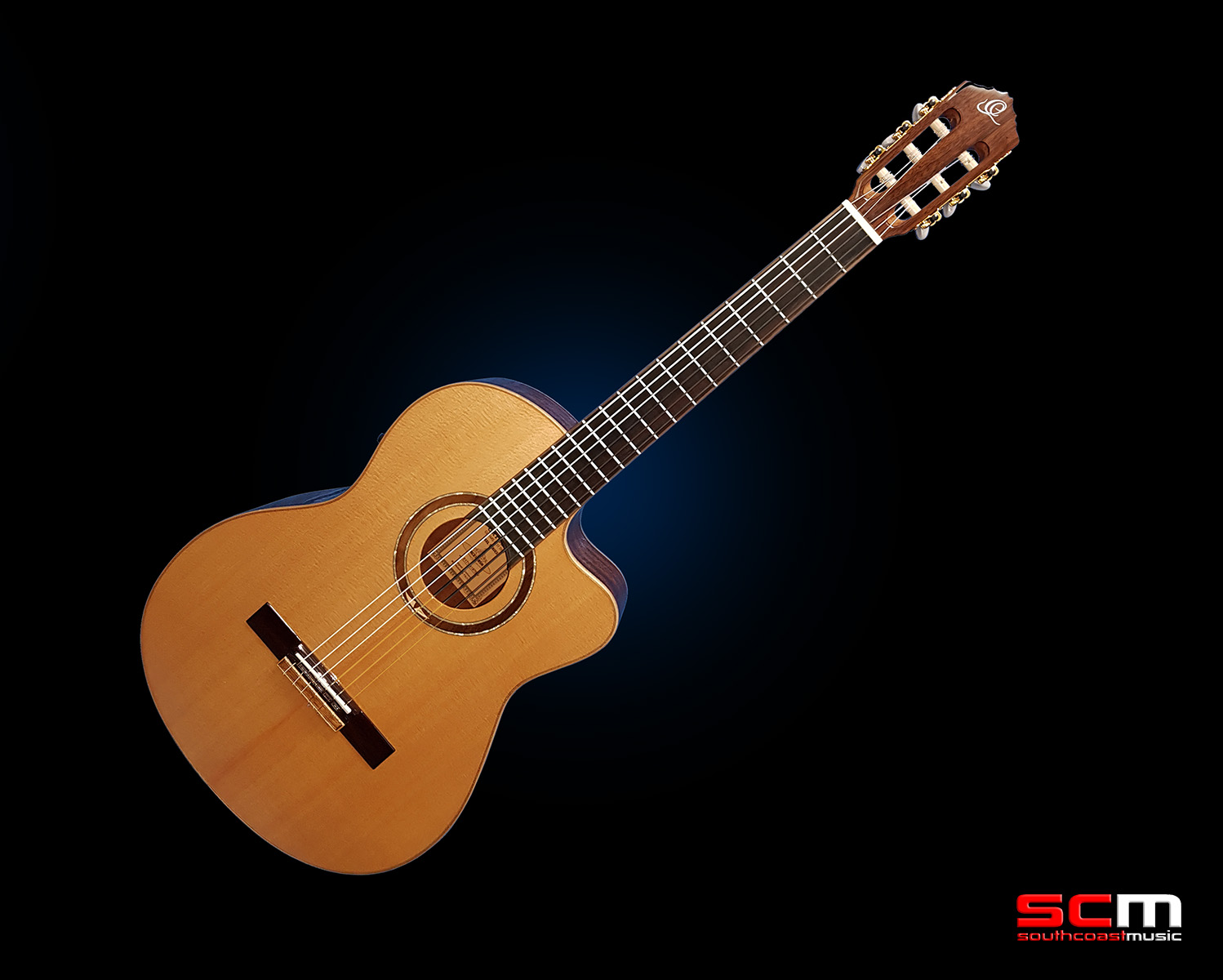 The RCE138SN was designed in Germany and hand crafted in the far east. The Top has been hewn from Solid Alaskan Spruce and the back and sides from Mahogany. They, along with the Mahogany neck feature a beautiful gloss finish that looks simply amazing.
The Bridge and 19 fret Fingerboard are made from Australian Blackwood.
The Mahogany neck features a Spanish heel which is rarely seen on a guitar at this price. Ortega have also given a lot of thought to the longevity of this instrument and cleverly incorporated a two-way truss rod. The neck profile is a lovely rounded C shape profile that fits nicely in the hand and that most players should find very comfortable – once again, making the transition from steel strings easier.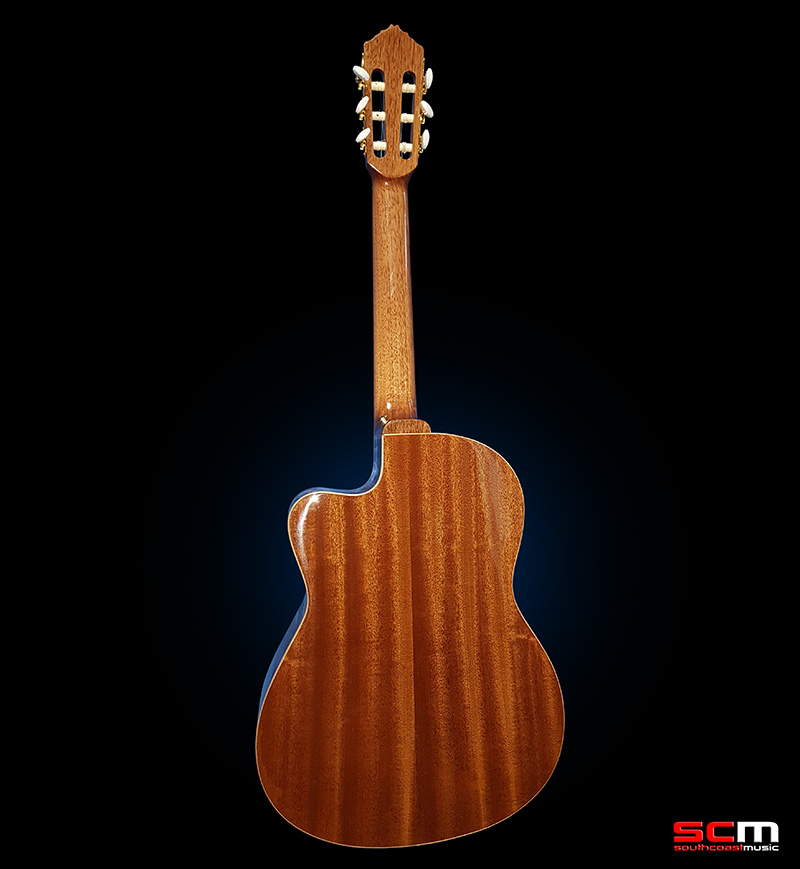 TRADITION
The traditional designed open headstock is adorned with six gold-plated Ortega tuners. It's unusual to see fretboard markers on classical guitars, but for those who would perhaps feel lost without them, you'll be relieved to know that there's a full set along the edge of the fingerboard…very handy indeed!
INNOVATION
Down at the other end of the guitar there's another innovation from Ortega in the 12-hole bridge. As I'm sure you're aware, most nylon string bridges have six holes where you thread the string through and tie a cunning knot to keep the string from slipping. On the Ortega, you feed the string through one hole and then back again through the hole immediately adjacent to it, locking the tail end of the string as you do so. It's far more simple to do than it is to describe and Ortega's claim that it has an effect on tone, appears to ring true. Say goodbye to that awful fumbled knot tying exercise when restringing.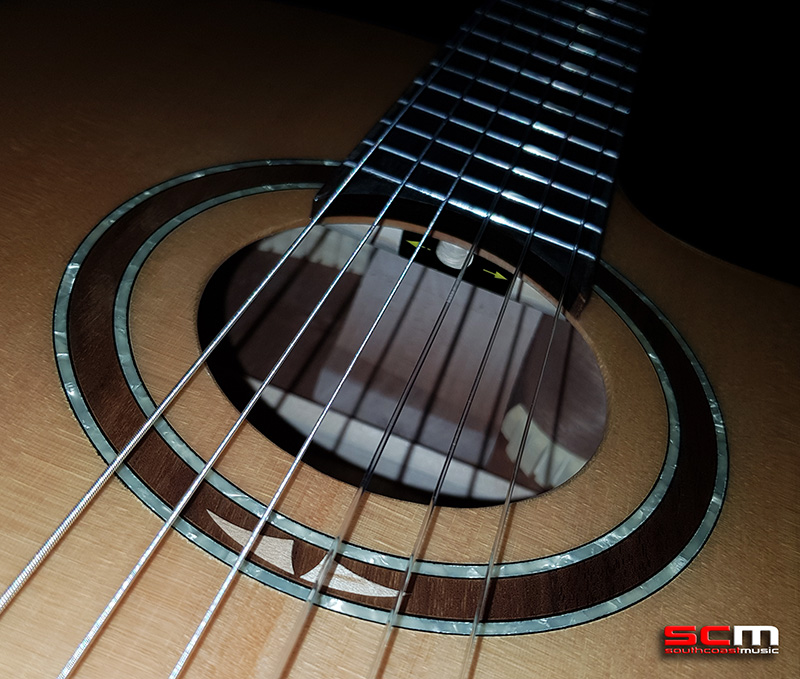 SOUND CHOICE

Acoustically, the RCE138SN displays some considerable charm all its own and shouldn't disappoint. It's a comfortable guitar to sit and play and the 48mm nut width making for an easier transition from steel string or even electric guitar. The sound is superb – with a lovely sweet overall timbre and exceptional balance between trebles and basses and great midrange presence. If you have an idea in your head as regards to what a nylon string guitar should sound like, then we don't think you'll be disappointed.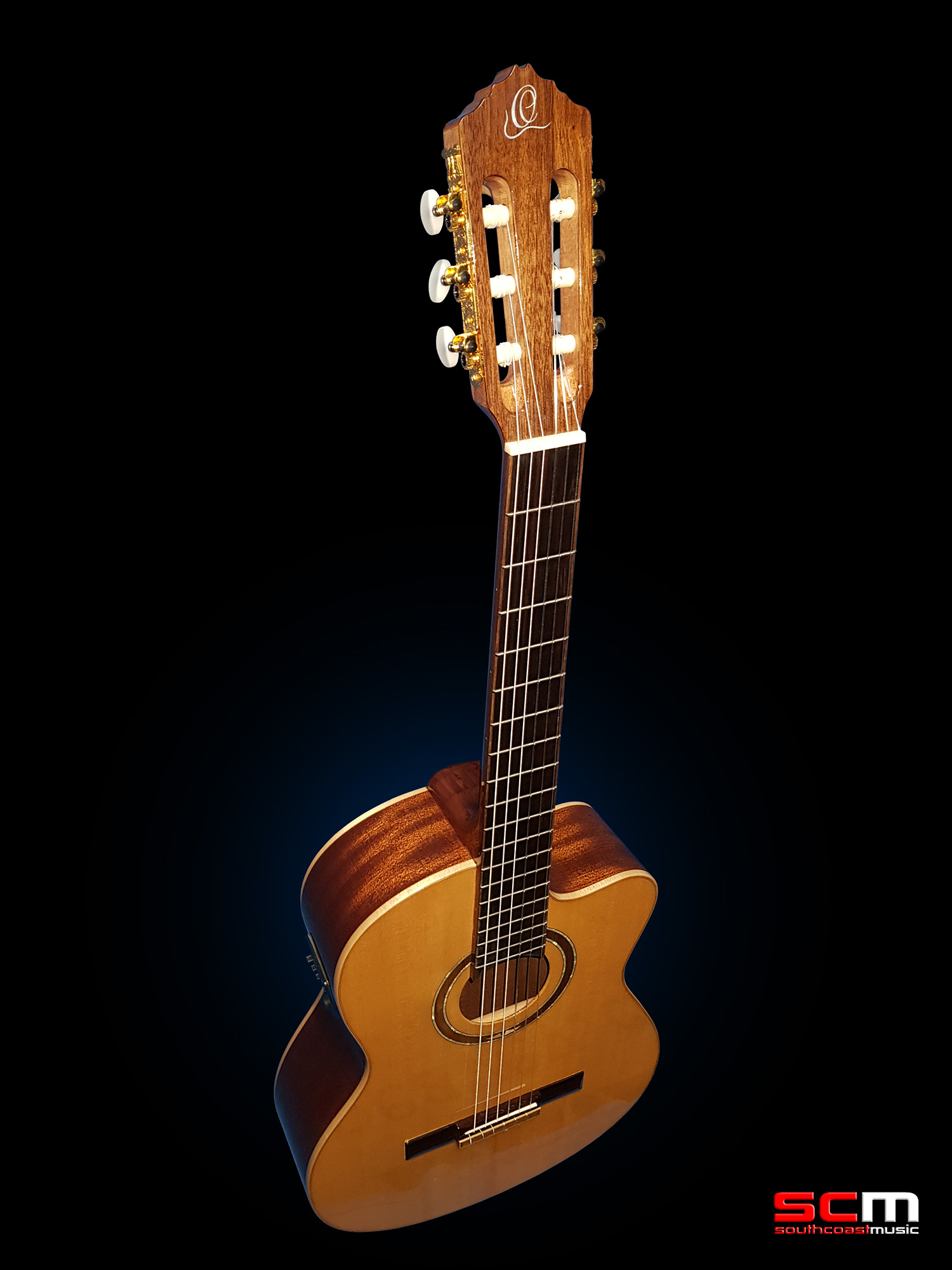 ECLECTIC ELECTRIC
As far as the electronics are concerned, Ortega went back to the drawing board in order to produce their own MagusPro-NL pick-up and preamp system in order to ensure that it was voiced specifically for nylon strings. The preamp has a built-in tuner that is practically invisible until it's switched on. The readout screen is held within Ortega's trademark ornate latter 'O' and lights up with a green glow when a string is perfectly in tune.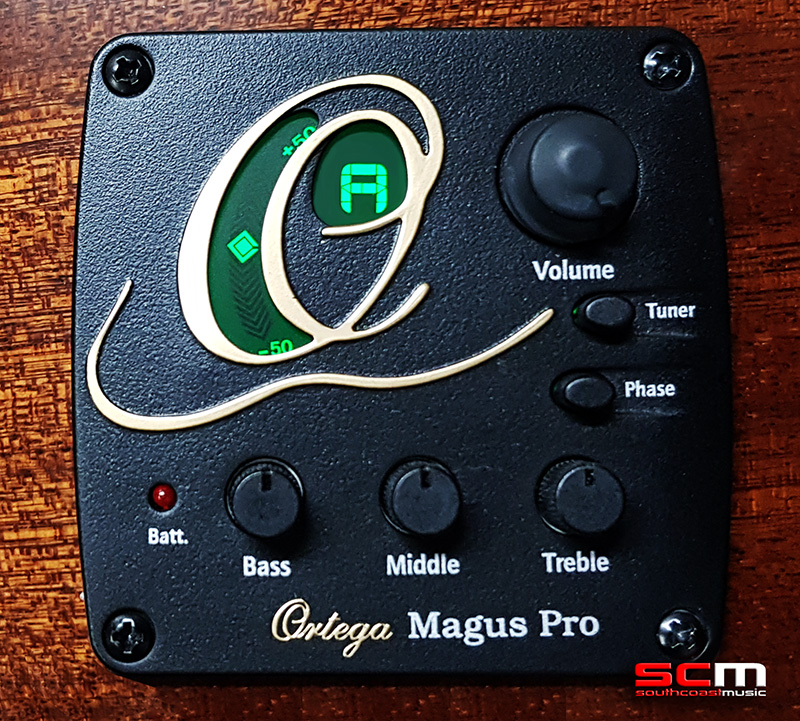 Plugged in, the Ortega's pickup system does exactly what it sets out to do and the subtle, sweet tones of the guitar are represented accurately and without undue fuss. With the tone rotaries set flat, it sounds good – and the treble, middle and bass controls ensure that you've plenty of scope for change should the need arise in a live situation.
Pro-SCM PROFESSIONAL SETUP
While the quality of this instrument shines through in spades, our customers continually tell us that our inhouse Pro-SCM setup has taken their guitar to another level altogether. Our skilled Guitar Technician will check and adjust anything that requires attention. Our Pro-SCM setup includes:
• Check that the action meets factory or your specifications
• Check and rectify any buzzing, intonation or playability issues
• Check and adjust the nut and bridge string heights
• Hand roll the fret ends and polish the frets, oil the fretboard
• Test electronics, pots and switches for correct function
• Inspect instrument construction and condition of the strings
• Ensure mechanical devices work properly including the tuners
• Tune to pitch
As a paid service this can easily cost $200 or more and it's included in our asking price.
WORTH CELEBRATING
Without ignoring the traditional attributes of what makes a good classical guitar, Ortega's innovations have resulted in an electro-classical guitar that answers the needs of the modern guitarist. A slimmer neck, a pickup system that is specially voiced for nylon strings and a superb acoustic and amplified tone combine to make this instrument a serious contender. The price is bang on and includes a high quality gig bag and a guitar strap. So when you think about it, a nicely built, good sounding electro acoustic classical guitar that has been expertly setup right here at at southcoastmusic for well under the $1000 mark is well worth celebrating!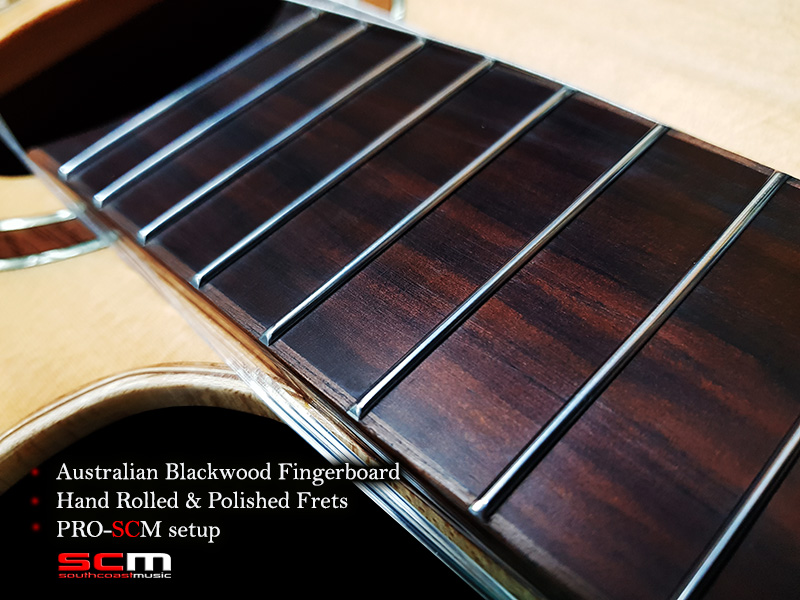 Ortega RCE138SN Technical Specifications
⦁ Model: RCE138SN
⦁ Body Size: Full size classical Guitar
⦁ Cutaway: Venetian Cutaway
⦁ Top Material : Solid Alaskan Spruce
⦁ Back and Sides Material: Mahogany
⦁ Neck Material: Mahogany
⦁ Fingerboard Material: Blackwood
⦁ Frets: 19
⦁ Tuners: Ortega/gold plated
⦁ Nut Width: 48mm
⦁ Scale Length: 650mm
⦁ Onboard Electronics: Ortega Magus Pro-NL
⦁ Strings Fitted: Savarez 500CJ
⦁ Gig Bag/Case: Deluxe Ortega Gig bag Included
⦁ Guitar Strap: Ortega Nylon webbing strap with Leather Tabs included
⦁ Setup: Pro-SCM Professional Setup