MESA Boogie FILLMORE 25 1×12″ COMBO ELECTRIC GUITAR AMPLIFIER
FILLMORE'S VINTAGE VOICE NOW IN A COMPACT 6V6 BOOGIE®!
• 2 Fully Independent, Footswitchable Channels, each with 3 Mode Channel Cloning™
• Channel 1 & 2 Feature: Channel Cloned Clean, Drive & HI Modes, Independent Gain, Treble, Mid, Bass, Presence, Reverb & Master Controls
• Vintage All-Tube, Long-Tank, Spring Reverb with Independent Channel Controls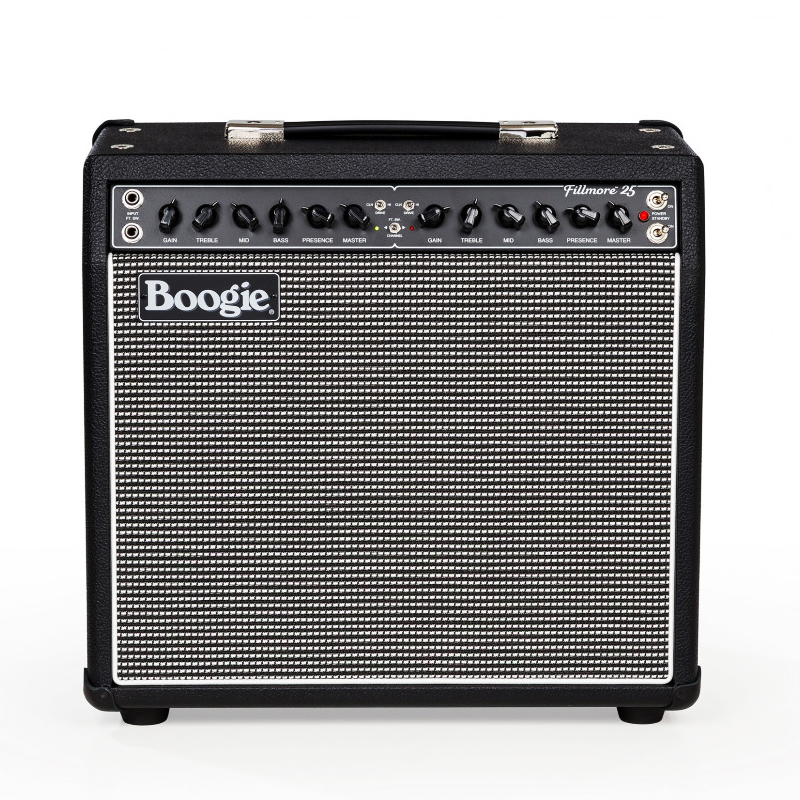 Introducing the MESA/Boogie® Fillmore™ 25. Joining the award-winning Fillmore™ 50, the new Fillmore 25 shows up to claim the bantam-weight class with a compact 6V6 format.
Authentic traditional tones abound in this new Fillmore's popular power range, from clipped cleans, to a purring grind, all joined by the preamp's higher gain realm delivering blistering tube overdrive like only a MESA can.
The 25 also features tube-driven spring reverb that provides some of Boogie's lushest, richest reverb to date. Experience the 50's circuit, soul and clip-ability coupled seamlessly with the realm beyond where traditional amp evolution tapped-out in the twilight of the 60s with the new Fillmore 25.
Finally, you can have the original Boogie-sized footprint, preamp flexibility to cover any style, and Traditional, old-school dress in the perfect power range! …Tone for days that brings back The Years!
Humbly named in tribute to the renown bi-coastal venues that showcased the biggest names in Classic Rock and Blues over decades, this new instrument has been dubbed super-responsive, nuanced, organic… and "vintage-inspired Magic" by those who've experienced it.
Subtle saturation that serves, not smothers, your style.
PURE VINTAGE INSPIRATION
In the Fillmore 25, you'll discover a new source of "perfect-power" inspiration. You'll enjoy our most expressive gain ever, presented in a simple 2 (identical) Channel, 3-Mode platform, served up in our original Boogie®-sized combo and head formats, dressed in Fillmore attire.
Where this class of amplifiers used to be only for practicing and recording, the Fillmore 25 arrives to reveal an amp capable of much more. …Versatility to cover any style, ample power and dynamic punch to Gig, true portability to make that effortless and myriad possibilities across the entire range of gain from which to build your two foot-switchable sounds.
MESA/BOOGIE FILLMORE 25 SPECIFICATIONS
• Output Power: 18 Watts (Clean) / 23 Watts (Max)
• Power Tube Type: 2x Mesa 6V6
• Channels & Modes: 2 Channels / 3 Mode Channel Cloning™
• Mode Voicings / Styles Channel 1: Clean, Drive or HI (Channel Cloning™)
• Channel 2: Clean, Drive or HI (Channel Cloning™)
• Graphic EQ / Reverb / FX / Solo Reverb & FX Loop
• Footswitchable Functions: Ch. 1/2
• Speaker & Impedance: 1 x 12″ 8 Ohm Celestion Custom 90
• Weight: 35 Lbs.
• Dimensions: 17 5/8″ H x 18 13/16″ W x 10 1/8″ D
• Warranty: Five Years (12 months on Tubes)