LINE 6
LINE 6 DT50-H 50 watt all-valve Head
ALL VALVE ELECTRIC GUITAR AMPLIFIER HEAD
Designed by Reinhold Bogner in the USA
RRP AUD$2699.00
Line 6 is an amplifier manufacturer without peer.
Line 6 is an amplifier manufacturer without peer.
As an undisputed leader in guitar amp modeling technology, Line 6 has created some of the most exciting electric guitar amplifiers of the past decade. In recent times Line 6 teamed up with valve amp guru Reinhold Bogner to combine its amp modeling technology with valves in the Spider Valve series – much to the delight of guitarists the world over.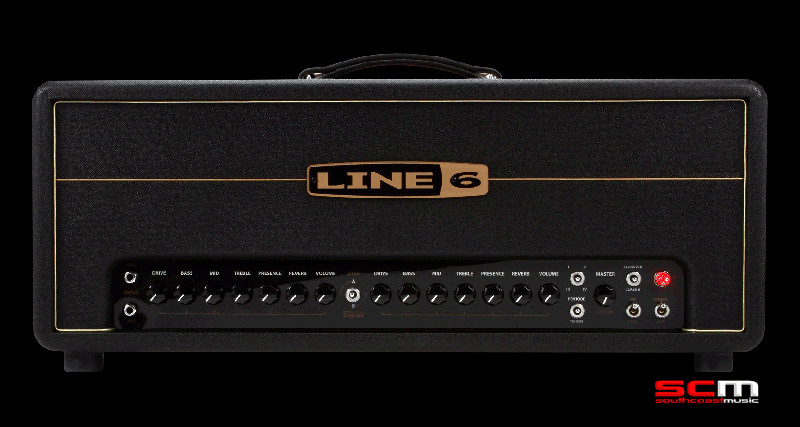 The collaboration has been so successful that Line 6 and Reinhold Bogner have upped the ante and created the flagship HD50 electric guitar amplifier.
o State-of-the-Art HD modeling technology
o Reinhold Bogner's most flexible tube design
o 2 x 12AX7 preamp tubes
o 2 x EL34 power amp tubes
o Selectable 25W/50W outputs
o Simple and straightforward 2-channel design
o Each channel: Drive, Bass, Mid, Treble, Presence, Reverb, Channel Volume
o Master volume
o High and Low inputs
o Reconfigurable analogue components (Class A/Class AB; Pentode/Triode)
o Complete, one-touch analogue reconfiguration (via Channel select switch)
o Low-power mode
o MIDI in and out
o L6 LINK in/thru connection for POD HD integration
o Footswitch jack for channel switching
o Serial effect loop with level control
o XLR direct out with cabinet simulation and ground lift switch
WORLD CLASS TONE AT YOUR FINGERTIPS
With the Spider Valve series, Line 6 modeled both the pre and power amp sections then ran the signal through an output valve stage. Guitarists the world over loved it!
The DT50 is a much more integrated system, effectively combining the digital preamp and tone stack with a complete valve powered analog pre and power amplifier. The result is simply outstanding.
The DT50 Head utilises Line 6's recently introduced HD modeling with a twin-channel valve-powered amplifier complete with two 12AX7 preamp valves and a pair of EL34 power valves designed to offer an unprecedented level of sonic flexibility.
At the heart of the Line 6 DT50 are four voices upon which the acknowledged classic electric guitar amplifier tones are based: American Clean (Fender), English Crunch (Marshall), English Chime (Vox) and Modern High Gain (Mesa Boogie).
Each of the four voicings (I, II, III and IV) are selected via a four-way switch and created by a combination of state-of-the-art digital modeling and analog circuitry. The key to the analog voicing is the way that Line 6 and Bogner have used negative feedback loop technology (NFL). Negative feedback is the amount of the amp's output fed back into the amp (higher NFL levels reduce distortion and increase headroom) and accordingly, is different for each voicing. This alone is enough to qualify as the holy grail of the DT50s incredible tonal capability.
But of course, there's more. In addition to choosing one of the four voicings, you have two more switches to configure how the power valves operate, with a choice of class A (25 watts, cathode biased) or class AB (50 watts, fixed biased) operation and Pentode or Triode mode.
There are 16 combinations available in all and any one of them can be dialed in for either of the DT50's two identical channels. Tailoring the sound is simple with each channel's drive, bass, mid, treble, presence, reverb and channel volume knobs.

KEEPING IT SIMPLE
Line 6 have made things easy for guitarists who like to keep things simple allowing switching between the two channels to be implemented with a standard footswitch. For those who own the Line 6 M9 and M13 Stompbox Modellers, switching control is possible via MIDI.
So, everyone is happy – but there are always those of us who need to push the envelope, to shift the paradigm and take their valve amplifier where no valve amplifier has gone before . . . for those guitarists the DT50 incorporates a proprietary L6 Link that offers seamless integration with the new POD HD series, where selecting a POD preset optimises the DT50's analogue components to complement the POD amp model creating an incredibly powerful and intuitive guitar amplifier.
As a stand alone guitar amp the Line 6 DT50 is a sonic weapon, offering enough tonal variation, versatility, power and control to satisfy the most die-hard tone nut.
Guitarists have to practice, mostly at home at low levels and we all know that can be a challenge. Not so with the Line 6 DT50 – there's a low volume mode which is initiated by pulling out the master volume knob. This lets the HD modeling technology provide both preamp and power amp tones for a tone that is a close to your on-stage sound but at a much lower level – it really has to be heard to be believed. This technology first surfaced in the Spider Valve amps and is proven, not only that – it sounds amazing.
For quiet recording the DT50 also offers a direct output featuring cabinet simulation via an XLR connection. The DT50 comes in a head version (with optional 4 x 12 cab) or a choice of two combos, a 1 x 12 or the 2 x 12 we have here.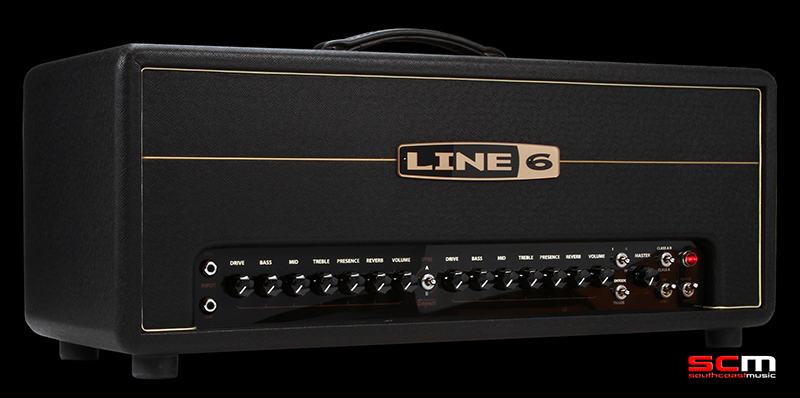 WHAT YOU SEE IS WHAT YOU GET
The Line 6 DT50 front panel is backlit offering a tactile and easy to read layout of your settings. Essentially the DT50 is a WYSIWYG (what you see is what you get) operation – you simply select a channel and set the knobs and switches as you want to achieve your desired tone.
The switches toggle between their settings with the actual switching done by relays rather than by physical position of the switch, so changing channels recalls the options that were set by the switches when the channel was last active.
The dual-channel set-up offers plenty of flexibility as you can have a completely different amp voicing for each channel or set it to operate like a conventional two-channel amp, with the same basic sound but different amounts of gain.
Each of the four voicings has a recommended setting for the operating class and pentode/triode option to more accurately emulate the amp it was based on. All are designed to run in class AB, apart from voicing III, the English chime, where the recommended class A operation tallies with how a real AC30 works.
Disregarding the digital-versus-analogue debate, the Line 6 DT50 is an incredibly versatile amp by any measure – its certainly loud enough for any gig and provides facilities that are real and useful for recording and home practice.
The jewel in the crown however is that the Line 6 DT50 can deliver the four distinct flavours that are generally regarded as the cornerstones of guitar tone. To seriously consider that at your fingertips are the archetypal Fender, Marshall, Vox and Mesa/Boogie tones would, only a few years ago. have been considered ridiculous however, the simple truth is that the Line 6 DT50 is currently the closest you'll get in a single amp to emulating all four.
Line 6 and Bogner are to be congratulated. The DT50 is the amp that will make you reconsider what is possible from a valve powered guitar amplifer.
The way that Line 6 have brought together the digital elements of this amp is simply mind blowing – here finally is a hybrid all-valve/digital guitar amplifier whose elements are so fully integrated and seamlessly intertwined with the analog that the impression is that what you're hearing is a valve amp that gets a little tonal flavouring from digital, rather than a modelling amp that's using a valve stage to 'warm up' the sound. If hearing is believing this is it.
If price has previously been an issue than get ready for a massive paradigm shift. The future of tone is here, now – and thanks to the buying power of southcoastmusic – it has never been more affordable.
For those Requiring a Little More . . .
While the DT50-H head (along with your matching speaker Cab) function beautifully as a stand alone guitar amplifier, LINE 6 have built-in the capability to turn this amp into a tonal chameleon. Simply connect a POD® HD multi-effect pedal or POD® HD Pro multi-effect rack to this little monster and the two integrate seamlessly to become a boutique tube amp tone factory!
Connected via exclusive L6 LINK™ technology, the DT50H amp and POD® multi-effect rewrite the traditional amp/multi-effect paradigm to introduce powerful new concepts in control and customisation.
LINE 6 POD® technology allows you to add effects, additional amp voicings, foot control and instant scalability (including stereo operation with multiple DT50H amplifiers) making the DT50H the perfect partner for POD HD multi-effects. Session players love the versatility, stage musicians love the control. The days of plugging a POD® into the front of an amp are over!
DT50H AMPLIFIER + POD HD MULTI-EFFECT UNIT = BOUTIQUE GUITAR TONE FACTORY
The Line 6 DT50 amplifiers and POD HD multi-effects don't just connect, they seamlessly integrate to transform into a boutique tube amp factory capable of creating any tone you need with incredible tone and feel. POD HD multi-effects come to the party with additional models including 20+ HD amp models, 20+ HD guitar preamp-only models, huge collections of effects, cabs, mics and more.
With a single L6 LINK connection, you get:
• Automatic analog configuration. Select a POD HD amp model or preset and the DT50 analogue components will automatically configure themselves to the appropriate operating class, biasing method, negative feedback topology and power tube mode.
• Save custom analog configurations. Saving your custom DT50H configurations is as easy as saving POD HD presets. Tweak the DT50 amp settings, press Save on the POD HD multi-effect and incredibly unique and complex amp configurations can be recalled instantly.
• No ground loops.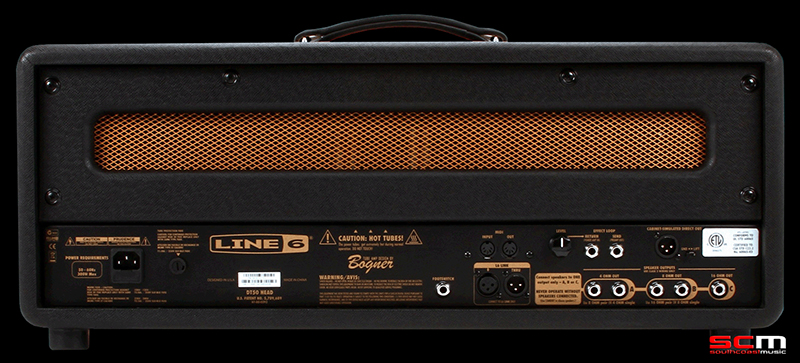 LINE 6 DT50 SPECIFICATIONS:
o Amplifier Type: Adaptive
o Operating Voltage: 240VAC 50Hz
o Modeling: Line 6 HD Modeling
o Preamp Valve Section: 2 x 12AX7
o Power Amp Valve Section: 2 x EL34
o Amplifier Design: Designed by Reinhold Bogner
o Voicings: Selectable, (Cathode or Fixed Bias)
o Bias Types:
– Type I (Tight Feedback, California Clean)
– Type II (Looser Feedback, Crunchy British Feel)
– Type III (Zero Negative Feedback, Chimey Brit Feel)
– Type IV (Modern Feedback, Higher Gain)
o Operating Class and Wattage: Selectable: Class A (25W) <> Class AB (50W)
o Power Tube Configuration: Selectable: Pentode/Triode
o Foot Controller: POD HD300/400/500 via L6 LINK; Standard 6.3mm (1/4″) Tip-Sleeve Footswitch for Channel Switching
o Other In/Outs: Serial FX Loop, MIDI IN/OUT, Cabinet Simulated Direct Out
AN EXCEPTIONAL OPPORTUNITY
The LINE 6 DT50 Head is a winner – any way you look at it! Combined with your appropriate speaker cab the DT50H is up there to be judged with the best of the best.
A Bogner designed valve amp at this price doesn't come along too often.
For Tech Heads, the POD-HD integration is the icing on the cake that makes this mighty amp deal a no-brainer!