LANEY LA65D ACOUSTIC / VOCAL AMPLIFIER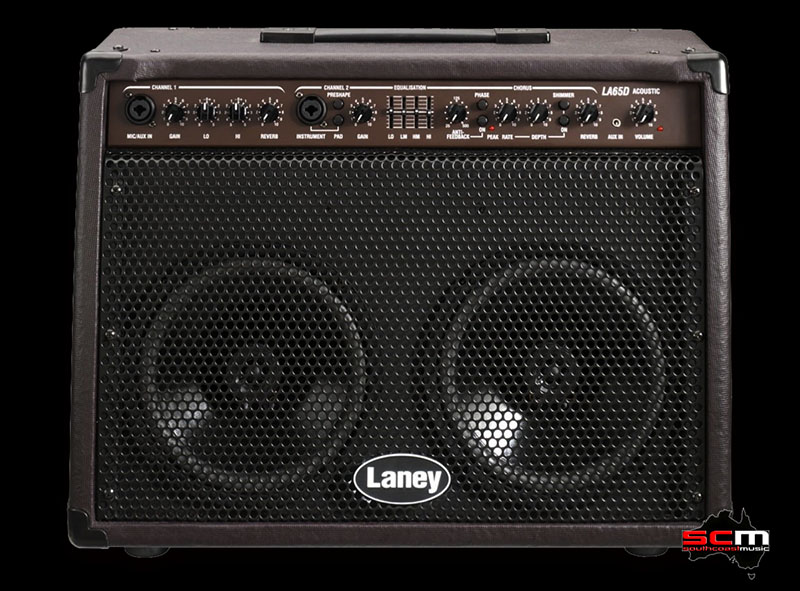 The LANEY LA65D acoustic combo has the headroom and feature set for acoustic stage performance and handles anything plugged into it with ease.
Designed and engineered in Great Britiain, LA acoustic amplifiers are built to deliver natural sound reproduction for acoustic instruments and more. While the LA series was originally designed as an acoutic guitar/vocal amplifier, its versatile configuration has seen it being used in a much broader setting. On stage, jamming at home, even playing in a restaurant or small club – prepare to be surprised.
The preamp, power stage and speaker components and all carefully developed and tested to deliver quality tone combined with enhanced functionality and portability.
DUAL DISCRETE CHANNELS
The LA65D features a true twin discrete channel preamp:
Channel 1 is ideal for mic/line connection, equipped with a combination XLR/Jack socket, volume control and reverb control. You can connect a variety of instruments including guitars, microphones, bass guitars and keyboards.
Channel 2 accommodates acoustic instruments of all output levels via connection with XLR/Jack input with pad switch plus level control. A 4-band graphic EQ, Anti Feedback circuit, Reverb assign switch and Chorus with variable Rate and Depth and Shimmer setting completes the array of Channel 2 features. As with channel 1, you can connect a variety of instruments including guitars, microphones, bass guitars and keyboards.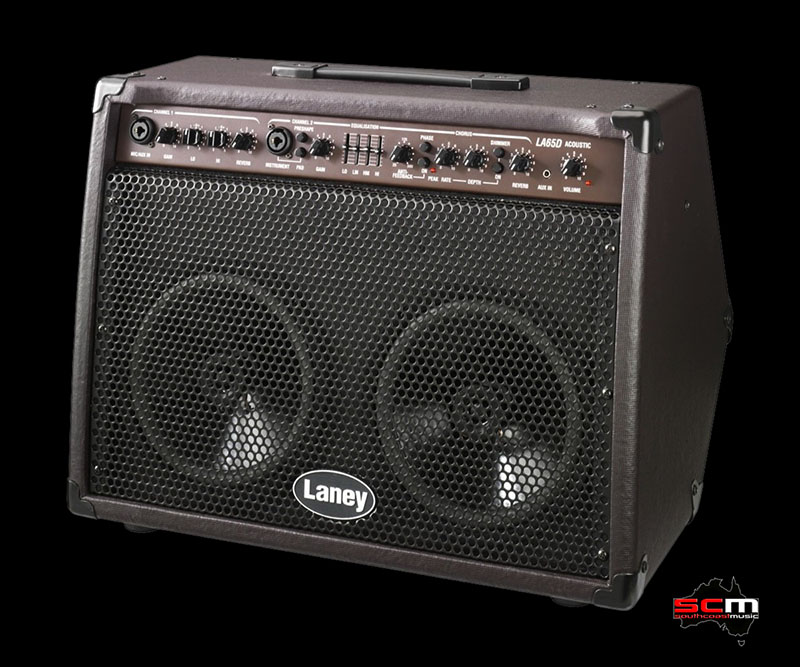 DUAL COAXIAL DRIVERS
The LA65D houses 2 × 8″ custom designed drivers – each featuring a coaxial tweeter, ensuring that your acoustic guitar sounds and vocals are produced and projected brilliantly and correctly. If you are playing a Bass guitar through the LA65D, the tweeters add a Hi-Fidelity edge to your tone – just like the big bass amps.
DUAL POSITION
The LA65D features a dual-position cabinet design so can be used as a conventional stage combo or in a tilt-back position as a monitor.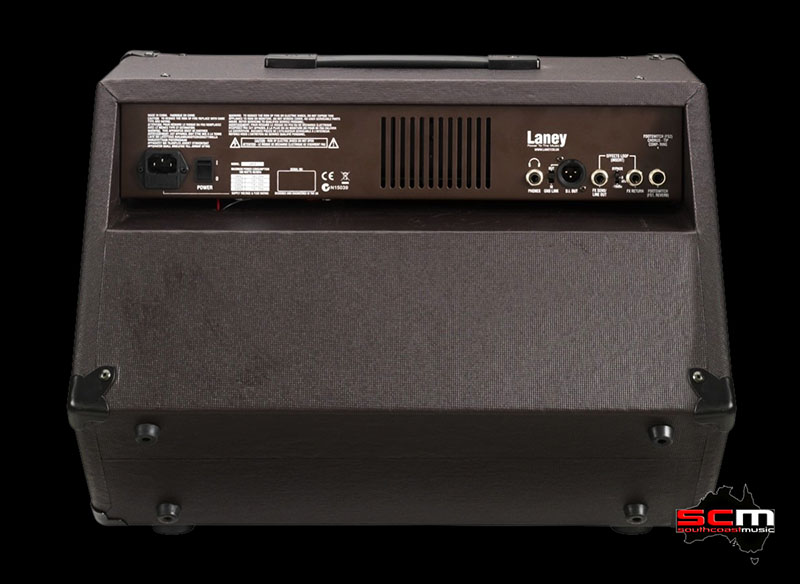 LANEY LA65D SPECIFICATIONS
• Amplifier Style: Combo
• Output Power: 65 Watts RMS
• Cabinet Covering: Dark Brown Vinyl covering with Black Metal Corners
• Kick Proof Metal Grill: Yes
• Channels: 2
• DI Output: Yes, Balanced XLR Output on Rear Panel
• Drivers: 2 x 8″ Custom Co-Axial Drivers
• Reverb: Yes, Assignable to Each Channel
• Effects: Variable Chorus with Rate & Depth on channel 2 only, plus SHIMMER feature
• Channel 1 EQ: Lo & Hi Controls
• Channel 2 EQ: 4 band Graphic Equaliser
• Secondary Effects: Anti Feedback Control on Channel 2 & Phase Reversal Switch
• FX Loop(s): Yes – with Level/Bypass switch
• Headphones Output: Yes – rear panel
• Inputs: 2 x XLR/Jack Combi sockets, Channel 1 has PAD switch
• AUX In: Yes
• Line Out: Yes, FX Send Line Out on Rear panel
• Link Jack (Line Level Slave): Yes, FX Send Line Out on Rear panel
• Footswitch: FS2 (Optional)
• Weight: 15.2 Kg
• Dimensions: H40.0 x W51.5 x D34.6 cm
• Warranty: Three Years