JUPITER MOBILE ALTO SAXOPHONE CASE WITH WHEELS
Sax players often struggle to find a quality Alto Saxophone Case with wheels that is strong yet light-weight and easily moved around. This is as important to young students as it is to seasoned touring professionals.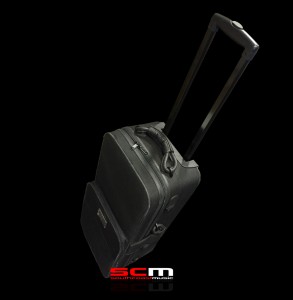 We believe that we have found the answer. This beautifully made case from Jupiter has been constructed with heavy use in mind and the protection of your precious horn as first priority. Easy rolling wheels make it easy to transport. The interior is constructed from high impact foam and plush lined. The case is covered with heavy gauge nylon which is both water and abrasion resistant. Designed to provide a snug yet gentle fit for your sax, it is a world away from your clunky old case. There is also an interior compartment provided for accessories such as reeds, tools, cloths, lubricants etc.
Featuring a telescoping handle along with a comfortable handle for conventional carrying, there are also straps cleverly tucked away that can be utilised in a flash turning this versatile case into a backpack. There is also an exterior zippered pocket for sheet music and accessories.
This is a excellent case that's easy on your back and when required, easy to roll around.
Features:
Heavy duty water and abrasion resistant 600 Denier Nylon Exterior
Black sturdy metal Hardware
Lightweight shock absorbing wood frame
Easy Rolling Wheels
Velcro quick-lock closure
Soft plush lined interior
Fits most contemporary alto saxophones
Front zippered pocket on the exterior
Your case is fully lined and the hardware and zippers are made of top quality travel grade materials.
Designed for the full protection of your instrument, both inside and out, you should be delighted with the quality of your Jupiter Mobile Alto Saxophone case.
OUR PRICE INCLUDES AUSTRALIA-WIDE DELIVERY WITH TRACKING!