HAGSTROM SUPER SWEDE ELECTRIC GUITAR
o White Gloss finish
o Mahogany Body
o Carved Maple Top
o Set Canadian Hard Maple Neck with Mortise and Tenon joint
o Resinator Fingerboard
o H-Expander Truss Rod
o 15" Fretboard Radius
o 25.5" Scale Length
o Graph Tech Tusq XL Nut (43mm)
o Hagstrom Custom 58 AlNiCo Humbuckers
o Hagstrom Sustain Block Tailpiece™
o Hagstrom Long Travel Tune-O-Matic Bridge
o Hagstrom Hard Case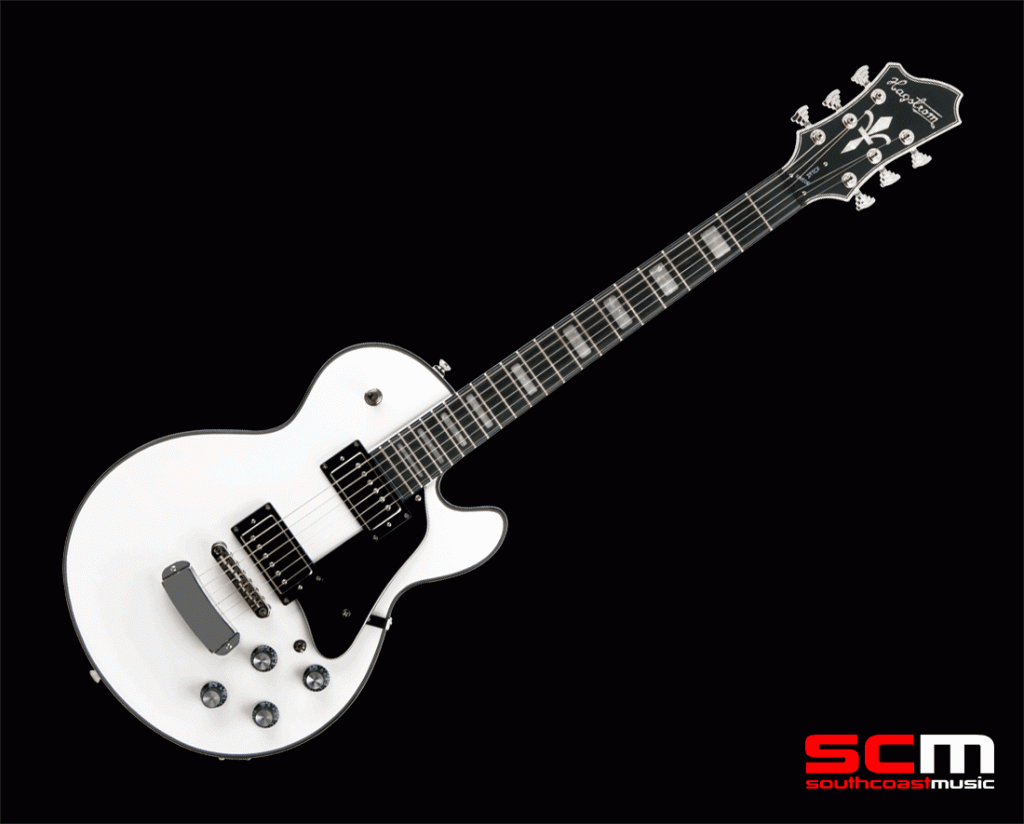 Hagstrom's iconic headstock is unmistakable as their reputation for building superb guitars. Renowned for their exquisite finishes, playing comfort and tonal versatility, Hagstrom's are every inch a player's guitar.
Design innovations such as the aerospace engineered H-Expander™ truss rod, Resinator™ fingerboard, custom wound pickups and unique hardware are all hallmarks of this world class brand.
First introduced in the late 1970's, the Super Swede has always been one of Hagstrom's flagship models. Each Super Swede is crafted using a mahogany body, carved maple top and set mahogany neck.
Playing the Super Swede is not what you would expect and this superb guitar packs an interesting surprise for Strat players who can't come to terms with a Les Paul. The Super Swede sports a 25.5" scale length which puts it squarely into familiar territory for lovers of the Stratocaster. With the pair of coil split-able Custom 58 AlNiCo pickups, the Super Swede provides a brighter sounding, longer sustaining and more flexible single-cutaway guitar for players looking for something more than any regular single-cut can offer.
The Hagstrom Super Swede Electric Guitar features a single-cutaway mahogany body that is topped with a carved 10mm maple cap, 25.5″ scale length, set mahogany neck and 22 fret Resonator composite fingerboard dressed in pearl block inlays.
SET NECK PERFECTION
Hagstrom's set-neck recipe is the classic Mortise and Tenon joint, the time-tested design that efficiently transfers string energy from neck to body, a design usually only found on more expensive custom-built guitars. One of a team of experienced and dedicated craftsmen hand carves every neck joint, ensuring perfect execution of that this traditional technique – preferred by luthiers for generations – is perfectly executed.
The Super Swede features Hagstrom's patented H-Expander Truss Rod. Providing tension at either end and running the entire length of the neck, the rigid yet lightweight alloy truss rod allows for a very low action and thin neck, two factors that were instrumental in earning Hagstrom its reputation as the world's fastest playing guitar.
CUSTOM 58 AlNiCo PICKUPS WITH COIL TAP
The Hagstrom Super Swede delivers amazing sonic performance. Featuring a pair of Custom AlNiCo 58 humbucking pickups, they deliver "PAF" inspired full bodied warmth and the perfect amount of output power to deliver tones perfect for everything from Jazz to Blues and beyond. They offer superb string articulation, seperation and clarity. Both pickups may be coil tapped for even more tonal versatility. If twang is your thing, these baby's will sing!
THE PLAYER'S FRETBOARD
Resinator™ wood is a wood composite material that is both more uniform in density and more stable than any standard wood product, effectively eliminating dead spots or "wolf tones" that sometimes marr the performance of conventional wood fingerboards. Resinator™ wood is described by many as possessing an articulate sound similar to high quality ebony with a stable and clear tone and higher overtones and harmonics which uniquely detail each note. Like their H-Expander™ truss rod, Resinator™ wood is a major contributor to the distinctive "Hagstrom tone". Resinator™ is also easy to maintain and responds well to polishing.
SUSTAIN BLOCK TAILPIECE
Hagstrom's unique Sustain Block Tailpiece™ was the result of design work starting in 1976 and made its first appearance on Swede and Super Swede guitars produced in 1978. Since then it has been a signature feature on countless solid body models. Each string terminates in a single, massive brass block coupled directly to the guitar's body. The blocks are detached from one another to reduce interference between the strings, maximising each string's unique contribution. Beautifully matched with Hagstrom's longtravel Tune-O-Matic roller bridge and the self-lubricating GraphTech TUSQ XL nut, the uper Swede is all about inspiration – not perspiration.
CUSTOM TUNERS
The Headstock and tuning buttons were designed by Legendary American Guitar designer and builder Jimmy D'Aquisto. Hagstrom's exclusive 18:1 gear ratio machine heads offer effortless and accurate tuning as well as tremendous stability.
The self-lubricating Graphite Composite Nut further ensures increased sustain and vibration through improved transfer of energy to the neck.
CUSTOM QUALITY FINISHES
The Hagstrom Super Swede Electric Guitar features a stunning White Gloss high-grade polyester lacquer finish.  Polyester Lacquer is much harder, smoother and denser while also producing much better sonic performance than the polyurethane finishes used by other guitar companies.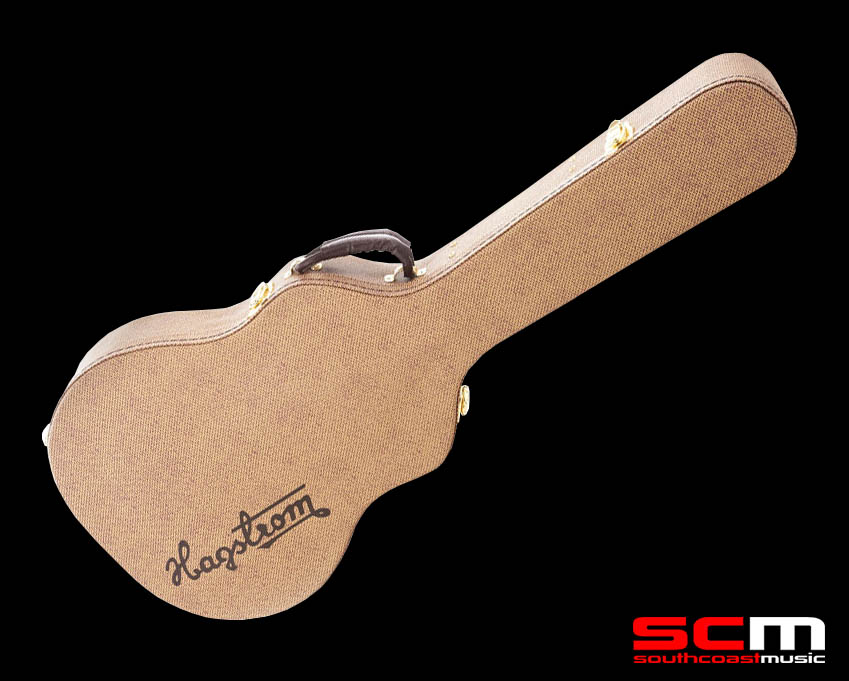 FEATURES
o Body: 1.77″ (45 mm) mahogany body
o Top: 0.39″ (10 mm) carved maple top
o Neck: Mortise and Tenon Set mahogany neck
o Fingerboard: Resinator™ composite fretboard
o Inlays: Super Swede Pearl Block
o Truss rod: H-Expander truss rod
o Tuning keys: Hagstrom D'Aquisto designed 18:1 die cast tuners
o Nut: Self-lubricating GraphTech Black Tusq XL graphite composite
o Nut Width: 43 mm
o Fretboard Radius: 15″
o Frets: 22 Medium Jumbo
o Scale length: 25.5″ scale
o Pickups: 2 x Hagstrom Custom 58 AlNiCo pickups
o Coil Tap: Mini toggle switch
o Selector: 3-way toggle switch
o Bridge: Hagstrom Long Travel Tune-O-Matic
o Tailpiece: Sustain Block Tailpiece™
o Hardware: Chrome
o Strings: D'Addario EXP 110 (10-46)
o Case: Included