Limited Edition
HAGSTROM D2H Deluxe Electric Guitar Amber Burst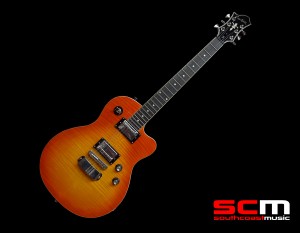 Amber Burst
In 1958, Swedish based Hagström started manufacturing electric guitars…
The first Hagstrom Deluxe solid body guitars featured a distinctive sparkle and pearloid celluloid finish, an ingenious repurposing of materials previously used in their accordion production line. Over the years, Hagstrom expanded their line up to include hollow body guitars like the Viking and the Jimmy, electric basses including the legendary 8 string, and Hagstrom's flagship models, the Swede and the Super Swede.
Hagstrom also produced a series of acoustic and classical guitars in the early 70's. Unable to compete with the flood of cheaper Japanese imports,  Hagstrom ceased production in 1983 and their guitars became instant collectors items. The love and respect for these fine instruments continues to be celebrated by musicians and collectors around the world.
and now like a phoenix, Hagstrom has risen from the ashes…
Hagstrom guitars boast the original glorious Hagstrom sound and distinctive style, and they are built to the same stringent quality standards. All materials and hardware are sourced from the world's finest suppliers, and technological advancements including the patented H Expander Truss Rod and exclusive Resinator  Fretboard guarantee that these are amongst the finest guitars on the market.
ENDANGERED SPECIES…
In one of the boldest interpretations of the  single cut   design, the Hagstrom D2 Deluxe boasts extraordinary styling and is drop dead gorgeous.
The Hagstrom D2 Deluxe Electric Guitar sounds warm and rich with glorious overtones.
Hagstrom's  ingenious patented H Expander truss rod provides tension at either end and runs the entire length of the neck. This rigid yet lightweight alloy truss rod allows for an incredibly low action and a wonderfully thin neck.
Another Hagstrom exclusive, the resinator fretboard offers the articulate sound of high quality ebony but with more consistency and durability. It is silky smooth, reliable and fast.
The D2 Deluxe body is crafted from mahogany for an impressive, warm and full sound. The neck is fine North American hard rock maple providing a bright, expressive tone and superb playability. Electronics are courtesy of a pair of Custom 60 Alnico V matched covered humbuckers with enhanced output and soaring highs.
The self lubricating graphite composite nut is much harder than bone or plastic resulting in more string vibration through the neck. Tuning is also improved and string binding is eliminated by self lubrication.
The Hagstrom stop tailpiece with brass string blocks provides maximum tone and endless sustain by transferring uninhibited string energy directly to the guitar body…as well as looking exquisitely cool. 18:1 Gear Ratio machine heads ensure fully accurate tuning.
The D2 Deluxe s finish is stunning and provides excellent protection and sonic performance. The Red Sparkle finish looks amazing and is both durable and smooth.
Hagstrom D2H Deluxe Features:
45mm solid mahogany body with bound 10mm carved maple top.
Venetian cutaway.
Mahogany set neck with 'H' Expander truss rod.
Resinator wood fingerboard with 6mm dot position marks.
22 frets with nickel silver Dunlop fretwire.
24¾" scale.
Graphite composite nut.
2 Hagstrom Custom 60 AlnicoV humbuckers with chrome covers and black surrounds.
1 x volume, 1 x tone, 3 way toggle pickup selector.
Long travel Tune O Matic bridge.
Stop tail with brass string blocks and chrome cover.
D aquisto designed Vintage style 18:1 diecast tuners.