GOLDTONE CC-100 CRIPPLE CREEK 5-STRING OPEN BACK BANJO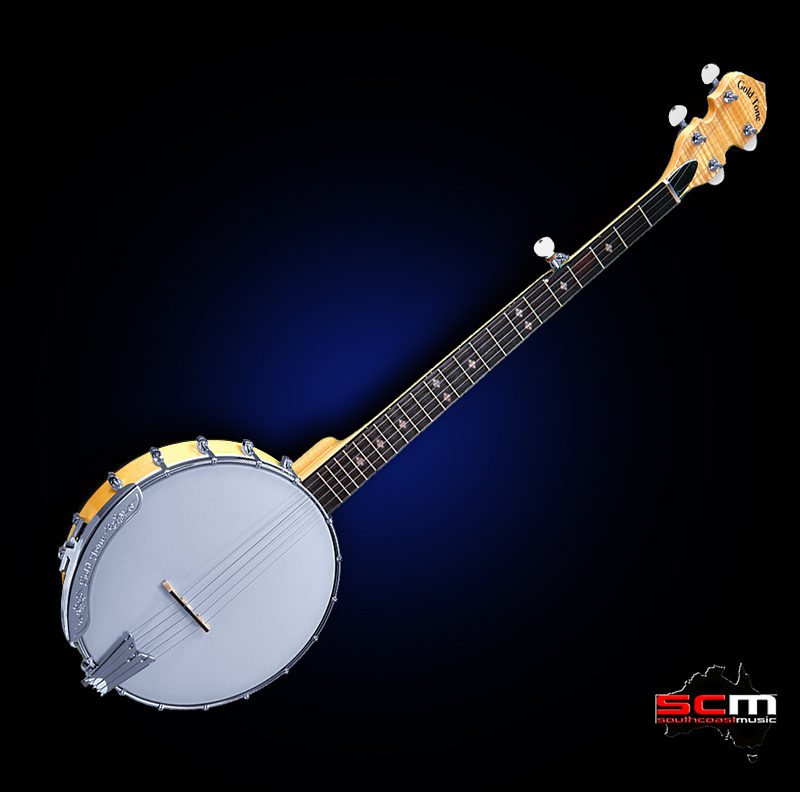 This is a wonderful musical instrument! Constructed from top quality materials and hardware, with great attention to detail and our professional setup – included at no extra cost – this Cripple Creek 5-string Banjo has been made to be played and we are guessing that once you get started, you won't want to put it down!
More than twenty-five thousand Cripple Creek banjos have been sent into banjoland bringing unbridled joy and happiness to pickers around the world. A Gold Tone mainstay for decades, the CC-100 (O) Cripple Creek Open Back banjo easily outclasses other comparably-priced banjos.
It's modest price doesn't indicate it but this beauty features a multi-ply Maple Rim with a Brass Rod Tone Ring, a hard Maple neck  with a black-bound Hardwood fretboard, elegant snowflake inlays and a curly maple headstock face.
Other top-line features include dual coordinator rim rods, a straight-line tailpiece and two-way adjustable truss rod.
The Gold Tone Cripple Creek Banjo features an initial set up at the Florida Gold Tone factory by their skilled luthiers. To complete the perfect banjo playing experience, we also include our Pro-SCM setup. The fret ends are rolled and frets polished, fingerboard oiled and nut slots cut to the optimum depths and everything else adjusted to ensure a low and comfortable string action.
We also carry a comprehensive range of Banjo accessories including:
• Gig Bags and Cases
• Stands
• Banjo Straps
• Fingerpicks and Thumbpicks
• Capos
• Tuition Material and more!
GOLD TONE CRIPPLE CREEK BANJO SPECIFICATIONS:
• Neck Material: Maple
• Finish: Natural gloss
• Fingerboard Material: Select Hardwood
• Bridge: Maple with Ebony cap
• Tuners: Sealed Geared Tuners
• Fretboard Position Markers: Snowflake Inlays
• Headstock Cap: Curly Maple Veneer
• Coordinator Rod: Dual Coordinator Rods
• Truss Rod: Two-way Adjustable
• Tone Ring: Yes
• Tone Ring Material: Rolled Brass
• Rim Material: Multi-ply Maple
• Tension Hoop: Flat bar
• Binding: Black ABS
• Brackets: 18
• Buttons: B-style
• Hardware Finish: Chrome
• Tailpiece: 5-string Terminator
• Armrest: Fits All GT Engraved
• Head: 11″ LC Frosted
• Number of Frets: 22
• Nut Width: 1-3/16″ Bone
• Scale Length: 26-3/16″
• Weight: 6 lb.
• Tuning: GDGBD
• Strings: .011, .024w, .016, .013, .011
• Case: Case or Gig Bag Optional
• Setup: Basic setup in Florida by Gold Tone plus Pro-SCM setup