GODIN ACS-SA NYLON STRING GUITAR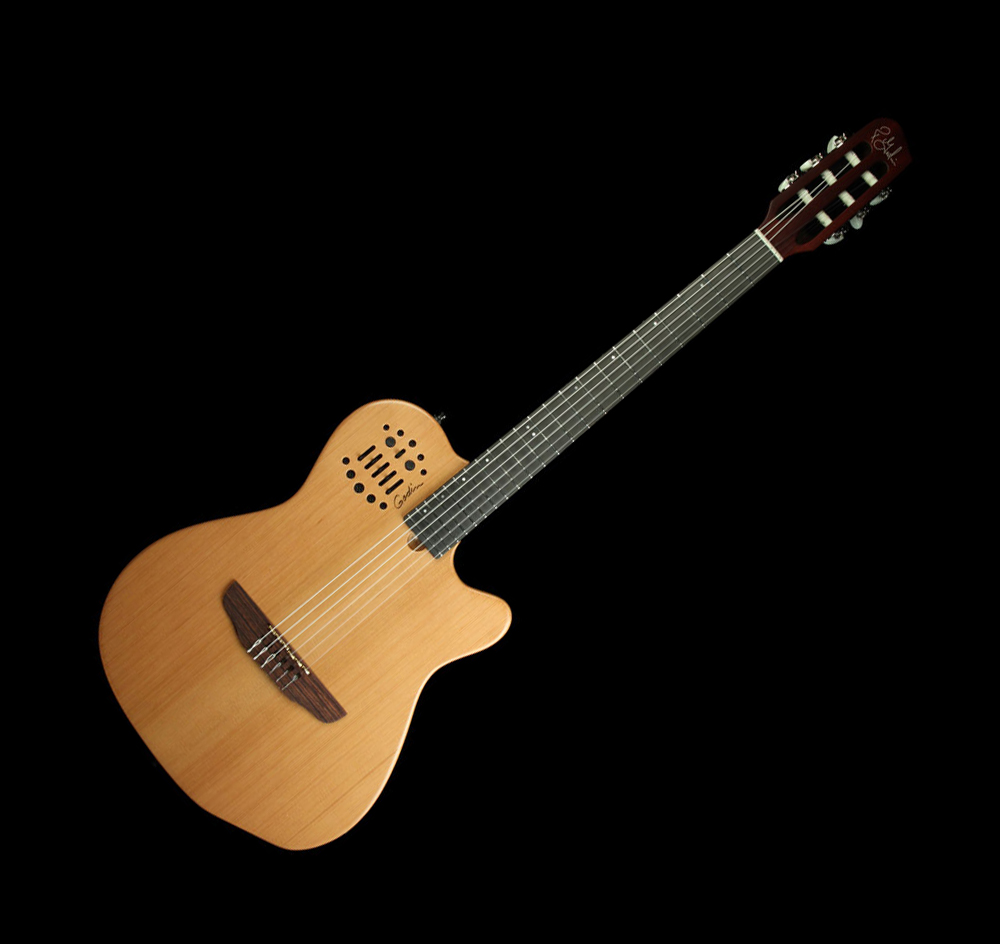 Godin has been crafting the highest quality string instruments in Canada and North America since the early 1970s. Godin have never been afraid to break new ground or explore new territories and their instruments are loaded with innovations.
Whether you're a seasoned pro or a weekend warrior, the clean lines, exceptional playability, feel and exquisite tone are sure to draw you in. Godin offers modern features, classic craftsmanship, amazing tonality and unbeatable value for money.
For steel string players wanting to add some classical/nylon string chops to their repertoire, Godin have built the ACS-SA Slim Guitar and what a beautiful instrument it is. Designed with a hand finished slim neck, Godin's Ergocut shaping technique and a 16″ fingerboard radius, the ACS-SA Slim shouldn't require a paradigm shift to play it making a very easy transition for steel string guitar players.
If you do most of your playing on a guitar with a fairly narrow neck (most solid body electric guitars) the Godin ACS-SA is the nylon string guitar for you.
The RMC transducer pickup system reproduces the acoustic vibe in detail, and there's even a 13-pin synth connector which is compatible with Roland GR Series and Axon AX100 guitar synthesisers.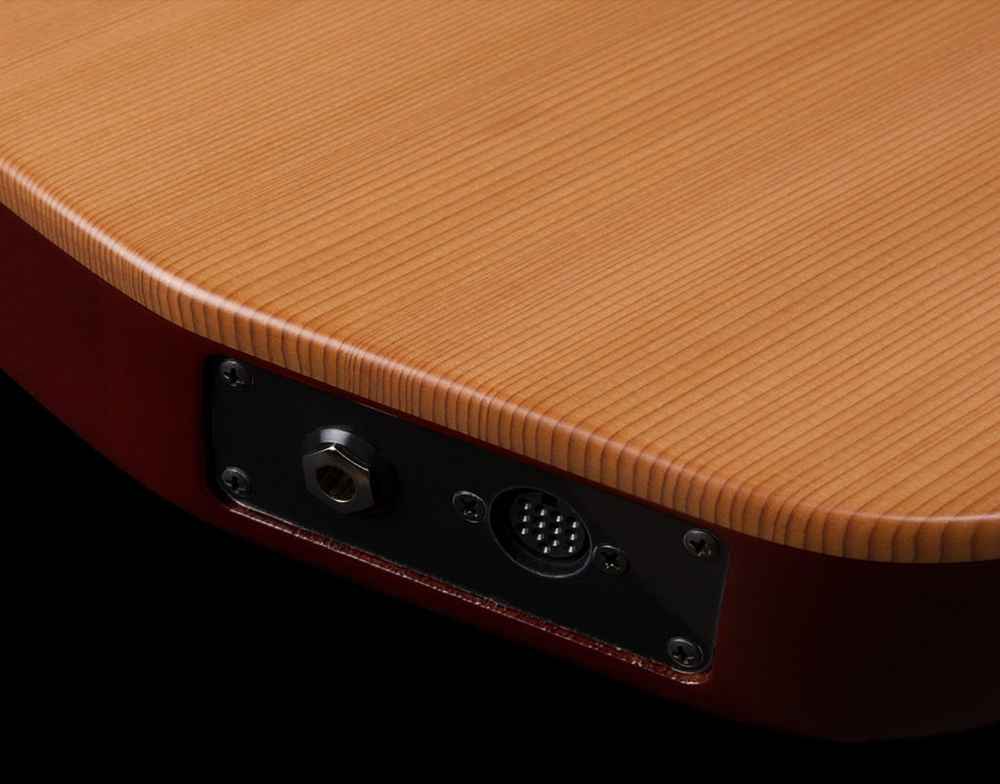 Godin made the ACS-SA Slim from the ground up to sound great and it delivers in spades. This gorgeous guitar has a chambered Canadian silver leaf maple body with a beautiful Western Red Cedar top that combine for a magical balance of warmth and sustain. The ACS-SA Slim's mahogany neck is fast and comfortable and it's topped with an exquisite Ebony fingerboard.
The Godin ACS-SA Slim guitar isn't just amazingly versatile – it's incredibly classy too.
The 'Slim' in the moniker refers to the 1.715″ neck width at the nut, which is a mere 16th of an inch wider than Godin's standard electric guitar nut width. Aside from the new neck, the ACS-SA Slim shares all of the same features that have made the ACS-SA an industry standard. The chambered, Canadian silverleaf maple body capped with a Western Red Cedar top makes for an instrument that is virtually free of feedback, making it the perfect nylon string guitar even in loud stage situations.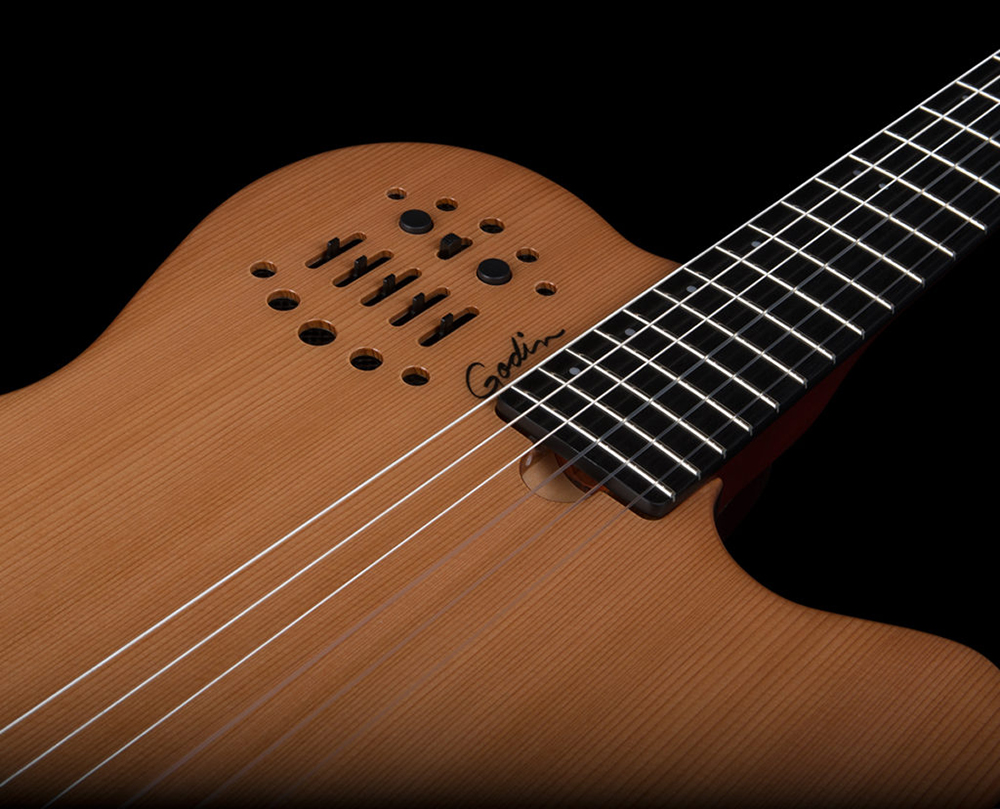 THE GODIN ACS-SA SLIM GUITAR SPECIFICATIONS
• Chambered Canadian Silver Leaf Maple body
• Western Red Cedar top
• Mahogany neck
• Ebony Fingerboard
• 16″ fingerboard radius
• 25 1/2″ Scale Length
• 1.715″ nut width
• Custom RMC electronics with 13-pin connector for direct control of Roland GR Series and Axon AX100 guitar synths
• Natural Semi-Gloss finish