Fender Tone Master Deluxe Reverb Electric Guitar Combo Amplifier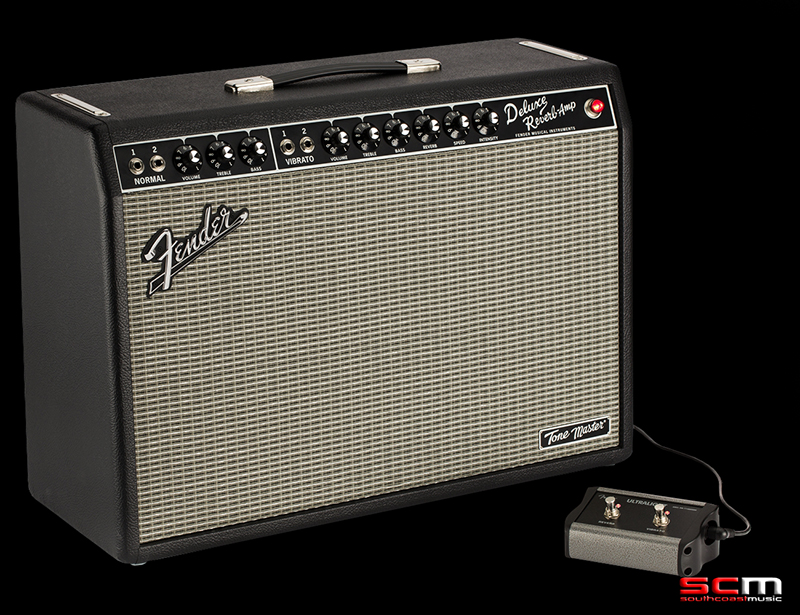 • Classic Blackface Tones
• Impulse Response Direct Outputs
• Switchable Power Options
• Light Weight – Huge Tone
Fender have always been innovators and impressively, their innovations have stood the test of time.
Now, in a bold Fender first, the Tone Master Deluxe Reverb amplifier uses massive digital processing power to achieve a single remarkable sonic feat: faithfully modeling the circuitry and 22-watt power output of an original Fender Deluxe tube amp.
Using a high-performance 100-watt digital power amp to achieve the headroom and dynamic range of a real vintage Deluxe tube amp, paired with the pronounced sparkle and clarity of a single Jensen® N-12K neodymium speaker and a resonant pine cabinet, the result is tubeless Deluxe Reverb tone, volume and dynamics virtually indistinguishable from the all-tube original.
With all these features and its incredible tone, the Tone Master Deluxe Reverb is in fact about only half the weight of an all-tube Deluxe.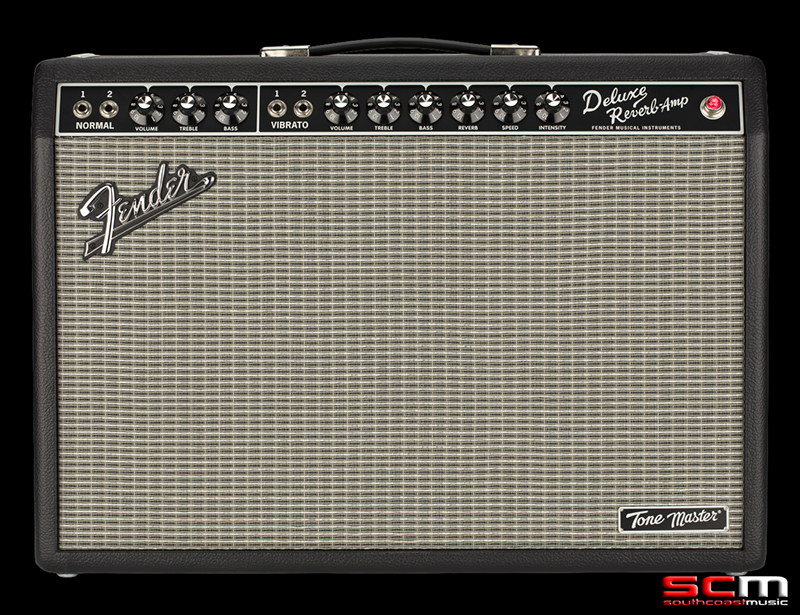 The front panel features recreate the look of the original Deluxe combo amp giving guitarists a playing experience identical to the tube version, including Fender's world-standard reverb and tremolo effects.
This is a new millennium marvel with  additional rear-panel features delivering modern convenience and flexibility—including an output power attenuator that takes you from full power all the way down to a mere 0.2 watts . . . you would never have seen the original versions of this amp used for casual bedroom practice, but now with the switchable output power, everything is possible.
A balanced XLR direct out complete with level control and a three-position cabinet simulation switch offers two preset impulse response profiles that model dynamic and ribbon mic'd cabinets as well as a flat, uncoloured signal with no cabinet emulation. There is also a mute switch for silent stage or recording use along with a USB port for firmware upgrades and more.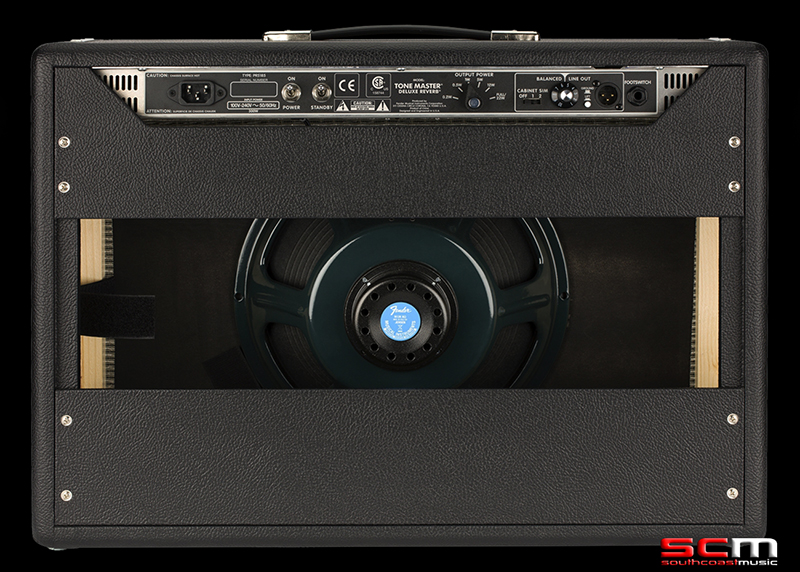 Fender Tone Master Deluxe Reverb Electric Guitar Combo Amplifier Specifications:
• Model Name: Fender Tone Master® Deluxe Reverb®
• Voltage: 240VAC AUSTRALIA
• Model Number: 2274103000
• Series: Fender Tone Master®
• Amplifier Type: Digital
• Control Knobs: Vintage-Style Skirted Black Plastic
• Inputs: Four – 6.35mm (1/4″) 2 x Normal and 2 x Vibrato)
• Cabinet Material: Lightweight Solid Pine
• Cabinet Colour: Black Vinyl
• Handle: Molded Plastic Strap with Nickel-Plated Caps
• Speakers: 1 x 12″ Jensen® N-12K neodymium Speaker
• Total Impedance: 8 ohms
• Dimensions: 613 x 432 x 236mm (12.70 x 22.50 x 27.70″)
• Weight: 10.4kg (23lb)
• Front Panel Normal Channel: 2 x Instrument Inputs, Volume, Treble, Bass.
• Front Panel Vibrato channel: 2 x Instrument Inputs, Volume, Treble, Bass, Reverb, Speed, Intensity
• Rear Panel In/Out: 1 x Footswitch Input, 1 x IR Emulated XLR Line Out
• Rear Panel Controls: Ground Switch, Line Out Level Control, 3-Position Cabinet Emulation Switch, 6 Position Output Power Selector, Mute Switch (XLR out remains active), Power Switch
• Additional Rear Panel In/Out: USB port for Firmware Updates
• Footswitch: 2-Button Footswitch for Reverb/Tremolo Included
• Dust Cover: Included