Limited Edition Fender Blues Junior FSR Black Paisley Electric Guitar Amplifier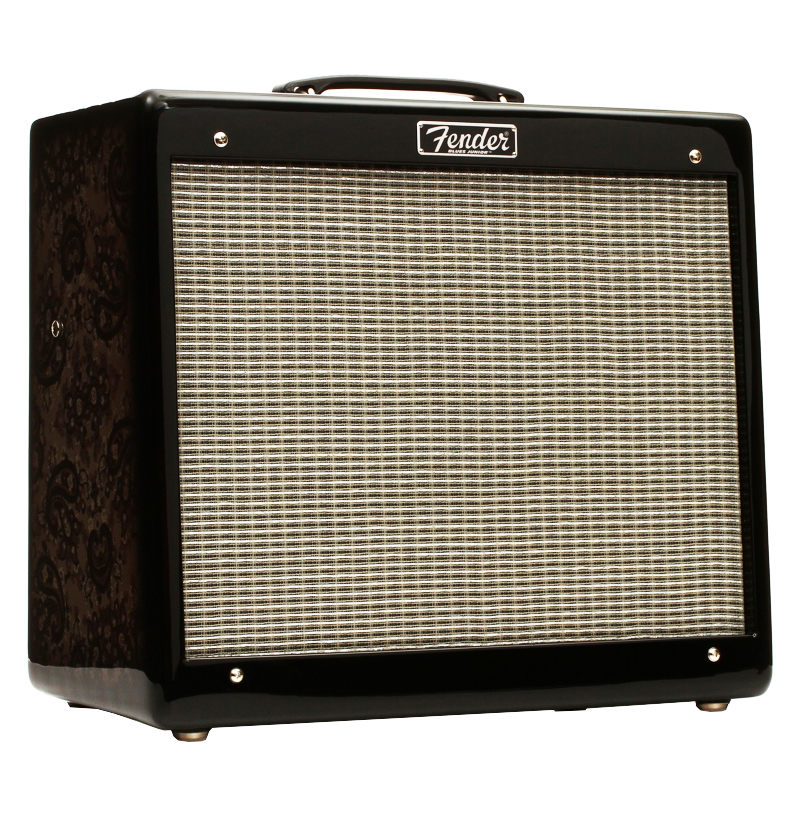 Here is the consummate low-watt tube amp with killer tone and go-anywhere portability.
Fender® Hot Rod series amplifiers are found on every stage in the world, large and small, and are used by guitarists from all walks of life. Hot Rod amps deliver superb tone and are the perfect platform for musicians to craft their own signature sound. These no-nonense amps are affordable, reliable and loud and they pair extremely well with stomp boxes.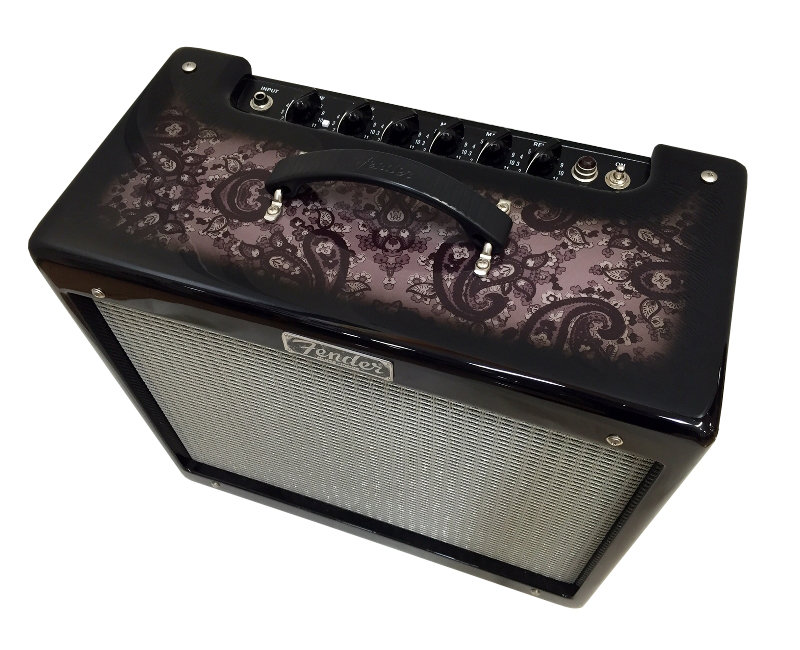 But they don't all look and sound like this one…
Loaded with an upgraded Eminence Governor speaker, the Fender Blues Junior III FSR (Fender Special Run) gives you amazingly tight and smooth British-style tones with just a hint of top-end sparkle. Seriously, this incredibly smooth-sounding amp will floor you with its range of character, thanks to its FAT boost switch and spring reverb.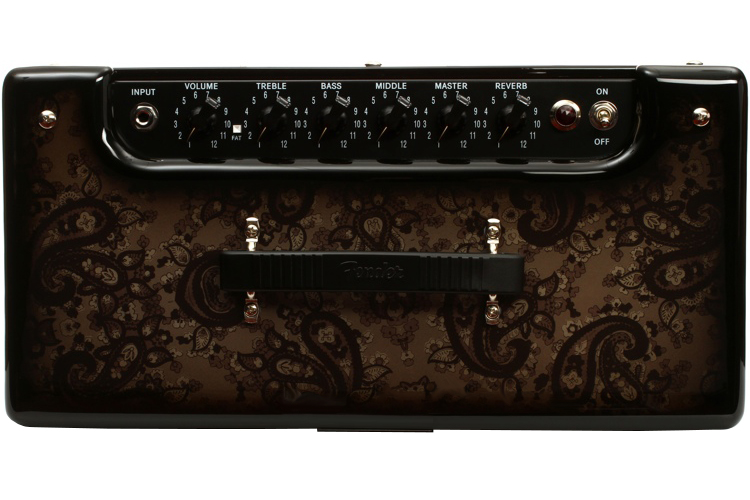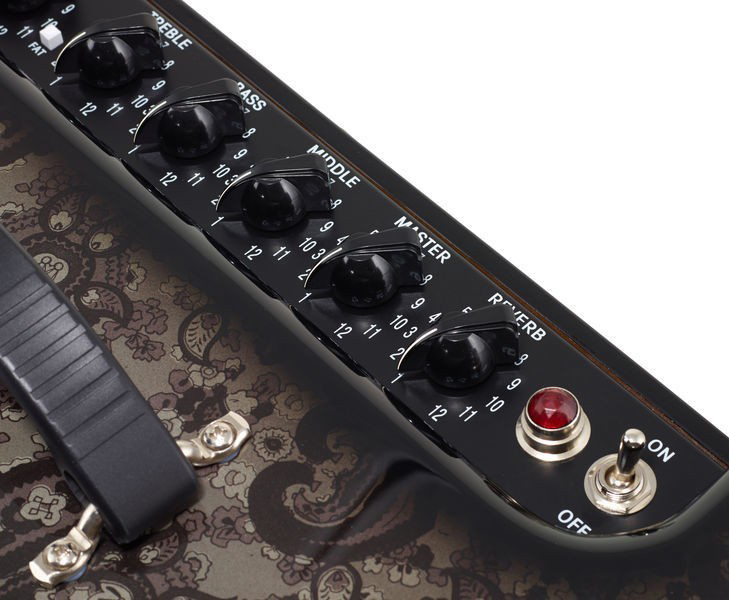 Fender really upped the ante with their Limited Edition Blues Junior III FSR combo amplifier.
Rather than a simple change of vinyl colour, Fender have applied some of their classic 'graphic lacquering' know-how. The Blues Junior III FSR looks sinister yet classy in its Black Paisely Lacquer finish perfectly complimented by the silver woven grille cloth. There are a few more 'custom' touches such as the super-comfortable vintage Fender "dog bone" handle and its easy-reading black control panel with front-reading text. Loudspeaker duties are taken care of by an Eminence Governor 12″ speaker and it is by any measure, the perfect choice for this amp.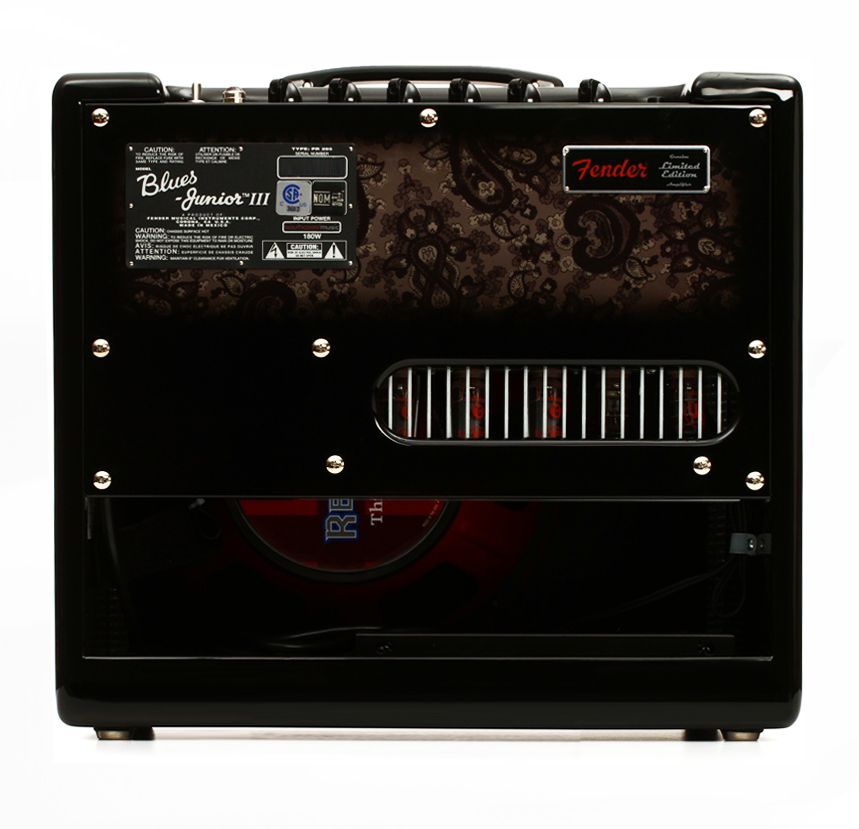 The Blues Junior III FSR is no show pony though – rattle-reducing EL84 shock absorbers and heavy-duty "chicken head" knobs are also a plus. Powered by Groove Tubes®, this Blues Junior III FSR features three 12AX7 preamp valves and a pair of EL84s that give this little monster the kind of glorious valve driven presence you'd expect from a much bigger amp.
Available right now at southcoastmusic, this limited-edition Fender Blues Junior III FSR is a low-watt high-excitement vintage voiced tone monster and the sort of amp that everyone will want to own (when they're all gone of course!!). Be the only guitarist on the block with a brand new Limited Edition Fender Blues Junior III FSR.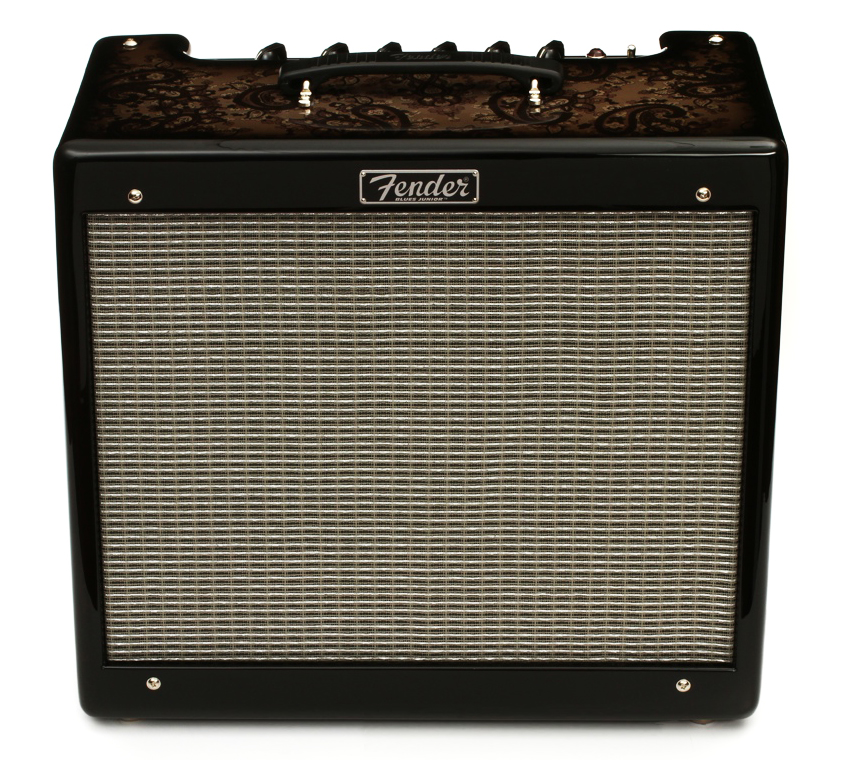 Limited Edition Fender Blues Junior FSR Black Paisley Electric Guitar Amplifier
Series: Hot Rod
Custom Finish: Black Paisley Lacquer
Grille Cloth: Silver Woven
SKU: 2230503253
Amplifier Type: Tube
Output: 15w rms
Dimensions: H40.6cm (16″) x L24cm (9.81″) x W45.75 (18″)
Weight: 14.06kg (31 lbs.)
Speaker: 1 x 12″ Eminence Governor Speaker (8 Ohms)
Controls: Reverb, Master, Middle, Bass, Treble, "Fat" Switch, Volume
Inputs: 1 x 6.3mm ( 1/4″) phono
Preamp Valves: 3 x 12AX7 Preamp Groove Tubes®
Power Valves: 2 x EL84 Power Groove Tubes®
Reverb: Yes
Unique Features: FSR Limited Edition Black Paisley painted cabinet and Silver grille cloth