Fender Acoustic Junior 240V AUS (2314303000) Acoustic Guitar Amplifier

Fender Acoustic Junior Features
• 90-Second Loooper with Record/Dub, Play/Stop, and Undo buttons
• Bluetooth Pairing for audio streaming from phones and tablets
• 100 watts rms output power
• Integral tilt-back kickstand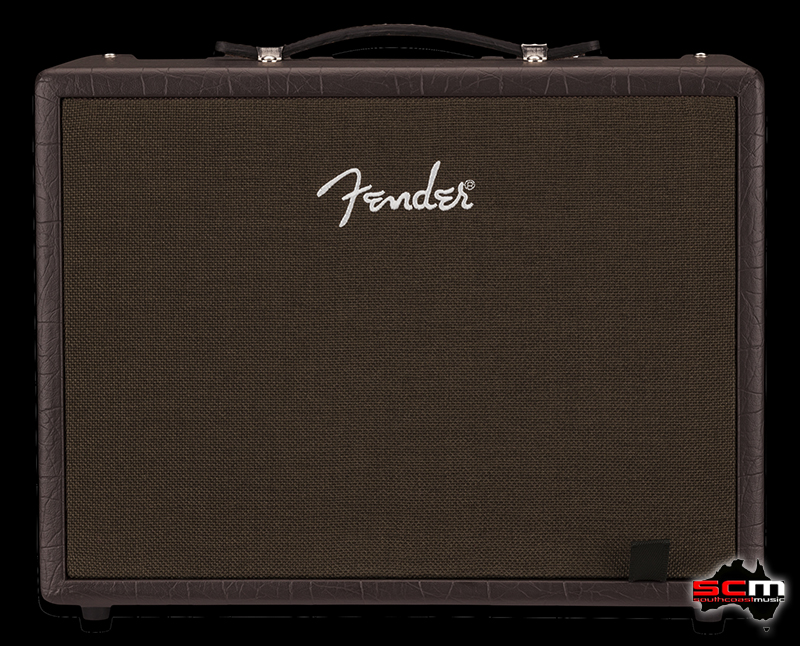 The Fender Acoustic Junior amplifier delivers full, natural, best-in-class performance for acoustic-electric guitar and vocals.
This amazing amplifier works just like a compact yet powerful powerful, portable PA system with two channels designed for instrument or microphone use, both with studio-quality effects.
Other convenient features include Bluetooth wireless audio streaming, an onboard 90-second looper perfect for solo shows, and more.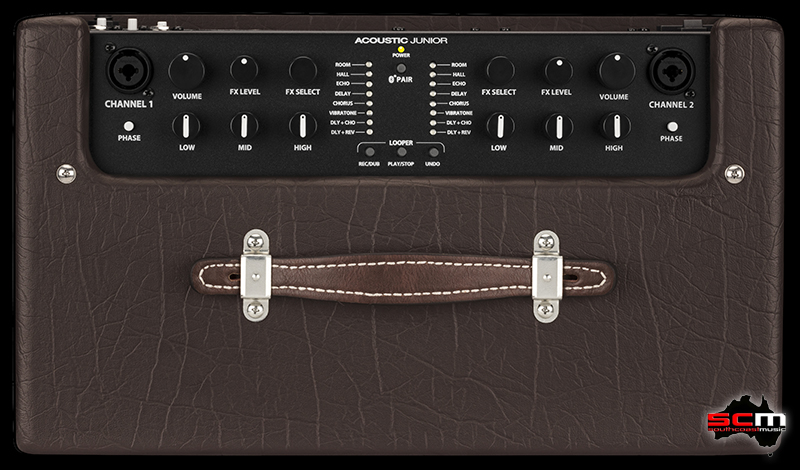 TWO IDENTICAL CHANNELS, INTERCHANGEABLE for INSTRUMENTS and/or VOCALS
Either channel can accept an instrument or a microphone. Both channels feature a 3-band EQ and a choice of eight effects.
BLUETOOTH AUDIO STREAMING
Play backing tracks or 'break' music between sets from your phone or tablet, with no need for a cable or separate playback system.
90-SECOND LOOPER with ONBOARD CONTROL
Loop, overdub and undo up to 90 seconds of your playing/singing. Create your own backing loops on-the-spot to amaze and delight yourself and your audience!
OPTIONAL 4-BUTTON FOOTSWITCH MGT4 0994071000 (Not Included)

Fender offer an optional four button footswitch for the Acoustic Junior. The MGT-4 footswitch provides control over the following functions: Effects Selection, Looper Control, Tap and Tuner (Use With Included Magnetic Overlay Label).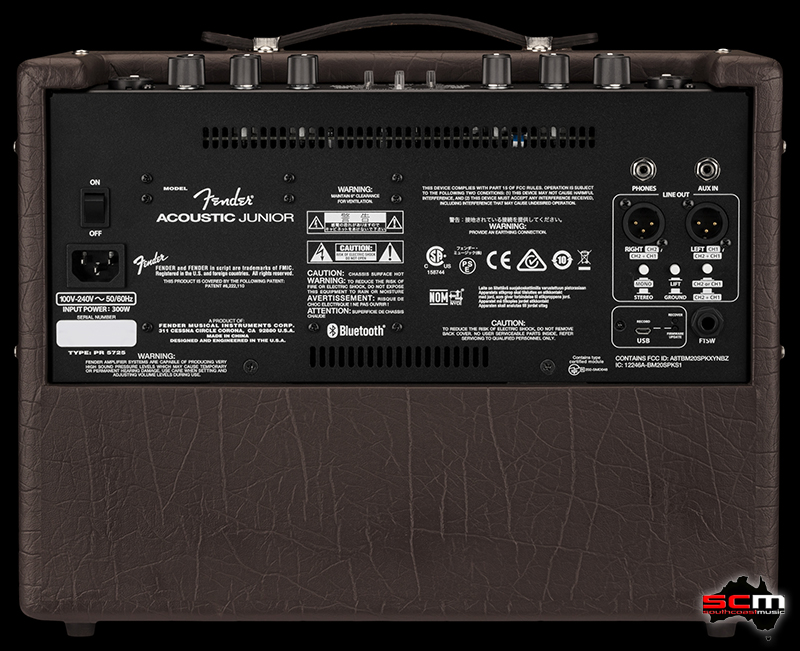 FENDER ACOUSTIC JUNIOR SPECIFICATIONS:
• Model Name: Fender Acoustic Junior, 240V AUS
• Model Number: 2314303000
• Series: Fender Acoustic Series
• Voltage: 240V AUS
• Output Power: 100 Watts
• Inputs: 2 x Balanced 6.35mm (1/4″) / XLR Combination
• Effects: 8 x Studio Quality Effects per Channel
• Effects: Room Reverb, Hall Reverb, Echo, Delay, Chorus, Vibratone, Delay+Chorus and Delay+Reverb
• Cabinet Material: Lightweight Plywood
• Amplifier Covering: Dark Brown Textured Vinyl
• Grille Cloth: Dark Brown Woven Cloth with Embroidered Logo
• Carry Handle: Genuine Leather Strap
• Speaker: 1 x 8″ Cloth-Surround Low-Frequency Driver
• Total Impedance: 4 ohms
• Dimensions: 35.56 x 45.72 x 35.56cm
• Weight: 10.90kg
• Optional Accessories: 4-Button MGT-4 Footswitch (not included)
• Fender Footswitch Part Number: 0994071000 (Footswitch Not Included)
• Footswitch Functions: Effects Select, Looper Control, Tap and Tuner (Use with included magnetic overlay label)