DXP DRUMS and PERCUSSION
DXP TX04P PIONEER SERIES FIVE PIECE DRUM SET
o Wine Red Finish
o Complete drum kit
o Includes 14″ HiHats and 16″ Crash Cymbal
o Stands, stool and kick pedal included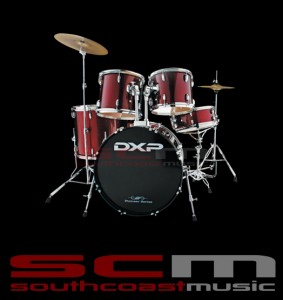 We believe that this is without question the best beginner's drum kit on the market today!
DXP are a REAL drum brand, internationally renowned for delivering great sounding quality instruments at affordable prices.
Unlike a lot of the toys that are passed off as drum kits on internet auction sites these kits by DXP are the real deal…and yes, you will find these kits for sale in real fairdinkum music stores!
At southcoastmusic we have been providing quality instruments at great prices since 1985 and many a drummer got his or her start behind a DXP drum set.
DXP Kits have been designed by Professionals. Drummers starting out or coming back to the drums after some years will be delighted by the quality of these kits right out of the box. DXP kits are well made, feature quality components and double braced hardware. As would be expected at this price, some assembly is required.
When you buy from southcoastmusic you also receive a TWO YEAR warranty on the shells and hardware!
DXP TX04P SPECIFICATIONS
o 9 Ply Shells
o 22″ x 16″ Bass Drum (16 lugs)
o 16″ x 16″ Floor Tom (12 lugs)
o 13″ x 11″ & 12″ x 10″ Power Toms (12 lugs)
o 14″ x 5″ Wood Shell Snare Drum
o Double Braced Snare stand
o Double Braced Hi-Hat Stand
o Double Braced Cymbal Stand
o Chain Drive  Bass Drum Pedal
o Heavy Duty retractable Bass Drum Spurs
o Heavy Duty Tom Holders & Mounts
o 14″ DXP Hi-Hat Cymbals
o 16″DXP Crash Cymbal
o Drum Throne
DXP DRUMS and PERCUSSION
WINE RED FINISH
The DXP TX04P Pioneer series drum set is available in a range of exciting colours!
Check out the colour chart below for options – due to the high turnover of these drum kits please contact us before buying to confirm colour availability if you would like a colour other than the one listed above.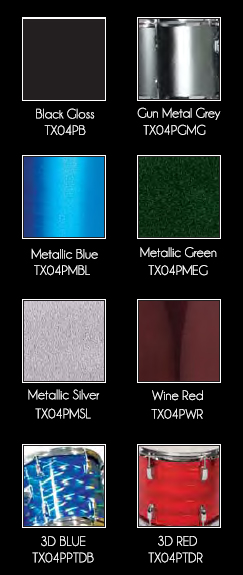 TX04P PIONEER SERIES FIVE PIECE DRUM SET
OUR PRICE INCLUDES FREE SHIPPING TO EAST COAST MAJOR METRO AREAS!
Please contact us for an obligation free quote for delivery to other areas.