CARVIN AG100D
THE TOWER OF POWER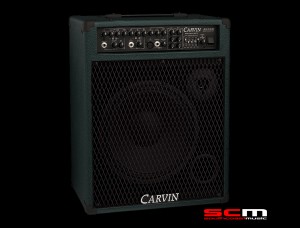 The AG100D 100 watt combo amp delivers full, pristine sound through a tuned-port full-range speaker enclosure. The 3 input channels are individually designed: one for guitar, one for bass, second guitar or other electric instrument, and one for mic, keyboards or other devices.
Each channel has a separate volume and EQ (3-band active on Channel 1; 2-band active on Channel 2 & 3), while Channel 1 also features a MID sweep control. A 5 band master graphic EQ allows you to further tailor your sound.
Channel 1's voicing is designed for standard electric or acoustic guitars while Channel 2 is suitable for bass guitar, a second guitar or similar instruments such as an electric mandolin, electric violin, etc.
You can play bass and guitar simultaneously without degrading the guitar signal, and the bass tuned enclosure and high frequency tweeter, combined with 100 watts RMS of power, is ideal for acoustic or electric basses. Channel 3 will also accommodate line level signals from keyboards, tape decks, drum machines or a balanced microphone, and provides phantom power for condenser mics.
Channel 1 & 2 have standard 6.3mm (1/4″) phono jacks for electric instruments, and Channel 3 has a 6.3mm (1/4″) phono jack for tape/CD players, drum machines, etc., as well as a balanced XLR mic input with phantom power, which makes the AG100D well suited for a "One-Man-Band" stage set-up.
The AG100D also features 24-bit Digital effects, allowing you to add echo, reverb, chorus and flange to each channel. Each channel has its own effect send level that will adjust the amount of signal sent to the effects processor. An external effects loop – 6.3mm (1/4″) in, 6.3mm (1/4″) out allows you to connect external effects.
The rear panel features a jack for the optional FS22 footswitch, which allows you to remotely turn off or on the two assigned effects. A post-EQ stereo line out jack can be used for recording, as a direct feed to a mixer, or as a headphone jack.
A 6.3mm (1/4″) speaker extension jack allows you to connect an additional speaker such as the 112AG speaker enclosure. The tweeter L-Pad control allows you to reduce the tweeter level if distortion is heard at excessive volumes.
Carvin's AG100D is the ideal solution for performers who don't always need a full PA system or multiple amplifiers, but want professional features and lots of power. Ideal for small clubs & coffee shops, rehearsal spaces and other areas where quick and easy setup and a small footprint are an advantage.

CARVIN AG100D FEATURES and SPECIFICATIONS:
o Power amp: 100 watts at 8 ohms— THD less than .03% @ 90% output
o Frequency Response: 20 – 20 kHz
o Speaker components: heavy duty 300 watt PS12 with horn tweeter and rear L-pad
o Tuned bass reflex enclosure response: 48 Hz to 16 kHz designed for bass guitar
o 3 Channels for acoustic guitar, bass and PA
o Channel 1 for acoustic/electric guitar with Bass, Mid-Sweep, Treble, Effects controls & Acoustic/Electric EQ switch
o Channel 2 for instr. or tape with Bass, Treble & Effects control
o Channel 3 with XLR & 1/4" inputs for Mic & instr. with Bass, Treble & Effects controls
o Effects Loop (send & receive jacks)
o Master Level control
o Master 5 Band Graphic EQ @ 100, 250, 800, 6k & 12 kHz
o Built-in speaker stand mount
o Forest Green covering
o 240VAC 50Hz
o Dimensions: 17" wide x 12" deep x 22" high
o Weight: 35 lbs
o Made in San Diego, California