CAD C195 CARDIOID CONDENSER MICROPHONE
The wide and flat frequency response of the CAD C195 provides unsurpassed natural transparent sound quality. Whether on stage as a performance mic or used as a vocal address microphone on a podium or rostrum, the CAD C195 will astound your audience with its audio fidelity and sound quality giving your voice greater presence and authority.
The cardioid pickup pattern minimises annoying feedback when used close to sound reinforcement speakers and monitors and reduces the pickup of unwanted off axis sounds. This makes the C195 suitable or a wide range of uses. Please note the CAD C195 requires Phantom Power – feel free to contact us for advice regarding your intended use.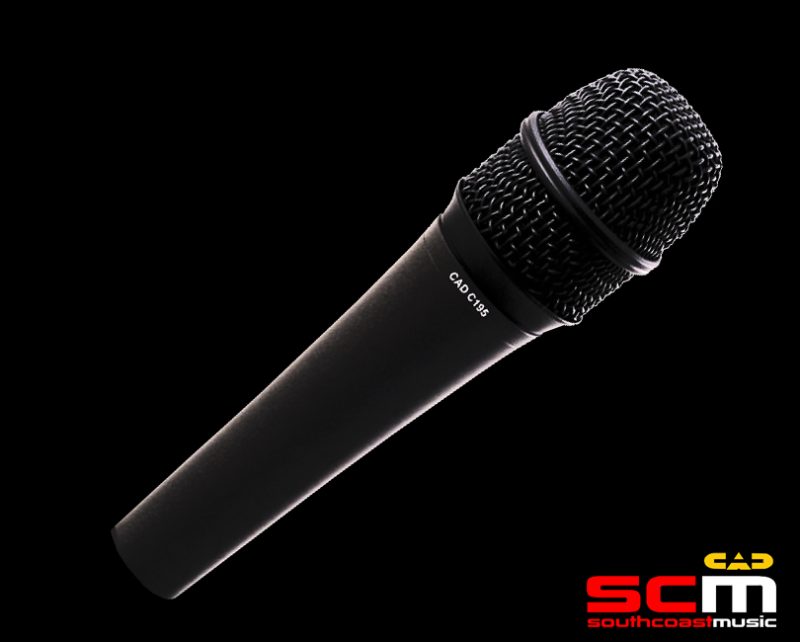 A transformerless electronic design provides optimum low frequency response and low distortion. An effective internal multistage pop filter also minimises wind and breath noise – handy features when being used by someone unfamiliar with proper microphone technique.
The CAD C195 has a Flex FormTM hardened steel grille screen that dramatically resists deformation while greatly reducing any risk of adverse performance caused by a bent or dented ball screen. This unique ability to retain its original shape assures that the CAD C195 will maintain its appearance.
The CAD C195 features the CAD exclusive I.N.R. 3TM Impact Noise Rejection system. A proprietary rubber shock mount isolates the transducer from the barrel thus dramatically reducing cable stand and handling noise. The need for any external shock mounting device is virtually eliminated.
The low frequency response of the CAD C195 may be enhanced by increasing or decreasing the distance from the sound source. This phenomenon is technically known as "proximity effect". Nominal or "flat" response is generated at a distance of 24 inches or more.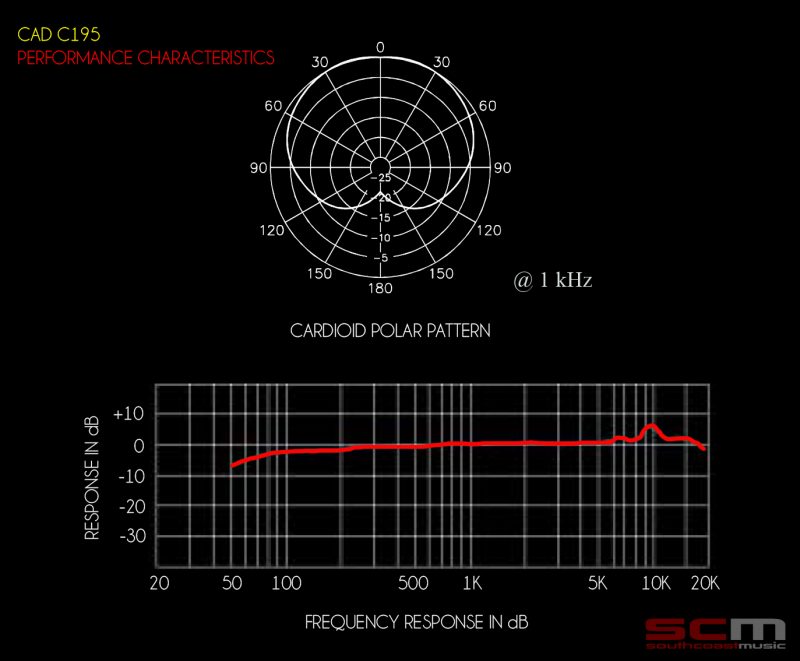 However as the distance to the sound source decreases the bass sensitivity increases providing a solid robust character.
The CAD C195 is supplied complete with a zippered vinyl protective pouch and a snap in microphone swivel mount.
CAD C195 CARDIOID CONDENSER MICROPHONE specifications:
Generating Element: Condenser (Phantom Powered)
Polar Pattern: Unidirectional (Cardioid)
Frequency Response: 50 Hz – 18 kHz
Output Level: Open Circuit
Voltage: -55 dB (0 dB = 1 volt per microbar)
Impedance @ 1 kHz: 500 ohms
Dynamic Range: 110 dB
Equivalent Noise Level: Less than 22 dB, A weighted
Maximum SPL: 132 dB (1% THD, open circuit)
Powering: Phantom Power
Supply Voltage: 9 – 52 Vdc, positive pins 2 & 3 reverse polarity protected
Current Required: Less than 5 mA over operating voltage range
Phasing: Positive pressure on diaphragm generates a positive voltage on pin 2 relative to pin 3
Grille Screen: Hardened Steel Mesh
Case: Steel and die cast zinc alloy
Finish: Durable soft feel, non-slip, titanium gray body, midnight black screen