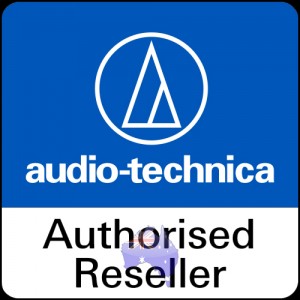 WHEN YOU WANT THE BEST!
digitise your prized vinyl collection today with this magnificent turntable…
 audio-technica AT-LP1240-USB
Flagship Direct Drive Turntable with USB and BONUS CARTRIDGE!

PIANO BLACK GLOSS FINISH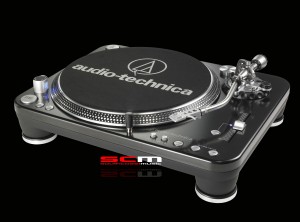 audio-technica AT-LP1240-USB turntable at a glance…
Professional DJ turntable
USB output – connects directly to your computer; includes Audacity software
Direct drive high-torque multi-pole motor for demanding DJ use
Professional features for DJ use in nightclubs, touring & mobile applications
Selectable 33/45/78 RPM speeds
Selectable internal stereo phono pre-amplifier
Dual start/stop controls
Start and brake control adjustments
Sliding pitch control with quartz speed lock
Reverse operation
S-shaped tone arm assembly with:
– adjustable counterweight (recommended vertical tracking is 2.5 grams)
– Anti-skate adjustment
– Tone arm height adjustment and lock
– Tone arm lift with hydraulic action and lift lever
– Tone arm rest with locking mechanism
Dedicated ground lug for tone arm grounding
Stroboscopic platter and speed accuracy indicator
Damped cast aluminum record platter with low-resistance DJ-style slip mat
Removable stylus target light
45-RPM adapter
Adjustable feet for leveling
Removable dust cover
One Year Warranty
audio-technica AT-95E moving magnetic cartridge included!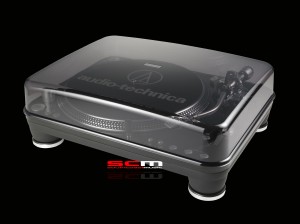 Before we tell you how insanely good the audio-technica AT-LP1240-USB is, please let us tell you a few home truths…if you really believe that a sub $100 plastic turntable will successfully transfer your beloved vinyl to the digital format without more rumble than a Saturday night at the 'Cross…leave now and buy it.
Before the advent of "digital" music, music lovers were at the mercy of physics that really made a difference to how their music sounded and whether their records remained playable after playing. "Snap, Crackle and Pop!" wasn't just about what you ate for breakfast!
While this superbly made, professional quality turntable has been designed primarily for DJ use in nightclubs, touring and mobile applications, it is equally at home being used by music lovers and audiophiles to play their record collections at the highest standard. Its sleek, elegant gloss-black and silver design will add a further touch of class and sophistication to any stereo music or home entertainment system.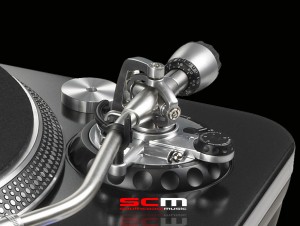 Featuring a built-in switchable phono preamp, the audio-technica AT-LP1240 USB may be used with a wide variety of receivers, powered speakers and other A/V components. As an added benefit, the turntable offers a USB output that allows direct connection to a computer for easy LP-to-digital conversion.
Built to deliver exceptional music reproduction even under the most demanding conditions of professional use, the AT-LP1240-USB utilises a powerful direct-drive 16-pole, three-phase motor for unwavering speed stability along with easy back-cueing, forward and reverse play and quiet operation at 33-1/3, 45 or 78 RPM.
The AT-LP1240-USB also features an S-shaped tone arm with adjustable tracking force (counterweight) and anti-skate adjustment and a removable universal cartridge mount – phono cartridge normally sold separately but included with this offer!
Additional DJ-friendly features including a damped cast-aluminum platter with stroboscopic speed markings and slip mat, an illuminated speed indicator and adjustable pitch control, a start/stop button, a removable stylus target light, a dedicated tone arm grounding lug, a hydraulically-damped lift lever and a locking tone arm rest that keeps the arm and cartridge in place during transport.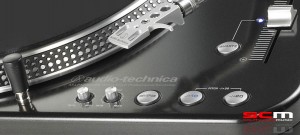 Vinyl Records have made a huge comeback over the past 10 years and many Vinyl owners want to digitise their record collections. The benefits are obvious however the quality is very much dependent on the equipment used. The audio-technica AT-LP1240-USB features a built-in analog to digital converter capable of 44.1 or 48K 16 bit resolution that connects to your Mac or PC via a USB port.
Audio-Technica have also included Audacity software for Mac and Windows computers which not only records your vinyl, it will help to remove much of accumulated pops and scratches.
We aren't aware of any other premium turntables that can begin to compete with the Audio Technica's build quality, sound, feature set, ease of use and price.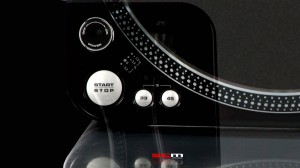 The AT-LP1240-USB is beautifully made, packaged and presented equally well, including excellent
instructions for both vinyl playback and computer interface. With its generous included accessory set the audio-technica AT-LP1240-USB is a superb introduction – or reintroduction as the case may be – to the superior world of vinyl.
As already mentioned, the cartridge and stylus are normally optional extras. Buy now and we will include a high quality audio-technica AT-95E moving magnetic phono cartridge (with stylus) at no extra charge!
Just don't wait too long to take the plunge as the falling Aussie Dollar is resulting in pricing rising.
Australia-Wide Delivery is INCLUDED!