---
Digitise your prized vinyl collection today with this superb turntable…
Audio Technica LP120 USB Direct Drive Turntable with USB SILVER FINISH

VINYL RECORDING SOFTWARE INCLUDED
AUDIO TECHNICA AT-LP120 USB TURNTABLE

– Class Leading sound quality
– Quartz PLL (Phase Locked Loop) Direct Drive design
– Cast Aluminum Platter
– Plays 33 1/3, 45 and 78rpm Records
– Speed Adjustment ±10% or ±20%
– Built-in Strobe Light for easy Speed Setting and Monitoring
– Can play backwards
– MM Preamplifier
– Computer connectivity via built-in USB port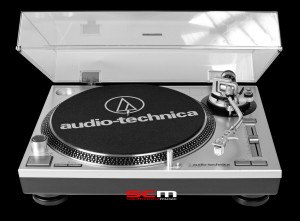 AUDIO TECHNICA LP120 USB

This professional stereo turntable features a high-torque direct-drive motor for quick start-ups and a USB output that connects directly to your computer. The LP120 also includes a perspex dust cover.
Other features include: forward and reverse play capability; cast aluminium platter with slip mat and a start/stop button; three speeds 33/45/78; selectable high-accuracy quartz-controlled pitch lock and pitch change slider control with +/-10% or +/-20% adjustment ranges; and removable hinged dust cover.
A selectable internal stereo phono pre-amplifier allows the turntable to plug directly to components with no dedicated turntable input. A USB cable and adapter cables are included along with Mac- and PC-compatible Audacity software to digitise your LPs.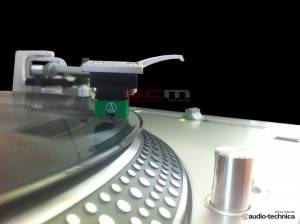 AUDIO TECHNICA LP120 USB FEATURES
o Hinged Perspex Dust Cover
o USB output—connects directly to your computer for plug-&-play use
o Mac and PC compatible Audacity software digitizes your LPs
o Direct drive high-torque motor
o Selectable 33/45/78 RPM speeds
o Professional cast aluminum platter with slip mat
o ½-inch mount universal headshell with Dual Magnet™ phono cartridge
o Balanced tone arm with soft damping control
o Switchable built in pre-amplifier with line level RCA output cables
o Included cables connect to your stereo or powered speakers
o Stroboscopic platter speed indicator
o Forward and reverse playback
AUDIO TECHNICA LP120 USB FURNISHED ACCESSORIES
o AT Headshell and cartridge
o Hinged Perspex dust cover
o Direct Drive Professional Stereo USB turntable
o Mac- and PC-compatible Audacity software
o USB cable
o Adapter cables
o AC line cord
o Dual RCA (female) to 3.5 mm (1/8″) mini-plug (male) stereo adapter cable
o Dual RCA (female) to 3.5 mm (1/8″) mini-plug (female) stereo adapter cable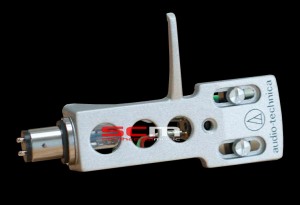 AUDIO TECHNICA LP120 USB SYSTEM REQUIREMENTS
o PC or Mac with an available USB port (USB1.1 or higher)
o CD-R or CD-RW writer for burning CDs & installation
o Includes Audacity software for PC & Mac users
o Audacity requires Mac running OS X 10.1 or later or PC running Windows (98 and above)
AUDIO TECHNICA LP120 USB SPECIFICATIONS
o Turntable Type: 3-speed, fully manual operation
o Motor: DC motor
o Drive Method Direct Drive: Direct drive
o Speeds: 33-1/3 RPM, 45 RPM, 78 RPM
o Pitch Variation: +/-10% or +/-20%
o Turntable Platter: Die-cast aluminum
o Starting Torque: >1.6 kgf-cm
o Braking System: Electronic brake
o Wow and Flutter: <0.2% WRMS (33 RPM)
o Signal-to-Noise Ratio: >50 dB
o Output Level: Pre-amp "PHONO": 2.5 mV nominal at 1 kHz, 5 cm/sec
o Phono Pre-Amp Gain: 36 dB nominal, RIAA equalized
o Pre-amp "LINE": 150 mV nominal at 1 kHz, 5 cm/sec
o USB Function: A/D, D/A – 16 bit 44.1 kHz or 48 kHz USB selectable
o Computer interface : USB 1.1 Compliant Windows XP, Vista or MAC OSX
o Power Supply Requirements: 230V AC 50 Hz
o Power Consumption: 11W
o Dimensions: 450.0 mm (17.72″) W x 352.0 mm (13.86″) D x 157.0 mm (6.1″) H
o Weight: 10.7 kg (23.5 lbs.)
Long respected for their turntable phono cartridge technology, Audio Technica have included their popular AT95E MM (Moving Magnetic) phono cartridge in the LP120 USB and result is quite literally, music to your ears!
Vinyl Records have made a huge comeback over the past 10 years and many Vinyl owners want to digitise their record collections. The benefits are obvious however the quality is very much dependent on the equipment used. The Audio Technica AT-LP120-USB features a built-in analog to digital converter capable of 44.1 or 48K 16 bit resolution that connects to your Mac or PC via a USB port.
Audio Technica have also included Audacity software for Mac and Windows computers which not only records your vinyl, it will help to remove much of accumulated pops and scratches.
Finally, the LP120 USB also comes complete with a range of useful accessories as well as a sturdy, hinged dustcover.
We aren't aware of any other turntables at this price point that can begin to compete with the Audio Technica's build quality, sound, feature set and ease of use.
Audio Technica has hit a clear bulls eye with the LP120 USB.
The AT-LP120-USB is extremely well made, packaged and presented equally well, including excellent
instructions for both vinyl playback and computer interface. With its generous included accessory set the Audio Technica LP120 USB is fabulous value. This is the ideal deck for DJ's and Vinyl enthusiasts alike!