AUDIO-TECHNICA AT-LP5 DIRECT DRIVE AUDIOPHILE USB TURNTABLE with Dust Cover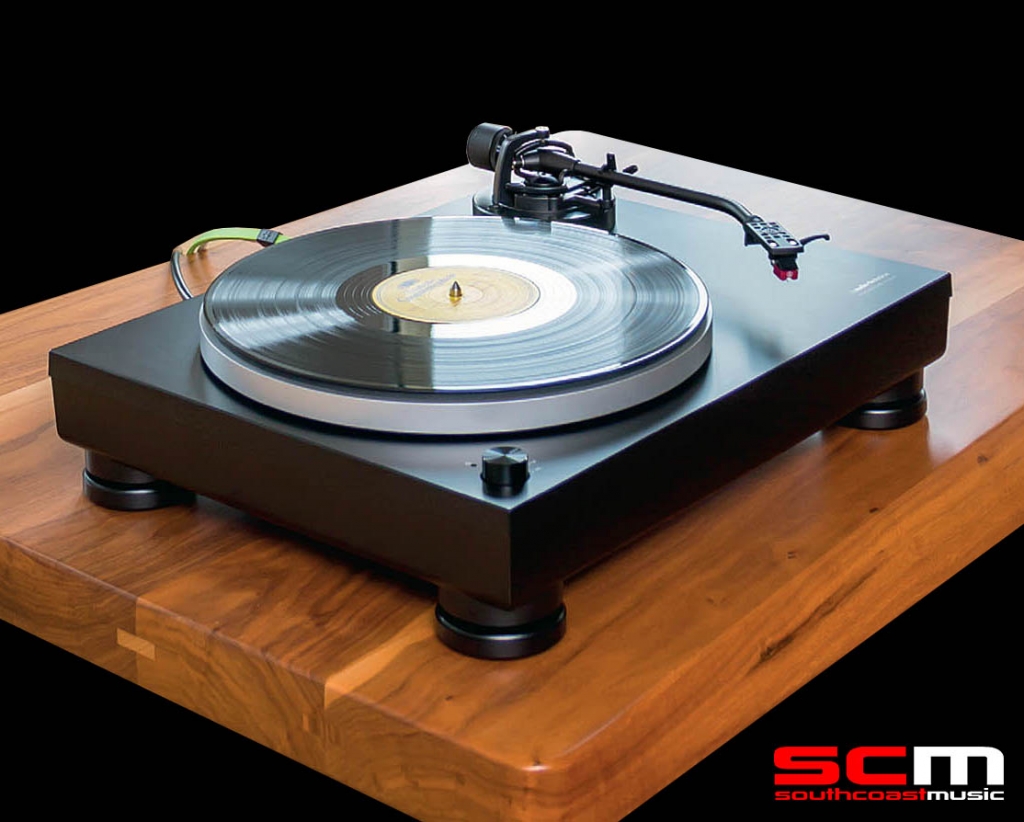 o Direct drive technology provides stable rotation
o Comes fitted with the new AT95EX high-performance cartridge, exclusively designed for the AT-LP5
o Anti-vibration materials to minimise unwanted resonance
o Adjustable feet for accurate levelling
o Stereo analog input via RCA connectors and grounding connector
o USB output with included Audacity software to transfer your vinyl to MP3
o Switchable phono pre-amp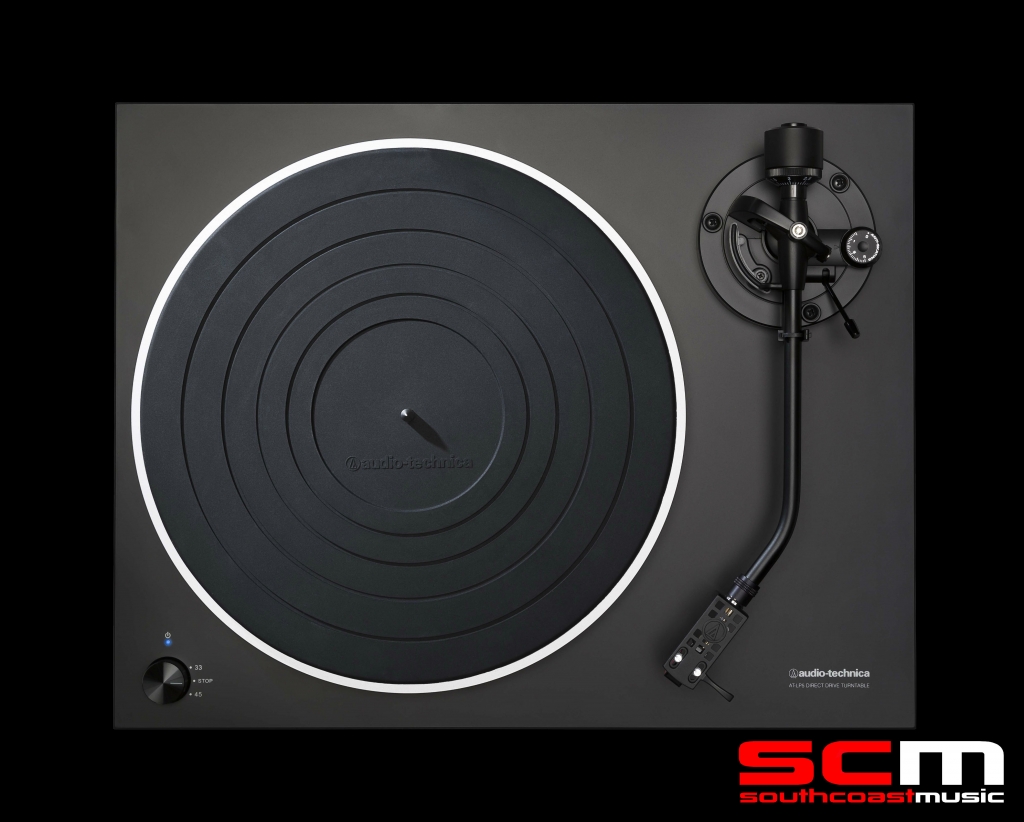 CATEGORY KILLING PERFORMANCE
The Audio-Technica LP5 is a turntable that you can plug straight into your amp and play. With the inclusion of the USB output, there is simply nothing better at this price. In a word, the LP5 sounds simply superb! We don't know of a better performing turntable for the money.
The landmark Audio-Technica AT-LP5 delivers the  performance, design and reliability expected of high-fidelity models at an affordable price. A perfect balance of technology and design, the sleek contemporary lines of the AT-LP5 turntable will grace any room in the home, while delivering performance features born out of Audio-Technica's rich analog heritage.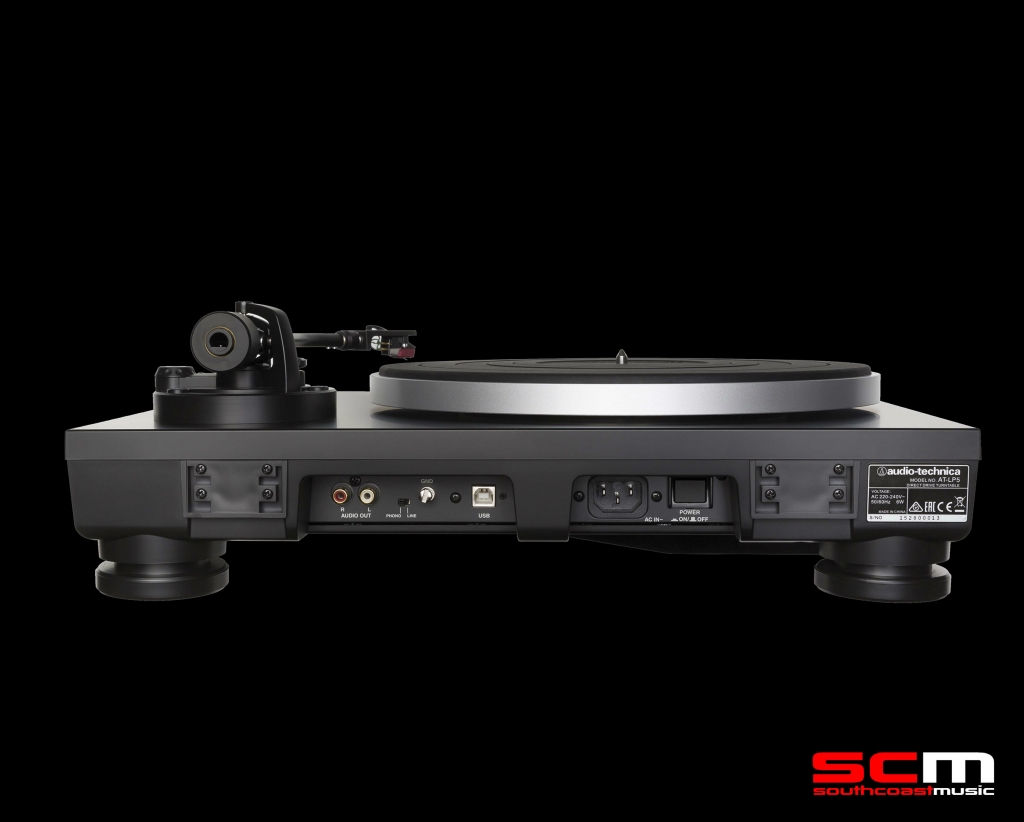 UNCOMPROMISING ENGINEERING EXCELLENCE
The direct-drive turntable with its precision-engineered cast aluminium record platter, fitted with the exclusive high-performance AT95EX Dual Moving Magnet cartridge, itself mounted on an AT-HS10 lightweight headshell, proves the LP5 doesn't compromise when it comes to materials and components.
The LP5's J-shaped tonearm, which helps minimise tracking errors, is based on original Audio-Technica designs from the 1960s and 70s. 33 1/3rd & 45 RPM speeds, phono or line stereo outputs with separate grounding, a low-resonance damped & weighted chassis structure, the heavy 5mm thick rubber-composite platter mat and sleek matte black paint finish create a comprehensive package.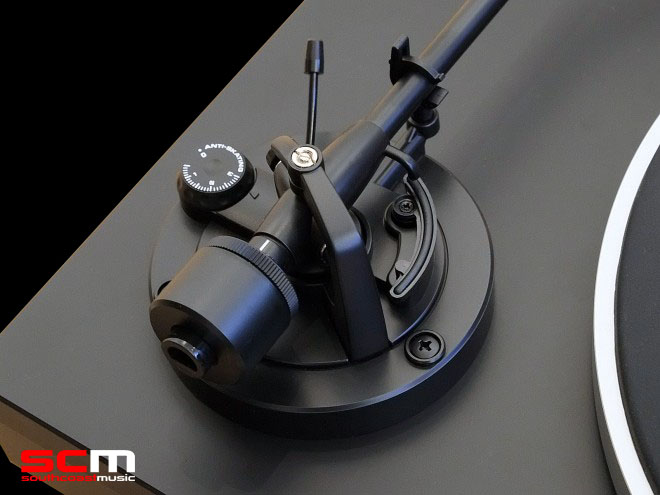 GET CONNECTED
The AT-LP5 offers a built-in switchable phono/line pre-amplifier that provides connection to a stereo system equipped with either phono or line-level inputs. The AT-LP5 also includes Audacity recording software for MAC or PC, USB cable and an RCA / RCA stereo adapter cable, allowing direct connection to your computer to transfer your classic LP collection to digital files using its USB output.
With great attention paid to the complete analog signal path, subtle features such as the gold-plated  u-shaped connections of the HS10 headshell, the choice of using both the internal or an external phono pre-amplifier, and a stable high-rated internal mains power supply with enhanced grounding, the audio reproduction credentials of the LP5 are clear for all to see.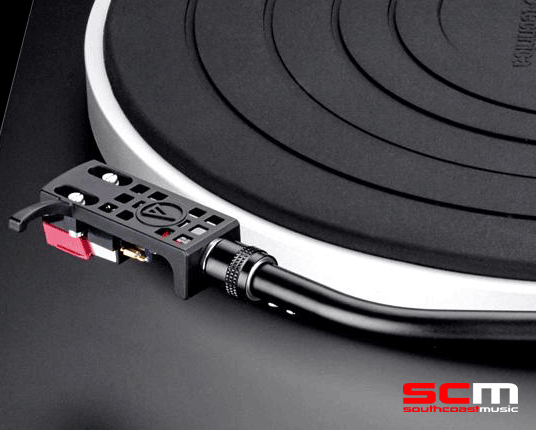 AUDIO-TECHNICA AT-LP5 SPECIFICATIONS:
o Type: 2-Speed, fully manual operation
o Motor: DC Motor
o Drive Method: Direct Drive
o Speeds: 33-1/3 RPM, 45 RPM
o Turntable Platter: Die-cast aluminium
o Starting Torque: >16. kgf.cm
o Braking System: Electronic Brake
o Wow and Flutter: <0.2% WRMS (33 RPM)
o Signal-to-Noise Ratio: > 50 dB
o Phono Output Level (Preamp bypassed): – 4 mV nominal at 1kHz, 5cm/sec
o Line Output Level (Preamp engaged): – 150 mV nominal at 1kHz, 5cm/sec
o Phono Pre-amp Gain: 36 dB nominal, RIAA equalised
o USB Function: A/D , D/A – 16 bit 44.1 kHzor 48 kHz USB selectable
o Computer Interface: USB 1.1 (or higher) compliant WIndows XP, Vista or MAC OS X
o Tonearm Type: Static balance shaped tonearm
o Tonearm Effective Length: 247 mm
o Tonearm Typical Overhang: 17 mm
o Tonearm Maximum Tracking Error Angle: Less than 2.5° curve
o Stylus Pressure Adjustment Range: 0 to 2.5 g
o Applicable Cartridge Weight Range (Including Headshell): 15 to 20 g
o Cartridge Model: AT95EX
o Cartridge Type: VM Design Stereo Dual Moving Magnet
o Recommended Load Impedance: 47,000 ohms (when using external PHONO pre-amp)
o Output Voltage: 4 mV (at 1 kHz, 5cm/sec)
o Stylus Tip: Elliptical    0.3 x 0.7 mil
o Tracking Force Range: 1.5 to 2.5 g (standard 2 g)
o Cartridge Weight: (AT95EX) 5.7 g
o Headshell Model: AT-HS10
o Headshell Weight: 10 g
o Headshell Overhang Adjustment: ± 5 mm
o Power Consumption: 6W
o Dimensions: 450.0 mm (W) x 352.0 mm (D) x 157.0 mm (H)
o Weight: 10.5 kg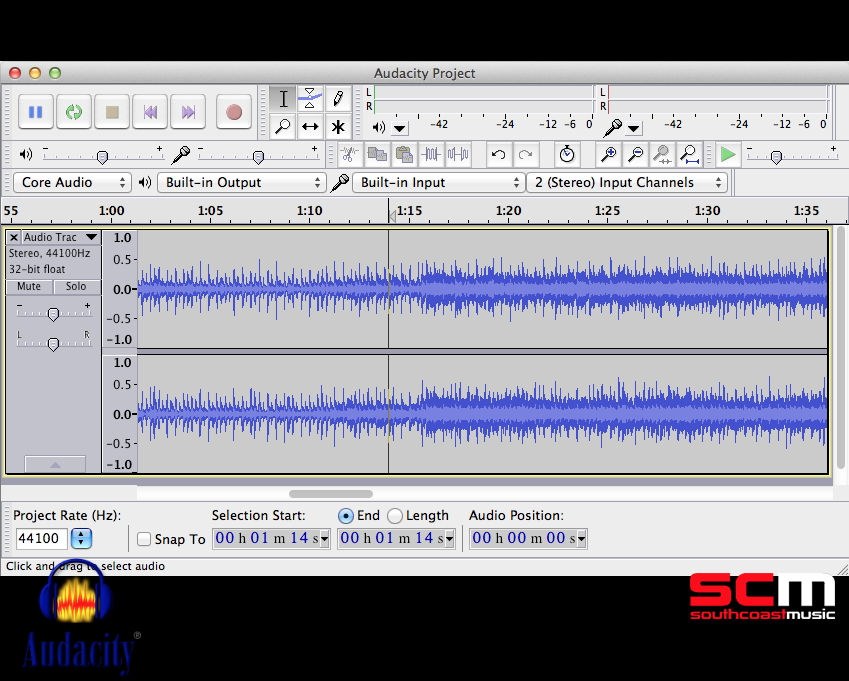 AUDACITY SOFTWARE
PC or MAC with an available USB Port (USB 1.1 or higher), MAC running OS X 10.4 or later or PC running Windows (Vista and above)
Installation CD-R or CD-RW for burning CD's and software installation. Includes Audacity software for PC and MAC users
ACCESSORIES INCLUDED:
o AT95EX Dual Moving Magnet Stereo Cartridge with Replaceable Stylus
o Exclusive AT-HS10 Lightweight Headshell
o AC Line Cable
o Dual RCA (male) to Dual RCA (male) Stereo Cable
o 45 RPM Adapter
o USB Cable
o Audacity Recording Software
AUSTRALIA-WIDE SHIPPING IS INCLUDED!